Buenes Aires and Brazil Open Coverage (February 04)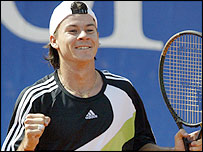 I followed the ATP Tour through Buenos Aires and then Costa do Sauipe, Brazil to find some classic clay court tennis. In Buenos Aires, the draw had some excellent South Americans and Spanish players entered. Only one early casualty as number four seed, Gustavo Kuerten, lost in the first round to Spaniard David Ferrer. The two best matches of the week featured, up and coming 17 year old Richard Gasquet from France defeating the number three seed, Nicholas Massu, from Chile in a thrilling three set victory. It looked as though Gasquet would have to retire after a leg injury during the match, but somehow he gutted his way back and played remarkably down the stretch. Keep an eye out for him in the near future to make some strides. Gasquet did succumb in the semi-finals to number one seed, Guerimo Coria of Argentina. The other outstanding match pitted local Mariano Zabeleta vs. number two see Carlos Moya of Spain. In another close ending Moya pulled it out in a third set tiebreaker. He then defeated Jose Acasuso, also of Argentina, in the semi-finals before losing to Coria in the final match.
The tour then headed to Costa do Sauipe, Brazil where it was time for Kuerten to get revenge. Nicknamed "Guga", he had the local fan support in all of the matches along his way to capturing the title over Argentine Augustin Calleri. In this tournament, Kuerten survived some tough matches. In the first round, he came back to beat Oscar Hernandez of Spain then defeated the youngster Gasquet and Argentine's Franco Squilara and Acasuso, to reach the finals. The number one seed Carlos Moya and number two seed Nicholas Massu got bounced in the first round. The finals got delayed during the match one extra day due to rain at the beautiful resort of Costa do Sauipe. The resort is located on the coast of Bahia, one hour north of Salvador. The draw held mostly South American and Spanish players.
I will be covering Indian Wells Tournament next, so keep your eyes posted for that story and future tennis coverage on this site.