Masters Cup Tennis Tournament in Houston – November 22nd, 2003
Roger Federer claims the Championship at the End of the Year Final Tournament while Andy Roddick becomes the youngest American to ever finish the year at #1. Photos by Todd Elliot; Masters-cup.com; and Tate Sablatura
The Great Masters Cup Tournament at the Beautiful Westside Tennis Club in Houston, Texas (November 8-16, 2003) came to a close when Roger Federer defeated Andre Agassi in flawlessly played 3 straight set final. Federer moved up to #2 in the World for the end of the year rankings as he went 5-0 for the week. He not only took home a Brand New Mercedes, which was the main sponsor, but a mere $1.5 million for going undefeated. His steady play made these other top players not look so good. His toughest match was on opening night when he first met Agassi and barely pulled off a best 2 of 3 match saving 2 matchpoints.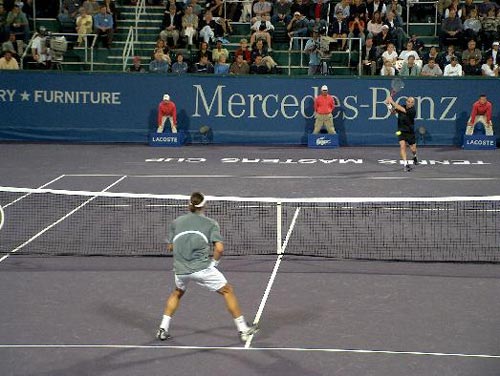 Andy Roddick ended the Year #1 in the World after Juan Carlos Ferrero could not advance in the Round Robin Play. Roddick started his week off by downing Carlos Moya of Spain. He lost a tough 3 set match to German, Rainer Shuettler before taking a 3 set must win victory over Argentine, Guillermo Coria. He reached the semi finals but ran into a Red Hot Federer and lost in 2 straight sets. Roddick came a long way this year especially after hiring coach Brad Gilbert. Roddick became the youngest American ever to end the year #1. This Tournament is responsible due to the great hard work of Owner Jim and Linda McInvale,who started in 1995 with their dream of the Westside Tennis Center. They first hosted a WTA event in which Steffi Graf won and have now expanded to host theannual and only American Clay Court Championships every April. They started andbuilt up their multi-million dollar business of their own Furniture Store calledGallery Furniture www.galleryfurniture.com. The Stadium that the Masters Cup was held in was named Gallery Furniture Stadium.The Stadium was resurfaced to hard court for this tournament after it was originallybeing Clay. The Westside Tennis Club located at 1200 Wilcrest will hold the ClayCourt Championship & Masters Cup in 2004. Please call (713) 783-1620 fortickets, membership or more information. The club consists of all type of courtsurfaces which makes this place extraordinarily unique. Besides all the tenniscourts in which they have Red and Green Clay, Grass, Indoor Hard Courts, RegularHard Courts, and Rebound Ace (Australian Open Surface), there is a swimming pool,basketball court, workout area, members lounge and dining area. All of the Employeeswere very helpful including the Tennis Pro, Nigel, which adds a great feelingand comfortableness to visit the club.
The Top 8 players in the World after the last Masters Series Tournament in October compete every year at the Masters Cup. The Masters Cup has been played in Shanghai, Australia, and Portugal the last 3 years respectively and Germany from 1990-1999. Houston, with the aid of the McInvales, pulled it over to the USA for the first time since 1989 when it was played in New York. Houston hosted this tournament once before in 1976. Next years Tournament will be back atthe Westside Tennis Club from Nov.13-21.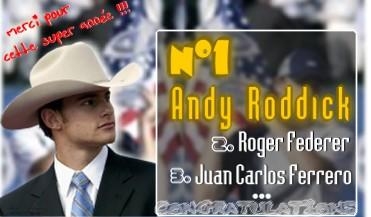 The seedings for this Tournament were as follows from #1- Roddick, #2- Ferrero, #3- Federer, #4 -Coria, #5-Agassi, #6-Schuettler, #7- Moya, #8-David Nalbandian (from Argentina), and alternate Mark Philippousis (from Australia) in case anyone got injured. The most I saw out of Philippousis was him practicing on the Grass Courts as he prepares for the Davis Cup Final in a couple of weeks along with Leyton Hewitt vs. The Spaniards down under. The players were split into 2 groups and completed a round robin playing each other in their groups with the top 2 players in each group advancing to the semi finals. The Red Group consisted of Roddick, Coria, Schuettler, and Moya while the Blue Group had Federer, Ferrero,Agassi, and Nalbandian. The player who earns #1 in their group plays the #2 in the other group and visa versa for the semis. That put Roddick vs. Federer and Agassi vs. Schuettler. Agassi came back to win after losing the first set to Scheuttler in the semis before succumbing in a rain delayed final to Federer. Individual play started on Monday, November 10 for the singles matches. Nalbandian came out strong and upset Ferrero in straight sets. Agassi vs. Federer was the night match and had a lot of excitement. Probably the best match of the tournament even though Agassi lost in the 3 set thriller and missing opportunities on 2 match points. Tuesday began with Scheuttler downing Coria in another upset before Roddick beat Moya in his first night match in a fun 3 set match. Andy looked a little rusty but pulled it out for an important win. Wednesday began with Federer beating Nalbandian in the day match. A big win for Federer, who had lost his 6 only matches to Nalbandian including one in juniors and the latest at this year's US Open. Agassi topped Ferrero in another great 3 set match in the night session to even his record to 1-1. The final 2 days before the semis started with Coria beating Moya before Roddick lost to Schuettler in a 3 setter that Roddick could just never get it going, especially with his serve. Agassi played Nalbandian on Thursday night with the winner advancing to the semis. The crowd was extremely loud and Pro-American as Agassi pulled out a great played 3 set victory. Friday's first 2 matches had Federer destroying Ferrero (who ended 0-3) and Moya finally winning one against Schuettler. The last match had the winner of Roddick and Coria advancing for the last spot in the semis. Roddick finally got his groove going in the 3rd set and overtook Coria, who faded in the last set.
| | |
| --- | --- |
| | |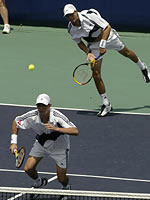 There was also a Huge Doubles Championship in which Twin American Brothers, Mike & Bob Bryan, not only ended the year as the #1 Team in the world but captured the final in an exciting 5 set victory over The French Team of Michael Llordra and Fabrice Santoro. Both Teams came out of the same Red Group and advanced with semi final victories before meeting for the championship. Some of the players on a different note didn't care for Mr. McInvale's behavior early in the tournament including Federer, Nalbandian, Moya and Ferrero. Besides being the Tournament Promoter, he turned the Stadium into a Davis Cup style rooting section for Roddick and Agassi. He orchestrated different sections and fans to chant and yell quite often during the match. The Non Americans were not happy but you don't see them complaining when the same thing occurs in tournaments in their home cities. When all was said and done, Mr. Mac just brought more enthusiasm to the matches and made the atmosphere more exciting almost like a US Open atmosphere, especially for the night matches when Roddick and Agassi played. I asked Moya about it and he said the crowd was just into the match and cheering. He tried to have it not affect him and expected it a bit being played in the USA. I also talked to Agassi after the finals and asked him what the difference was between his first match with Federer on opening night when he lost in the 3 set thriller and had 2 match points and the Finals when he lost convincingly in 3 straight sets. He replied it had been a long week. He had not played in a tournament since the US Open and the wear and tear caught up to him by the end of this tournament besides running into an unstoppable red-hot Federer. He did say he plans to be back next year and will do his best to be in the best shape possible. ESPN covered the tournament as Tennis is in a stage of transition with more up and coming young players taking over the sport and trying to enhance the marketability. All the media were great to work with and are encouraging to make tennis even bigger and more popular. Patrick McEnroe and Mary Carrillo of ESPN, Ever Famous -Bud Collins, Miguel Nido of Argentina, and Greg Sharko were some of the great press people to talk to and work with during my coverage here. More information and the full wrap up can be found at www.masters-cup.com
Other attractions worth seeing on your next trip to Houston include the Toyota Center, where I caught a Houston Rockets game as they pulled out a close game vs. the Phoenix Suns. The new venue is short of spectacular with the improving Rockets. I interviewed Yao Ming after the game and asked him about his future and what he planned to improve on with his game. He replied through his interpreter that he still wants to get more physical and keep working on all the other aspects of his game to become the elite player people project him to be. Also worth seeing is the Museum of Modern Art downtown where the exhibits change but are always great. The HT Arena Theater is a fabulous place to see a show. I covered the first annual anniversary Smooth Jazz Concert there featuring New Artist Kim Waters and Legendary Larry Carlton and his incredible jazz band with a fine sounding 4-piece horn section. For more information on events and attractions in the Houston area, please call (800-4HOUSTON) or visittheir website at www.houston-spacecityusa.com