"Boogie Nights" Great Disco Band at the House of Blues on Sunset in LA (8/04)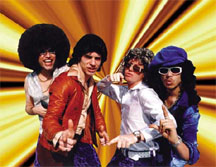 We attended one of our favorite music venues in all of LA–the world
famous House of Blues– Friday night, August 27, and, as always, had a great
time watching 2 awesome acts.
The first act was the M-80's, an 80's cover-tune band. This energetic
full band, dressed like something out of Revenge of the Nerds, rocked the
night away playing all of our favorite new wave 80's classics. They played
everything from the legendary 1 Hit Wonder songs like "Let Me Go Out" and
"Come On Eileen" to the 80's super groups like Depeche Mode and Duran Duran
(We were particularly impressed with their Duran Duran medley to give a strong
finish to the set). The audience loved it, too, as evidenced by the many
people we saw singing along and dancing.
The next act and headliner of the evening were the Boogie Knights(pictured above), a
disco and funk cover group (as if you hadn't already guessed). It's not
hard to wonder why this polyester clad, afro wearing and feathered hair
bunch has the reputation of being the best disco cover group around, as they
not only play all the classic songs we grew up with, but also do other cool
stuff like having their drummer do a John Travolta inspired dance solo
during "You Should Be Dancing," and inviting all the lively ladies in the
audience to join them on stage for that classic female anthem "I Will
Survive."
All in all, another great evening of music, dancing, and people watching
at an ideal venue–the House of Blues Sunset (located at 8430 Sunset Blvd. in W. Hollywood- 323-848-5100 and/or www.hob.com/LA for more information, show lineups and future tickets.