Swing Night at the Hollywood Bowl featuring "Big Bad Voodoo Daddy" – July 10th, 2002
What a great night it was on July 10, 2002 at the Hollywood Bowl. Swing Night was the theme hosted by Chuck Cecil and sponsered by K-Earth 101 and the Surf 1260.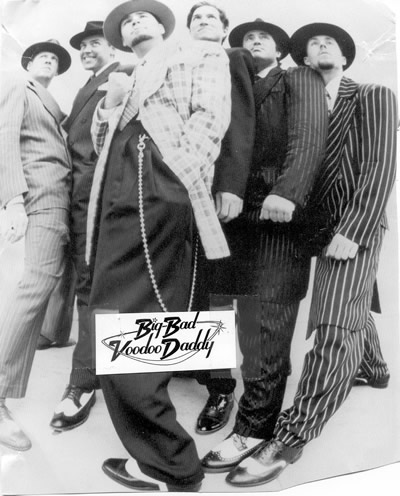 The weather was immaculate and the atmosphere was amazing for this special engagament.
Ken Peplowski's Tribute to Benny Goodman's Big Band started the festivities off while people were arriving and getting settled in. The crowd was a bit subdued as they listened to the good old sounds from the swing era. The Glenn Miller Orchestra followed with more popular standards while two swing dance couples led by Allison Biblicoff(who is now touring in the musical "Swing"), danced to a couple of numbers. Both of these Big Bands were very professional.
The highlight of the night was the main act "Big Bad Voodoo Daddy", the hottest swing band of the modern era. Dressed in the primpy zoot suits, the band had the Bowl rocking. Most of the crowd had just been relaxing back in their chairs and boxes until they started. By the first couple of songs, people were up dancing all around and throughout the whole venue and ailes. Their set list included many of their more popular songs from their past cd's such as: Boogie Bumper, Jumpin Jack, Minnie the Moocher, King of Swing, Mambo Swing, You & Me & The Bottle Make Three(probably their most recognizeable song), Pinstripe Suit(which featured the swing dancers on stage once again creating some great moves, flips, energy. Newer songs played included Jungle Book, Big Time Operator & Oh Yeah?. The encore song of "Go Daddy-O" had the crowd so satisfied with this great successful beautiful evening. It was pretty much a full house and from start to finish, it couldn't have been better. For future shows and information at the Hollywood Bowl, please call (323)850-2000. Jazz night is every wednesday night through the summer but there are many other great performances with orchestras, symphonies, and special events with name head- lining acts including some grand fireworks spectacular promotions.