Big Bear/Snow Summit Skiing, Apples B & B Lodging and Peppercorn Grille Dining in Big Bear,Ca(1/08)
SKIING IN BIG BEAR AND SNOW SUMMIT
Skiing in Big Bear & Snow Summit has its pros and cons. The mountains have some great terrain, runs, and a nice variety. Big Bear is more popular for snowboarders as they have a snowboard park with jumps. Snow Summit is better for the skier with wide runs and groomed trails. You have to get lucky with the weather, as the mountain driving can be tough. If they get a lot of snow, it makes for some great skiing but chains would be required and traffic is miserable. They do make snow but the conditions are not as good but the driving will be easier. My best suggestion is to plan a spontaneous trip during the week if you have the flexibility after they get a dump. This will get you some great skiing and you will not have to endure so much traffic. If you do like most people and come for the weekend, expect it to take around 3 hours just to get down the mountain on Sunday unless you leave in the morning. Coming out during the week will allow you more options to find lodging and no lift lines at the resort. Our top pick for lodging is Apples Bed and Breakfast if you want to splurge and have a great place to stay and eat. More at www.bigbearmountainresorts.com
LODGING IN BIG BEAR
Apples Bed and Breakfast has won many awards from different magazines and we can see why. Apples is located in the Moonridge area of Big Bear Lake, just two miles from the Village. With over 14,000 square feet, and 19 guest rooms with 21 bedrooms
this Victorian Home was built in 1993 and has been pampering guests ever since. Original owners Jim and Barbara McLean lead a hospitable staff as they serve a full gourmet breakfast every morning. During the afternoon the refreshment bar is stocked with coffee, tea, soft drinks, fresh cookies, candies, popcorn, hot chocolate and cheeses. Don't miss the homemade dessert made fresh every evening. The food here is amazing. If you are on a diet, don't bother! Barbara is publishing her gourmet recipes in her upcoming book and takes pride in feeding her guests her own home-style dishes. The gourmet menus range from vegetable quiche, Santa Fe baked eggs and other gourmet specialties and house recipes depending on what day you are there. Fresh baked biscuits, muffins and scones are served with breakfast along with other specialty accompaniments. Some desserts served are pumpkin-carrot cupcakes with a cream cheese frosting, white chocolate raspberry bars and pecan pie treats among other delectables.


The house is decorated with an apple theme and there are a lot of interesting collectables to gaze at. This is a popular destination for "scrap bookers". These hobbyists working on their scrapbook projects utilize the back rooms at the Inn while enjoying the quaint coziness of Apples. This is a great spot for business travelers and for mid week conferences as the space can accommodate many. Jim and Barbara also cook dinners for special occasions and groups that stay. The garden and gazebo at Apples can accommodate 100 guests for weddings and parties during June- September. There is a nice hot tub outside which can be enjoyed on a cold winter evening under the snow covered pine trees.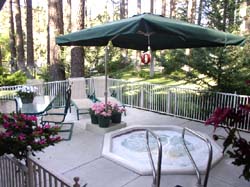 Each room is equipped with an oversized Jacuzzi tub if you desire more privacy for soaking. The rooms also feature King sized beds, gas fireplaces, televisions, and DVD players. There is a family room with a game table a grand piano and an abundant movie and book library to borrow from. This is the place for the discerning skier, vacationer or business traveler. It is like a home away from home. For more information see their website www.applesbigbear.com or call (909) 866-0903
Apples Bed and Breakfast is located at 42430 Moonridge Road in Big Bear Lake, CA 92315
DINING IN BIG BEAR
When a restaurant tenant suddenly skipped out of town on the location that Mike Hastings built at 553 Pine Knot Avenue his wife Julie said, "let me give it a shot! I'll try my hand at running a restaurant." Boy, did she ever! Four years later, Peppercorn Grille is the most successful restaurant in all of Big Bear Lake. Owner Julie Hastings was born and raised in Big Bear and despite having never run a restaurant before, she knew exactly what Big Bear needed… consistent good food. That is just what Peppercorn Grille provides. They have had the same chef since they opened and offer the finest quality meats, fishes and fine faire. Friends of Julie's in the restaurant business told her to get cheaper meats, buy things in bulk, and to watch her budget. Instead Julie went all out and bought only the freshest ingredients, the best quality food, and with no budget and no experience she wanted to do whatever it took. She offered discounts to locals to create a local following to keep the restaurant afloat during the off-season. Her recipe worked! Peppercorn Grille is consistently packed every night, year round, a rarity in a resort town.
We dropped in for a late dinner and experienced why for ourselves. First off we noticed the line of people without reservations waiting to be seated. This is a popular place with only 14 tables inside and 7 on the patio outside (closed when it's cold out). Be sure to make a reservation. The wait can be up to an hour and a half! The burgundy colored ceiling is accented with chandeliers creating a romantic dim lighting. There are traditional "still life" paintings on the walls and Victorian floral drapery framing the spotlessly clean windows. Nice jazzy background music creates a cozy feeling. There is everything you could ask for on the menu… everything but Mexican food! They have Fish, Angus Steak, Chicken, Lamb, Pork, Pasta, Pizza, Soup, Salads, Appetizers, Cocktails, and 50+ Wines from around the world and Desserts made on the premises. We started our meal with the Artichoke Heart Sauté that was sautéed in olive oil fresh garlic, balsamic vinegar, pepper, breadcrumbs and Romano cheese. This delectable appetizer is nothing but hearts served off the body. No work getting to the artichoke meat here, just eat them up. Nice strong vinegar flavor!
Then we had the seared Ahi tuna. These sliced were thick, seared perfectly! We also tried the Calamari. These were served as steak strips, very lightly fried, drizzled with lemon aioli and served with a spicy tomato sauce, which made us think of mozzarella sticks. Yummy! The house salad was perfectly accented with sunflower seeds to give an extra special flavor. To compliment we had Green Goddess dressing and black cherry vinaigrette. Both were delicious! For the main course we had the Filet of Alaskan Halibut prepared with a Macadamia Nut coating with Black Cherry Chutney and a Sweet potato mash. This fish was so fresh and delicious and the flavorings brought out the essence of the fish without overwhelming it. For dessert we tried the Tiramisu and the Crème Brulee and the delicious Apple-Raisin Bread Pudding, all prepared in the kitchen. What a great way to end the meal! Some other notables on this extensive menu are the variety of steaks and fish, the lobster, the artichoke-spinach stuffed chicken breast, the wild mushroom and spinach lasagna and the variety of pizzas prepared fresh daily made to order in their brick oven. Truly, Peppercorn Grille has it all! They are located In the Village at 553 Pine Knot Avenue in Big Bear Lake. For reservations call (909) 866-5405 and check out their website at www.peppercorngrille.com