Manhattan Transfer and Big Bad Voodoo Daddy at the Hollywood Bowl (7/08)
The Manhattan Transfer group delighted the crowd with their golden oldies. They all looked like they just stepped out of the 1930's. They were beautifully dressed and proper looking in appearance and actions and their vocals were as smooth as ever. They did a lot of gorgeous harmonizing as well as an exhibition in scat singing. At times you couldn't tell if it was the horn section or one of the singers while they were scatting. It was a spectacular performance that got most of the crowd on their feet to applaud them as they finished their set and left the stage.
There is something magical about the Hollywood Bowl in the summer time. When the giant orange sun sets behind the mountains and the night cools to the perfect temperature and the stars begin to appear high above the still trees that surround the bowl, it all makes for the perfect setting to enjoy some great music.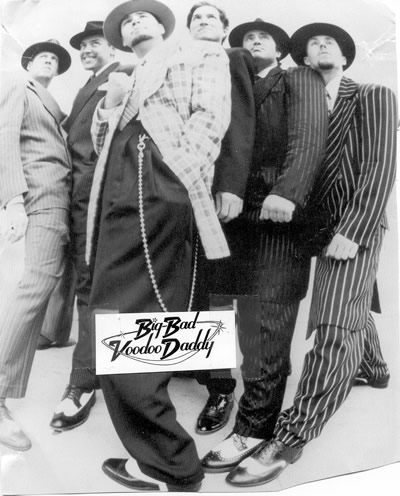 The mood was just right when Big Bad Voodoo Daddy hit the stage. They came out smoking with lead man Scotty Morris lighting up the stage with his charisma and big, clear vocals. He's backed by his original band members since they started 15 years ago and it shows. They don't miss a beat. They come out with great energy, precision timing, thunderous drums and saxophones and horns blazing. It's impossible not to be smiling and have your toes tapping when listening to Big Bad Voodoo Daddy play live.
They played a set that would have made Cab Calloway proud. Songs you would have heard if you were in the Cotton Club in the early thirties. It was fun being transported back in time when swing was the biggest thing on the planet,
It was a fantastic night and a great time had by all. Anybody who was at the show and wasn't already a fan of Big Bad Voodoo Daddy, became one after the show was over.
For more information about some great upcoming concerts and events at the Hollywood Bowl, visit www.hollywoodbowl.com