The Anaheim Ducks succumb to Stanley Cup Champ Red Wings in playoff like game in Anaheim (1/09)
The Anaheim Ducks and Detroit Red Wings squared off at the Honda Center on January 14th, 2009 in front of a sell-out crowd. Playoff electricity filled the arena, and everyone in attendance got his or her money's worth. As is typically the case when these two talented teams get together, this was a back and forth affair, with the visiting Red Wings completing a thrilling come-from-behind victory, 4-3. The Ducks played a strong, aggressive game until the 3rd period, when they came out flat and looking tired. These are the same problems most teams face when playing against a Red Wing team that is truly four lines deep.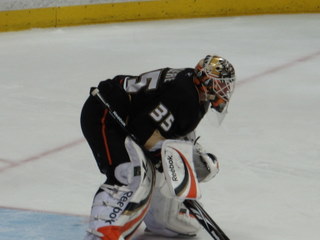 The Wings took advantage mid-way into the 3rd period when Dan Cleary walked in alone skating past Scott Niedermeyer and Bobby Ryan to tie the score at 3-3. Johan Franzen scored the game winner soon thereafter as he deflected a high shot past Giguere (pictured above). The goal was reviewed by replay officials who determined Franzen did not use a high stick to deflect the puck into the net.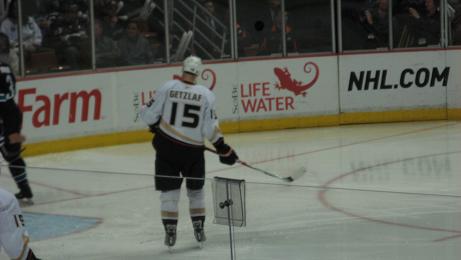 The Ducks' Ryan Getzlaf (above) played a particularly strong game and was dominant throughout. He scored one goal and assisted on two. This rivalry is getting stronger and the Wings will not soon forget that it was the Ducks who took them out of the Playoffs in 2007 on their way to the Stanley Cup championship. The Red Wings, however, are the current holders of the Cup, and are having another fantastic season, trailing only the San Jose Sharks in points in the Western Conference. This is thanks, in part, to the fact that Detroit has added the highly talented Marion Hossa at forward this year, obtaining him from Pittsburgh. Hossa is the Wings' leading scorer. Add Henrik Zetterberg, Pavel Datsyuk, tough man Tomas Holmstrom, right wing Mikael Samuelsson, left wing Jiri Hudler and Top defenseman Nicklas Lindstrom among many other talented players and it is easy to see why this team is so tough to beat. Chris Osgood has been tough in goal posting a 15-2-5 record despite a tad bit higher goals against average.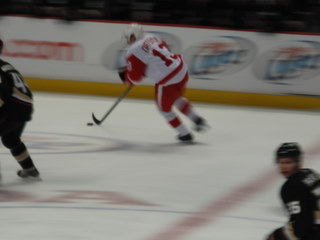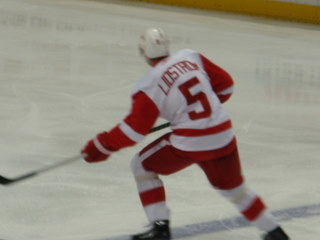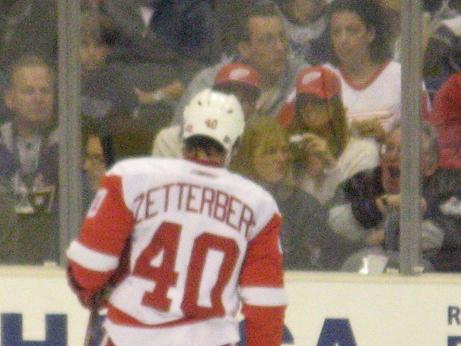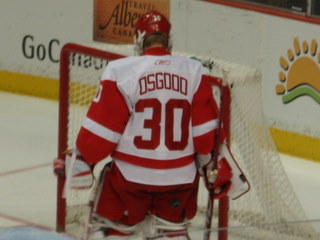 The Ducks have had some injuries this season and are hoping to get Teemu Selanne and Todd Marchant back in the lineup soon. Bobby Ryan has picked up some of the scoring slack in the interim, and Corey Perry has played well since returning from a four-game suspension for an elbowing incident. Anaheim is currently is second place behind the Sharks but want to improve their rankings for the playoffs and home ice.
For more information, please visit http://ducks.nhl.com