Visiting San Diego attractions Legoland, Seaworld, San Diego Zoo, Childrens Museum- Dining at Richard Walkers Pancake House, Oceanaire, Currant Restaurant, Asti- Lodging at The Sofia Hotel- December 2011
We started our venture from LA down the 405 and amazingly hit no traffic. Our first stop was Legoland and the Sea Life Aquarium about 90 or so minutes to Carlsbad.  Legoland is a fun amusement park mostly for kids and teenagers featuring legos all around the park with rides, attractions, shows and other specials.  They had a snow park open during the holidays, which is great fun for kids as you can build a snowman or ride down a small hill in a sled.  The adjoining Sea Life Aquarium is a must as there are tons of fish, sea creatures and beautiful surroundings among the many views and aquariums inside the aquarium.  Go to www.legoland.com for schedules, pricing, hours and other info.
We then drove down to downtown San Diego about 30 or so minutes south until we reached the Sofia Hotel where we were staying.  This beautiful redone hotel was originally built in 1926 and restored in 2006 to give its unique decor of modernism and history in a relaxed setting.  Our room was a mini-suite, which had a separate sitting area, and great if you have kids so you are not in the dark after you put them to sleep at night.  Each room is provided with 2 bottles of complimentary water every day and a free USA Today Newspaper in the beautiful lobby. There are 211 total rooms and the hotel is perfectly located a few blocks from the Gaslamp District.  It has some nice amenities including a fitness and yoga room, business center open 24 hrs with free internet access and a fantastic American Brasserie for Dinner and weekend brunches.  The hotel supplies valet parking and free bike rentals when you are staying.  The concierge Chad was very helpful locating much needed information, requests and directions quickly while the reception and valet staff was very polite and knowledgeable.  The rates are very affordable for very nice accommodations and a great location as we highly recommend the Sofia Hotel. You can view more at www.thesofiahotel.com
The restaurant is called Currant and we highly recommend it where you can enjoy fabulous food such as the grilled flatbread, blue crab stuffed avocado and Currant market salad for starters.  The best dish of the night was the Seared Sea Scallops cooked to perfection with a cauliflower/mashed potato puree, dried cherries and mizuna, which is a type of leaf like arugula.  The Scottish Salmon with a leek-lentil salad and tarragon aioli was also a big hit.  Don't miss the Mac & Cheese as a side as it was out of this world.  Executive Chef Walter Manikowski takes great pride in ensuring all the dishes are tasty and well liked.  Try one of their specialty cocktails or some wine to accompany your meal.  Finish with the grazing board of fresh cheese choices and other items and end with the chocolate soufflé.  More at www.currantrestaurant.com
Other fun places to visit included the New Children's Museum about a 10-minute walk from the hotel that included many hands-on activities, arts and crafts and other kid's entertainment for a couple hours. More at www.thinkplaycreate.org
One block away is Richard Walker's Pancake House, which is a staple in this area and attracts crowds every day for breakfast.  Some of the more incredible pancakes and varieties you will ever have.  This place is definitely not to miss from their baked applepancake, Swedish pancakes and buckwheat pancakes.  They do serve other items but it is suggested to get one of their specialties, as you probably not see it anywhere else.  Check out www.richardwalkers.com
Other fun attractions to see and only about 10-15 minutes away by car are the world famous San Diego Zoo and Natural History Museum located right next to each other in Balboa Park. Both have specialty exhibits and fun for the holidays so this is a must to check out.  For more info, please visit www.sandiegozoo.org and www.sdnhm.org
The museum has several exhibits ongoing including a 3D theater with 3 movies playing each day included in your ticket. One current exhibit open until January 9th, 2012 is called Ends of the Earth: From Polar Bears to Penguins
Discover the unique nature of the Earth's polar regions, the science undertaken there, and how these regions are indicators of climate change on Earth. Visitors will relive polar expeditions though the eyes of great explorers, learn about the formation and size of icebergs, and conduct experiments. Discover polar bears and penguins and the impact that global warming is having on their icy homes in the Ice Cave Theater.
The one fine dining restaurant not to miss is in the gaslamp district called The Oceanaire Seafood Room.  This charming, elegant and high-end restaurant serves up the finest, fresh fish you will have in the city.  Look no further as they change their menu daily.  The staff and service is incomparable and our waitress Laura was helpful, professional and offered great suggestions.  We started with their signature jumbo lump crab cake, flash-fried red chili calamari and off the charts New England Clam Chowder. There are so many choices including a fresh oyster bar, a great selection of hot and cold appetizers and fantastic salads.  Our recommendation is the spice tuna/ avocado salad with a citrus and soy dressing and the roasted beet salad with toasted hazelnuts and goat cheese.  You cannot go wrong with what you choose.
For main courses, the fresh catch Fijian Onaga Snapper was the top pick with your choice of preparation.  The tender fish was cooked to perfection and we had it topped with crabmeat and in a white wine/caper sauce.  The variety of other entrees included Pacific Swordfish, Hawaiian Tuna, Mexican Mahi Mahi & Grouper, local Ono, Canadian Link Cod and Lobster or Crab selections from the tank.  If you are in the mood for meat, they have filet, pork chops, NY Strip, Ribeye and Chicken.  However, we highly recommend sticking to seafood as that is their specialty and they know how to do it right.  The Culinary Team of Executive Chef – Sean Langlais Executive Sous Chef – Chad Kilgore Sous Chef – Brian Bonney makes this the #1 place in San Diego.  Have some wine or one of their signature cocktails from their extensive list on the back on the enormous menu.  We cannot wait to spread the word about our incredible dining experience. The Oceanaire Seafood Room is located at 400 J Street, San Diego and for reservations call (619) 858-2277  
www.theoceanaire.com
Asti Ristorante Fine Dining Italian Cuisine is located in the heart of the gaslamp quarter in downtown San Diego.  The staff and service are fantastic while the food is delicious.  Many of the dishes are large family style and there is quite the variety.   For starters, do not miss the fritto misto calamari, which is very tender or Dungeness crab cakes over a house salad.  My top recommendation is the caprese salad with fresh buffalo mozzerella.  If you order a pizza, make sure to have some of that same buffalo mozzerella melted on top as it is out of this world.  The bread is fresh and wonderful but be careful not to eat too much so you don't get full.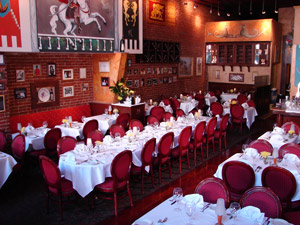 There is plentiful of salads to choose from as well.  For entrees, it depends on what you are in the mood for.  The menu is so extensive, it is hard to choose from.  There are about 20 different pasta dishes to choose from, risotto,  seafood with a variety of accompaniments including pasta, chicken, veal and meat.  If you cannot decide and want to go for a popular Italian specialty that is not that common anymore in restaurants, go for the Osso Bucco with saffron risotto.  Mix in a nice cocktail or some wine with your meal and enjoy the ambiance and friendliness of the staff.  End with the tiramisu which is home-made and to die for.   For reservations or more information call 619-232-8844 or visit www.astisandiego.com