Aspen/Snowmass Skiing, Lodging and Dining that we highly recommend (2/12)
We started our adventure from LAX to Aspen via United Airlines as they offer a direct non-stop flight which is only about 2 hrs (weather pending).  We were unfortuneate as we had to divert to Grand Junction as the snow and visability didn't allow us to land. United provided a nice big bus to transport us to Aspen in 2 hrs and also provided an apology and 3000 miles to our mileage plus program which I thought was a very nice gesture since it was a weather problem and nothing to do with United.  Upon arriving at the Aspen airport, we were picked up by the complimentary shuttle from Silvertree Lodge where we were staying.  We rented our equipment from Four Mountain Sports right in the mall and got out for about an hour before the lifts closed at 4pm.  http://www.aspensnowmass.com/onmountain/rentals/dandesports.cfm    The best place to have your skis repaired, tuned or waxed is also right in the snowmass mall called Sunset Ski Repair.  The owner Mike was so helpful and knowledgeable showing why they have been in business so long.  http://www.sunsetski.com/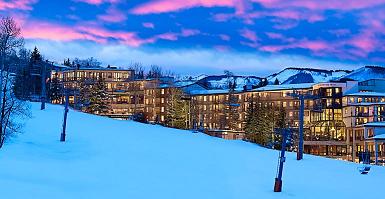 Silvertree is a beautiful ski in/ski out resort with helpful staff, service and great spacious rooms.  We had a delux slope view room down the hall from the fitness center and adjacent to the heated pool and jacuzzi.  Their business center is complimentary in the lobby for guests. This place spells "convenience" while offering fantastic amenities.  They will be closing down after the ski season for a huge remodel and become a high-end Westin Hotel we heard.   The Silvertree Hotel and Conference Center, the first conference center in a Colorado mountain resort and a longstanding favorite of meeting planners, ski groups and leisure guests for over 25 years, has been purchased by a joint venture between Starwood Capital Group Global, LLC and Wasserman Real Estate Capital.  The purchase also includes the Wildwood Lodge and approximately 20,000 square feet of retail space within the Snowmass Mall.  The venture will result in very significant renovations to the hotel, including all rooms, meeting space and public areas.  Upon reopening, the hotel will operate under a Westin brand while the Wildwood Lodge will remain under an independent flag but be managed by Starwood Hotels.  The hotel and Wildwood lodge will receive a total interior redesign and refurbishment and will be the site of a new state-of-the-art spa/exercise facility and a relocated more accessible full service restaurant.  The interior of the Conference Center will also be refreshed. The new owners will bring the signing of both group and transient business year round. Most of the renovations will occur during 2012 with minimal to no disruption to the Conference Center. 
SKIING:
We started our second day at the beautiful resort of Ajax also known as Aspen Mountain. The weather was absolutely gorgeous, sunny and not windy. It had snowed the night prior with 4″ of beautiful dry snow.  The mountain has a wonderful diversity of runs for all levels and this was the day for it to be taken advantage of from. Some of the runs are one to three miles and it takes a good 10 to 15 minutes to get down to the very next chair.  We met all kinds of lovely people ranging from all different ethnethcities. People from all over the world come this place because it such an incredible mountain and it has so much to offer along with the happening adjacent town.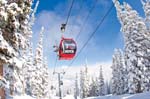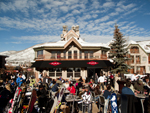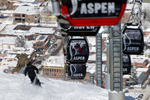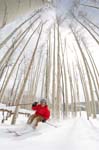 There is a great variety of blue and black runs. Some of our favorite intermediate (blue) runs were copper run, 1&2 leaf, ruthie's run, spar gulch, dipsy doodle, silver bell and many more. Some of the advanced (black) runs we liked were Northstar, Back of Bell, Buckhorn and Aztec. The also have the Silver Queen Gondola that takes you from the bottom to the top in less than fifteen minutes and it has some really beautiful views.  We actually ended up skiing a second day at Aspen later in the week and it was also fantastic. The first day was sunny and beautiful. The second day was much colder and snowing through out the day but provided some fresh snow to ski on.  It's a whole different feeling when it snows because your boots sink into the snow and it's more of a gliding and flowing sensation.  We did the Back of Bell black run, skiing through the trees and it was so much fun.  It just leaves a whole different context and wonderful sensation that is hard to describe.  Other intermediate runs that we discovered the second day were copper bowl, kleenex corner, summer road, and little nell.  Some of the advanced runs were pussyfoot, blondies and fis trail.  They were all a lot of fun and at times very challenging.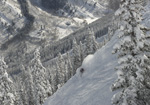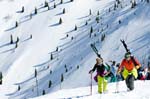 Our third day, we proceeded to the most advanced mountain called Aspen Highlands (pictured above) which was a 20 minute bus ride from snowmass.  It was a very cold day today around in the low 20's.  The mountain had many different levels of skiing but is more on the steeper side. We started on the Exhibition ski lift first. That takes you up about half way up the mountain. From there, we took another chairlift called Loge Peak which took us to the very top.  We signed up for the free group tour and met up with the guide right at 10:30am, who gave us a 1 hour tour of the mountain and showed us a good deal of all the best places to ski and to observe.  He really did a great job.  We then went on our own and did intermediate and advanced runs the remainder of the afternoon.  Some of the intermediate runs we enjoyed were called gunbarrel, grand prix, kandahar, meadows, wine ridge, broadway and hayden. They were all long and beautiful slopes. Some of the advanced runs that we liked were called olympic bowl, robinson's run and a really cool run called sherwood forest, which was very exciting because it was very narrow and lots of trees besides us and a bit challenging to maneuver.  They also had another great chairlift called cloud 9 which included some of the runs we've incorporated already.  Don't miss the wonderful restaurant also called cloud 9 which we had the pleasure of having a nice lunch.  Reservations are recommended and the prices are about $38.00 per person.  It was a great experience and offered an amazing view.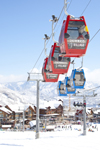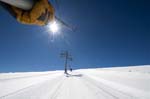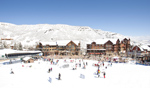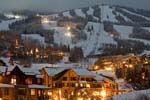 Our last day was spent on the vast mountain of Snowmass (pictured above).  It was very cold and crisp outside but not to windy.  The conditions were great because it had snowed 8″ the day prior.  The mountain offers the largest variety of runs because it's the biggest of all 4 mountains (Buttermilk's Beginner/Intermediate Ski Resort being the last of the four but we didn't get there).  The peak of Snowmass is at 14,092 feet and offers 4,406 vertical feet and 91 different trails.  They also have 2 gondolas and 7 high-speed quad chairlifts.  Some of our favorite intermediate runs were the Big Burn, Sheer Bliss, High Alpine and the Elk Camp chairs.  We really didn't do much on the advanced runs because we were getting tired on our last day besides really enjoying all the cruise runs.  They were also very long ranging from 1 to 3 miles as well.  All in all, this mountain has so much to offer and is not to be missed!!! We have to say that Snowmass was our favorite mountain to ski from the vast diversity, huge open runs and by far the most options and lifts. We will make sure to spend the majority of our time there on our next visit. 
For more on all the mountains and resorts, please visit http://www.aspensnowmass.com
DINING:        
For breakfast in Snowmass, "Fuel" is the place to go. They offered delicious breakfast burritos, bagels with a variety of cream cheeses and wonderful smoothies. It is located right in the snowmass mall next to the bus station and quite the popular place. It has to be the most affordable yet very delicious place for breakfast around and we can see why it got crowded.
If in Aspen, check out Aspen over Easy a few blocks from the gondola. Their fabulous eggs, pancakes and other creations will make you want to come back.  The smoothies are quite healthy but delicious.  The place is very new but already has a nice fan base.  More at http://aspenovereasy.com
Our first night, we ate at the Artisan Restaurant located at the Stonebridge Lodge in Snowmass is a great place for fine dining and their great buffet breakfast and omelete station.  Their menu is very diverse from salads, pastas, meats and fish.  For appetizers, we started with the grilled artichokes and tasty ahi tartare (our personal favorite).  For entrees, we recommend the local fresh trout and signature peking duck.  A great cocktail menu and wine list helped accompany our meal.  The atmosphere was lovely and if you come on Tuesday or Thursday nights, Doc the popular comedian/magician entertains throughout the evening.  The Artisan is very popular at the bar/lounge for people to hang out as well and Debbie (the Manager) was most hospitable.  Information, menus and reservations at http://www.stonebridgeinn.com/snowmass-colorado-restaurants.php

Our second night, we had the pleasure of dining at a very lovely and romantic restaurant called Syzygy. It had a very lovely atmosphere with beautiful hi-tech paintings such as coral reefs in the ocean. The restaurant offered a very extensive menu form wild game to fresh fish. The appetizers were delicious and tasty.  Our server was absolutely wonderful and knew every single detail on the menu. They offered a very nice wine list but we just went for the wine by the glass. The first was a french white chardonnay, which was very smooth and tasty while the second wine tried was a complex red cabernet sauvignon from Napa Valley that was called CC Cabernet.  They were both superb and went well with our dinners!!! Aspen is known for its fine culinary places to eat and this one is a must.  Don't miss the crab & shrimp louie salad as well as the shrimp scampi for starters. The scampi was cooked to perfection.  We then moved the main course and the two wonderful fish dishes we had were the Branzino, which is a Mediterrean sea bass and the Walleye, which is a northern Minnesota Pike in the whitefish family. Don't leave without ordering their pear tartan that was absolutely out of this world.  http://www.syzygyrestaurant.com
Another wonderful restaurant that we ate at was called il Poggio located a block from the Silvertree.  It had a very rustic look and nice ambience.  They had delicious appetizers such as the rosemary flatbread with garlic and a wonderful mild cheese, shrimp with a lovely tomato base and vegetables with pasta and tasty ahi tuna on little biscuits.  This popular Italian Fine Dining cuisine has it going on.  For the main course, we tried the corvine fish from California and to die for short ribs.  They were both incredible. The short ribs came with an incredible sauce that just melted in your mouth and this was our favorite dish.  The deserts were fantastic as well.  We both tried the thai coffee gelato and the pumpkin cake with fruit.  Our waitress Kelly was very personable and really spent a lot of time with us.  We enjoyed a glass of the chardonay followed by a nice italian wine called Valipolicella to enhance our experience.  More at http://www.facebook.com/pages/il-Poggio/189720657193 and http://www.eatsnowmass.com/fulllisting.php?row=235
Our last and final restaurant that we dined at was called Pinions.  It's located downtown in the heart of Aspen.  It has a very large dining room with a wonderful, simple and contemporary style.  There were several large original photographs on their wall that were really beautiful and picturesque.  Start with one of their signature cocktails like the Pear Martini, which will get you in a great mood. The cuisine was of your traditional American type and it was superb.  They offered delicious appetizers such as the sashimi tuna tacos and the pan-seared  jumbo prawns with polenta and garlic crostini.  They were amazing!  They served us a glass of Miner chardonnay that went great with the appetizers.  We then had a shiraz served with our entrees which blended perfectly with what we ordered.  The Herb Roasted Rack of Colorado Lamb was one of the best we have ever tasted and the Parmesan Crusted Veal Chop that came with a white truffle risotto and a mixed forest mushroom sauce was also top notch.
We were very satisfied and although all the restaurants we ate at were fantastic, this was our favorite.  The manager Jim was so helpful and professional.  We highly recommend visiting this incredible restaurant. www.pinons.net
Photo credits: Hal Williams, Ian Fohrman, Daniel Bayer, Brian Porter and Jeremy Swanson