Oxnard (Food & Music) Salsa Festival July, 2013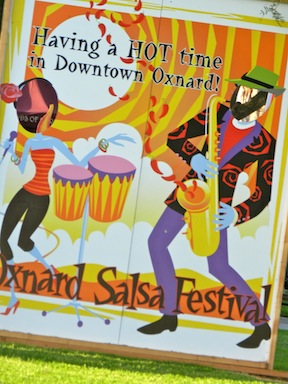 Drive through Oxnard any time in July and you get the impression that the town is center of the Salsa World.  And it is.  Just follow the lamp post banners to the Annual summer Oxnard Salsa Festival in Plaza Park (For Festival information, call 805-247-0197, 800-2-Oxnard, or visit www.oxnardsalsafestival.com). And it's as spicy as you like it.
This year's spotlight food, music and dance.  They hit their mark of creating a place where "salsa (the sauce and the music!) reigns supreme." Festival admission and parking are free. (No coolers or pets are permitted on Festival grounds, though).  Tickets into the Salsa Tent are a mere $5 per person and includes a bag of fresh Mission tortilla chips and ten tasting tickets.
Although it seems impossible that quaint Oxnard, the town that created the festival-famous  Strawberry Festival, could duplicate another such feat, this salsa brainchild of a handful of local aficionados has grown to an entire week-end, attracting 50,000 people.  
The two-day event kicked off on Friday evening with a pre-event community concert (Tito Puente, Jr!).  Top salsa bands from Los Angeles and San Francisco performed on the huge, specially constructed stage.  Non-stop salsa dancing with partners of all ages rippled on a dance floor in front of the park audience. 'Dancing with our Community Stars' dance contest and a charity fundraiser along with salsa dance exhibitions were featured over the next two days.
Culinary event highlights were many.  There was the Tasti-Lee® Tomatoes Salsa Tasting Tent, an eclectic vendor marketplace plus two international food court, a kid korner and tortilla art for kids.  There was also a good-natured but highly competitive salsa recipe contest and cooking demonstrations.
A professional salsa tasting competition serves as an introduction to the Salsa Festival.  Judges are local civic officials and passionate home cooks, professional chefs and food writers. I've been lucky enough to be one of those writers for the past three years.  As thoughtful and determined as this event is, any gathering with food is fun, so a warm, good-natured attitude prevailed among both competitors and judges.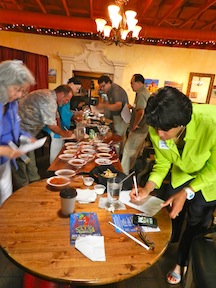 The Kitchen Restaurant competition hosts, starting with owner Cathie Moreno and her staff,  made sure everyone felt welcome and comfortable.  The staff also had to answer the phone to give driving directions to the restaurant because of the quirky layout of the coastline road leading into town.  I was one of them.  Next time I'm taking the train!  Oxnard Amtrak Station is just three short blocks from the festival site. Amtrak Pacific Surfliner offers 'Kids Ride Half Price' and other special rates
 The competition room is set up with a long table, on which bowls of the salsas are lined up in categories.   Bowls of chips for the judges to taste the salsa were provided (and filled lots of times) along with liquid refreshment.
The room is silent and serious for almost two hours of tasting and comparing, each judge making notes and giving a final ranking on over 30 salsas grouped into reds, greens and fruit salsas, then further broken down into hot, mild and spicy. The "blind tasting" means that no names, only numbers, identify each salsa.  Decisions are made carefully with 10 categories to consider, everything from Appearance (consistency and texture) to Flavor (seasoning and spiciness, chili and heat).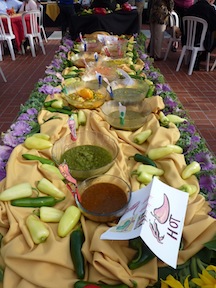 Winners this year:BG's Café for best green mild (and the judges' choice was backed up when BG's Café  won the "people's choice" at the Friday night evening celebration). Cabo Seafood Grill & Cantina earned top honors for the "best hot," Judge's choice and "Best Red." "Medium red" honors went to Vallarta Restaurant.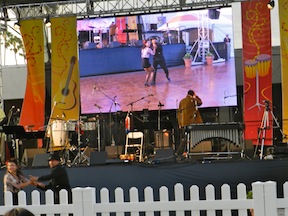 The earnest mood turned to laughter at the victory celebration for sponsors, judges and participants on Friday evening immediately following in the "big tent" in Plaza Park. You could hear the high-energy, sophisticated Tito Puente, Jr. band warming up for the concert across the way.  Tito Puente, Jr!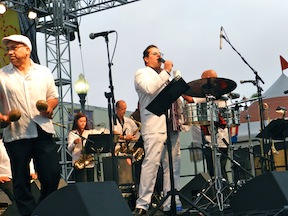 Tables and tables with generous samplings of food that matched the salsa spirit, and spirits too,  filled the tent.  Two friendly hostesses served refreshing margaritas, and you could see one in almost every guest's hand.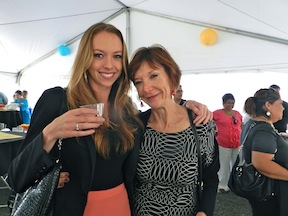 Another highlight we looked forward to every year was the refreshing, smooth Alquimia Tequila sampling that demonstrates the influence of the aging process by the dedicated Dr. Adolfo Murillo, who was joined by his daughter from the bay area.  This year they proudly pouted their new aged, all natural and organic Alquimia. (www.TequilaAlquimia.com).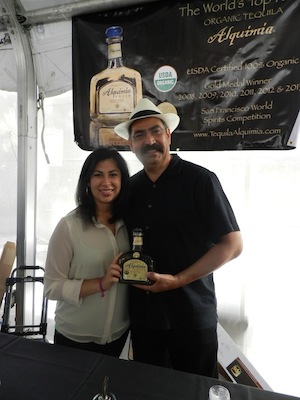 BG's Café's pulled pork was scrumptious, straightforward but with a complicated back-story of days to prepare.  As we were complimenting the two BG's servers, a gentleman stepped up and good naturedly "questioned" our taste  — it turned out to be the very pleased BG's owner!
We also reveled in the decadently delicious, buttery layer coffee-flavored cake served by sponsor, Vallarta Market.  Starbucks coffee (another sponsor) went perfectly with it.  Another well known food writer and I even took a piece home.  It was just as good.
Festival attendees could taste all of these winners and more over the weekend under the big-top tasting tent, hosted by Tasti-Lee Tomato.  This huge "tasting bar" boasted 50 different flavors of salsa to sample and buy. There was "something for every taste," from fresh and fruity, sweet and smoky, to mild and scorching hot.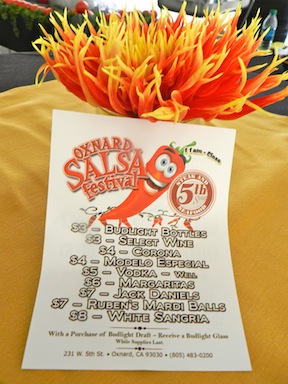 And, if for those who still had an appetite for more afterward, Oxnard has close to 30 wonderful Mexican restaurants. We were excited to try the food  at The Kitchen Restaurant because it was featured on the tv show, "Diners, Drive-ins and Dives."
 During festival hours, The Kitchen Restaurant hosted the "Cook with Our Culinary Stars" demonstration, with the themes of salsa and spice. Eight popular local chefs shared their culinary secrets with tips, tricks and techniques in a wide range of styles and tastes – from comfort foods to Mediterranean.
Oxnard. I have a very special affection for the place. We happened upon the dusty little agricultural town one evening decades ago in a convertible to escape a torrid Santa Ana, and felt as though we drove right into our own "American Graffiti" movie.   Little did we know then of the famed Oxnard Strawberry Festival, or the many terrific Mexican restaurants that head a tantalizing list of white tablecloth and dive dining spots, or of Heritage Square, a gracious walking area on which restored, reconstructed and relocated Victorian mansions and farmhouses serve as public backdrops for eateries and seasonal celebrations of foods and cuisines.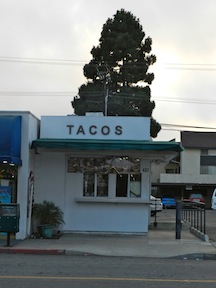 Moreover, chalk this lasting remnant of pure Americana up as a fraction of the history that goes back thousands of years when the pull of Oxnard's nearly perfect weather and pristine coastline destined the area to glory from a bustling start.  At that time 50,000 Chumash Indians thrived on what is now known as the Oxnard Plain, using the oceanfront as a commercial waterway.  The festival proves that this spirit at one time made Oxnard the hub of the United States agricultural world.
 EXHIBITORS 2013 give a grand idea of the scope and depth of the tastings:
BG's Café
428 South A Street – Oxnard
www.bgscafe.com
(805) 487-0700
House red and green salsas

 

Red Hot Foods

820 East Railroad Ave – Santa Paula

Channel Islands Farmers Market

(805) 258-3650

Specialty salsas, hot sauces, BBQ sauces and pickles

Cabo Seafood Grill & Cantina

1041 South Oxnard Blvd. – Oxnard

(805) 487-6933

Mild red salsa, green tomatillo & jalapeño, spicy manzano & habanero

 

San Luis Salsa Co. (Sat only)
San Luis Obispo, California
(888)-657-7275 
www.sanluissalsacompany.com
Original habanero and jalapeño, original mild and original medium

Dona Cele

Oxnard, California

Delicious home style refried beans in a can

 

Sugar Beets Restaurant

455 South A Street – Oxnard

(805) 240-7777 www.sugarbeetsrestaurant.com

Grilled watermelon jalapeño salsa and spicy green avocado habanero

El Dorado Mexican Restaurant
601 South Oxnard Blvd – Oxnard
(805) 483-1919
Diable sauce, salsa molcajete, guacamole sauce, salsa habanera

 

Tacos Don Chente

2131 North Oxnard Blvd – Oxnard

(805) 981-9900

Don Chente habanero green,

DC quemada, flavorful auacate

 

El Oaxaco Restaurant & Panderia (Sun only)

335 West 4th Street – Oxnard

(805) 487-9055

Salsa de chili de aqua, red salsa

 

 

the kitchen

529 South A Street – Oxnard

(805) 385-8980

Roasted tomato salsa, specialty

fruit mild

Ghost Scream
San Clemente, California
www.ghostscream.com
Ghost Scream hot sauce

 

Tomas Café

622 South A Street – Oxnard

(805) 483-6633

Hot mango salsa, Martha's salsa

GotSalsa!

Laguna Hills, California

Fire roasted "GotSalsa! Special" and "GotSalsa! Tomatillo"

 

 

Tresierras Supermarkets

133 W. Pleasant Valley Road – Oxnard

(866) 888-8737

Spicy chipotle, taquera, and strawberry mango

La Dolce Vita Ristorante

(Sat only)

740 South B Street – Oxnard

(805) 486-6878

Mild Italian-style salsa

 

Vallarta Supermarkets

1050 South A Street – Oxnard

(805) 240-1400

Deli-fresh salsa roja & verde, pico de gallo, guac salsa, salsa de aguacate

 

Mama Vega's
5022 West Ave. N (Suite 102) – Palmdale
(866) 896-733
www.MamaVega.com
Pico de gallo, guacatillo salsa™, hillbilly sauce, and more.

 

 

 

Whole Foods Market Oxnard

650 Town Center Drive – Oxnard

(805) 751-4300

365 Salsa – mild, medium, and thick & chunky
Major sponsors of the event were Tasti-Lee® Tomatoes, the Oxnard Convention & Visitors Bureau, Gold Coast Broadcasting, Bud Light, Mission Foods, Wells Fargo Home Mortgage, Ventura County Star.
For Festival information, call 805-247-0197, 800-2-Oxnard, or visit www.oxnardsalsafestival.com