Chef Eric Crowley's Culinary classes for kids this summer- June 8th-August 20th, 2015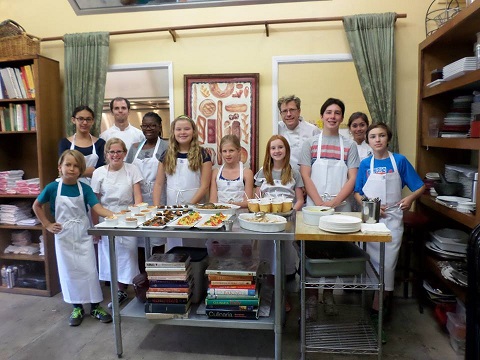 Chef Eric Crowley, a seasoned, professional chef and founder, owner, and chief instructor at Chef Eric's Culinary Classroom in West Los Angeles (http://culinaryclassroom.com /), is kicking off summer with his annual culinary academies for children ages 7 to 15. With various cooking and/or baking/pastry camps beginning each week (June 8 to August 20, 2015), these academies keep kids learning new and valuable skills while they're away from classroom…they'll be having too much fun to know it, though.
Teaching young children to cook can help them to become self-sufficient, create healthy relationships with food, and keep them from developing life-long cravings for the unhealthy foods that surround them. On top of all of this, mastering any skill can help to boost children's self-confidence and help them to learn how to master anything.
Chef Eric has mentored MasterChef Junior USA Winner Alexander Weiss, who watched Chef Eric's online videos to learn how to cook for the competition, and Runner-Up Dara the Bow Girl, who still cooks with Chef Eric. This year, he continued his charity work with CoachArt by donating 10 cooking scholarships, which are given to children with chronic or life-threatening illnesses and their siblings and offer a creative outlet to focus the attention away from their ongoing situations.
From learning how to create a full breakfast spread to baking desserts, to using various kitchen appliances safely, to implementing the correct culinary techniques, Chef Eric has created these culinary academies with the hope that his students will have fun while learning how to cook for themselves and their families.
To register your child for one of Chef Eric's culinary academies for kids, visit https://pj138.infusionsoft.com/app/storeFront/showCategoryPage?categoryId=8
Here's a list of the various culinary academies, which also includes descriptions of each class:
Kid's Summer Cooking and Baking Camps
*Ages 7-15* There will be a variety of chef students of all ages in these classes.
Students will be paired with chef students their own age!
Baking and Pastry Camp – $350
Mon-Thurs-June 15-18, 2015 2:00pm-4:30pm
Mon-Thurs-August 10-13, 2015 9:30am-12:00pm
By popular demand, we've added a new camp only for Baking and Pastry Camp! Come join in the fun and enjoy delicious desserts and baked goods loved by us mall.
Mondays –Chocolate Chip Shortbread Bars, Pumpkin Bread Pudding with Caramel Sauce, Apple and Apricot Tarts, Chocolate-Dipped Pretzel Cookies, Spritz-Ring Piped Chocolate Sandwich Cookies;
Tuesdays – Profiteroles with Crème Chantilly, Individual Chocolate Glazed Buttermilk Bundt Cakes, Cornmeal-Crusted Apple Cakes, Congoloa's (Coconut Macaroons), Fudge Genoise Cake;
Wednesdays – Wheat Crepes filled with Homemade Pastry Cream, Chocolate Soufflés with Homemade Crème Anglaise – Vanilla Sauce, Apple Tarte Tatin with Phyllo Dough Crust, Maple Pot de Crème; Coconut Pot de Crème, Mint Pot de Crème;
Thursdays – Cinnamon Sticky Buns with Raisins, Nuts and Caramel Glaze, Sweet Irish Soda Bread, Traditional Scones with Homemade Orange Butter, Cornbread Biscuits with Cheddar Cheese.
Culinary Academy 1 – $350
Mon-Thurs-June 8-11, 2015 9:30am-12:00pm
Mon-Thurs-July 6-9, 2015 9:30am-12:00pm
Mon-Thurs-July 20-23, 2015 9:30am-12:00pm
Mon-Thurs-August 3-6, 2015 2:00pm-4:30pm
Each day will be fun-filled with kitchen activity as we introduce your children to our kitchen with safety procedures. Your children will return home with new skills and want to help in preparation of family meals.
Monday-PIZZA and Sauces -Cheese and Pepperoni Pizza, Grilled Vegetables, Homemade Pesto Sauce, Homemade Tomato Sauce – We make the Dough;
Tuesday-Desserts; Cinnamon Snickerdoodle Cookies; Spicy Chocolate Cakes; Popcorn Cakes with Chocolate Chips, Jimmies and Marshmallows; Lemon Custard Tarts; Pumpkin Chocolate Chip Cookie Bars; Red Velvet Cupcakes with Cream Cheese Frosting;
Wednesday- Pasta, Ravioli and Sauces – Fresh Pasta Dough, Cheese Raviolis, Fresh Pasta with Olive Oil and House Dried Herbs, Bechamel Sauce Marinara Sauce; Creamy Alfredo Sauce;
Thursday- Breakfast Buffet- Easy Cheesy Omelet – each child makes their own, Oven-Baked Crispy Turkey Bacon, Challah Bread French Toast with Vanilla Bean and Maple Syrup, Snowy Pancakes with Powdered Sugar, Challah Bread Deep Dish French Toast with Cream Cheese and Raisins, Chocolate Chip French Toast with Strawberry Sauce, Baked Breakfast Potatoes with Onion… Summer Cooking Camp Fun for your kids as they accomplish the Basics and MORE and are hungry to learn more!
Culinary Academy 2 – $350
Mon-Thurs- June 8-11, 2015 2:00pm-4:30pm
Mon-Thurs-July 13-16, 2015 9:30am-12:00pm
Mon-Thurs-August 3-6, 2015 9:30am-12:00pm
If your children are a little older or have participated in Summer Cooking Camp, this is the next Academy for them! Each week the menu will be as follows:
Mondays-Cookie Festival Sugar Cookies, Oatmeal-Raisin Cookies, Chocolate Chunk Cookies, Cranberry-Orange Cookies, Giant Ginger Snap Cookies, Lemon Rolled Cookies, Flourless Chocolate Cookies;
Tuesdays-Gourmet Sandwiches with Homemade Breads Grilled Chicken and Rosemary on Ciabatta Bread, Curried Chicken Salad Sandwiches, Smoked Salmon with Herbed Crème Fraiche on Focaccia Bread, Grilled Tenderloin Sandwiches Wrapped in Naan Bread, Fresh Grilled Tuna Salad with Mayonnaise on Pita Bread, Spiced Skirt Steak Sandwiches Wrapped in Tortillas with Avocado and Sour Cream, Grilled Focaccia Bread Vegetarian Sandwiches;
Wednesdays-Healthy and Delicious Snacks- Mushroom-Cheese Pitas, Tofu Veggie Cakes with Roasted Corn Salsa and Asian Vinaigrette, Fruity Kabobs with Marshmallows, Apples with Sweet Yogurt Dip, Home-Baked Pretzels, Homemade Hummus with Pita Bread Triangles, Spinach, Red Onion and Jack Cheese Quesadillas, Classic Guacamole with Plum Tomatoes, Oven-Roasted Sweet Potato Fries, Peanut Butter Granola Bars;
Thursdays-Easy Meals with Desserts – Portobello Mushrooms with Leeks and Spinach, Teriyaki Beef and Vegetables With Peanut Noodles, Grilled Halibut with Bacon and Red Onion Relish, Barbequed Chicken and Apple Kebabs, Vegetable Burritos with Brown Rice, Grilled Corn on the Cob with Herb Butter, Mini Apple Pies, Strawberry/Blueberry Shortcakes with Whipped Cream, Tofu Chocolate Mousse, Meringue Nests with Chocolate Filling, Tropical Filling, Strawberry Filling
Culinary Academy 3 – $375
Mon-Thurs-June 22-25, 2015 9:30am-12:00pm
Mon-Thurs-July 6-9, 2015 2:00pm-4:30pm
Mon-Thurs-July 20-23, 2015 2:00pm-4:30pm**ALMOST FULL**
Mon-Thurs-August 10-13, 2015 2:00pm-4:30pm
For kids who love being in the kitchen and parents who love to eat their creations! Planning of meals, adding baking, desserts and plating with this more advanced series for those who have taken Summer Cooking Camps or have kitchen experience.
Mondays – Italian Cuisine- Gnocchi di Semolina Gratinati, Creamy Alfredo Sauce, Potato Gnocchi, Homemade Pesto Sauce, Chicken Cacciatore, Roasted Potatoes with Garlic and Rosemary, Chocolate Torte Caprese;
Tuesdays – Mexican Buffet- Spicy Ground Beef with Homemade Chipotle Sauce, Spicy Garlic Cilantro, Chicken, Arroz a la Mexicana, Spicy Frijoles Refritos, Corn and Flour Tortillas, Cinnamon Sugar Churros, Cinnamon Lace Cookies;
Wednesdays – Asian Cuisine- Asian RICE Noodles with Sesame Sauce, TOFU Vegetable Fried Rice, Lemon Chicken, Orange Chicken, Snow Peas and Fresh Ginger, Traditional Almond Cookies;
Thursdays –All American BBQ and Desserts – ?James Beard-Style? Hamburger Sliders, Grilled Chicken with Homemade Deep South BBQ Sauce, Oven-Baked French Fries, Homemade Tomato Ketchup, Traditional Potato Salad, Magnolia Bakery Vanilla Cupcakes with Vanilla Buttercream Frosting.
Culinary Academy 4 – $375
Mon-Thurs-June 22-25, 2015 2:00pm-4:30pm
Mon-Thurs-July 13-16, 2015 2:00pm-4:30pm
Mon-Thurs- August 17-20, 2015 2:00pm-4:30pm
We've added some new delicious dishes, fantastic grilling recipes, and International Cuisine exploration, as well as incorporating baking and D=desserts. Watch your kids create menus for you and your family at home out of these great classes.
Mondays – Menus for Healthy Dining- Pizza-Topped Portobello Mushrooms, Grilled Chicken Breasts with Romesco Sauce, Tofu and Peppers with Spicy Peanut Sauce, Basmati Rice with Onion, Carrot, Garlic and Ginger, Chicken Breasts with Mixed Vegetables, Spinach and Goat Cheese Frittata, Chickpea Soup with Olives and Anise, Citrus Soufflé;
Tuesdays – Worldly Travels – Tex-Mex-Style Tamale Pie, Thai-Style Hot and Sour Soup with Beef, Thai-Style Chicken Curry with Coconut Milk, Chicken Breasts Stuffed with Prosciutto, Spinach and Boursin Cheese, Spanish-Style Vegetable Paella, Jamaican-Style Creamy Yam Bisque, Cherry Clafloutis and Apricot Clafloutis;
Wednesdays –International Cuisines- Thai-Style Hot and Sour Soup with Beef, Spanish-Style Sautéed Pasta with Shrimp, Escalivada (Spanish Peppers, Eggplant and Onion), Pilaf-Style Rice, Thai-Style Eggplant and Long Beans, Thai Eggplant and Baby Carrots in Herb Sauce, Spicy Peanut and Chicken Noodle Salad, Moroccan Chicken, Torte Caprese with Chantilly Cream;
Thursdays – Hearty Grilling and Desserts- Oven-Roasted Vegetable-Stuffed Flank Steak, Grilled Shrimp with Asian Dipping Sauce, Traditional Steamed Rice, Grilled Strip Loin Steak with Red Wine Sauce and Kalamata Olive Tapenade, Honey Mustard Baby Carrots, Roasted Vegetable Kabobs with Greek-Style Marinade, Multi-Color Potatoes with Pesto and Parmesan Cheese, Warm Chocolate Cakes with Homemade Berry Sauce.
To register your child for one of Chef Eric's culinary academies for kids, visit https://pj138.infusionsoft.com/app/storeFront/showCategoryPage?categoryId=8