The Ojai Studio Artists Studio Tour 2015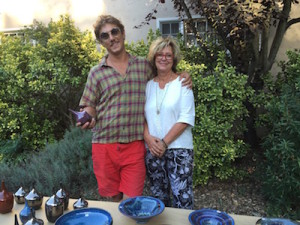 The Ojai Studio Artists Studio Tour 2015 continued the little hamlet's ethereal feeling we always experience there, starting with our first other-worldly visit years ago in 105 degree weather, though low humidity makes it feel so much cooler! (http://www.ojaistudioartists.org/). The petite town at the foot of the Topatopa mountains comes into view in the form of a little gem of Spanish-influenced architecture, arriving from the 101 ocean road to the west or the eastern canyon highways. This time the GPS from the 101 took us through meandering miles of forest alongside the main road, adding drama to the 80 indirect mile drive to the north of LA.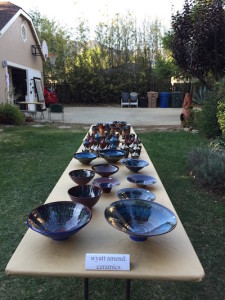 The woodsy feeling continued with our tour of the Richard and Susan Amend's spacious, studio at their home. The welcome – complete with lemon and lime water made with the fruit in the Amend's own yard, and stimulating art were representative of the entire tour experience that already started with friendly greetings at the "downtown" Art Center, where we picked up our maps and wristbands.  Susan Scott overlooked all of the activities for us.  And all of convenient stops were within minutes of each other.
Son Wyatt Amend's recent art work was on display, and Susan showed us her novel bags with LaBrea Bakery logos woven into them upon hearing I was a food writer.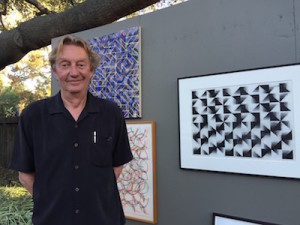 My Otis Graduate School art professor, travel companion, was already so impressed with Richard Amend's work that she made the trip up just to see his studio, after inviting him to exhibit in her L.A. gallery. His lengthy career within multiple genres of art and design includes several decades as a production designer in the film industry spans several technologies, from rubber band special effects to computer-generated imagery. (www.richardamend.net). I never realized till now that I've seen much of his production design work in D.O.A. (1988), Mannequin (1987) and Wild Orchid II: Two Shades of Blue (1991)! Amend's paintings are described as, "visually arresting, mysterious equations of nature, architecture, and illumination all rolled into the stillness and clarity of singular, psychological moments in time."
The Amends also recommended other artists for us to visit, including Carol Shaw Sutton, Pamela Grau and Jeff Crussel, sculptor Ted Gall, Carlos Grasses and Devin Oatway.
Film stars have always sought out the Ojai area, referred to as "California's very own Shangri-La," although it never made it into the movies. The one time Frank Capra shot the landscape as a backdrop for his famous 1937 movie Lost Horizon, the scenes were cut out.
Ojai is still well known for its scientifically proven electromagnetic forces, hot springs beneath the earth, and breathtaking sunsets, affectionately labeled by residents as, "pink moments." I remember an Ojai Valley Inn and Resort manager grabbing hold of my arm one evening as we were walking the grounds, to point out the pink-striped sky. You could almost feel the Chumash Indians there as well (who has an incredibly sophisticated commerce waterway system there 10,000 years ago. These days, prominent celebrities claim residency in Ojai, especially attracted to the historic architecture.   During one of our artist studio visits, Reese Witherspoon strolled into the restaurant where we were seated to pick up take out. She looked our way and gave a friendly southern smile and nod before heading out the door.
The Ojai Serenity Suites (ojaisuites.com), where we stayed in the Artist Studio overlooking the seven-acre Woolsey estate "backyard," proved to be almost around the block from the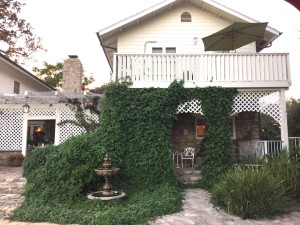 Amend's home, and a work of art in and of itself. Towering ancient oak trees shaded Even with the heat, ancient oak trees and guarded by a stone wall built by the Chinese over a century ago to keep the land from flooding.
Theodore Salisbury Woolsey, a Professor of International Law and the Dean of Yale University built the 5000 sq. foot stone and clapboard historical estate in 1887 after moving his family to Ojai in hopes of improving his wife's failing health.
More recently, a family with four children, looking to escape the urban life, carefully restored the two-story New England-style farmhouse, and another stone apartment on the grounds. In order to do it absolutely properly, Ana, the owner, enlisted the help of an established historian and antique dealer. The owner's granddaughter, Brianna, could not have been more helpful, friendly and charming to our every need.
The Ojai Studio Artists Studio Tour, in its 29th years, began with three nationally recognized Ojai artists, Bert Collins, Marta Nelson, and Gayel Childress. The first year, 24 artists opened their studios and 20 more held a joint exhibition at the Ojai Art Center. From this core group, the Ojai Studio Artists group formed.  OSA today has doubled in size from its beginnings – each new member juried in only after demonstrating the highest standards of professional excellence and achievement.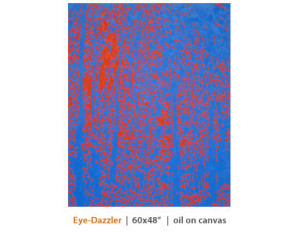 The prestige of OSA's annual tour, always the second week-end of October, has grown with the numbers as visitor numbers for the self-guided tour with maps swelled to thousands. It continues to be a relaxed unique opportunity to meet artists, develop relationships and expand collections.
In 1993, OSA initiated its youth scholarships program with proceeds from Tour ticket and raffle/ auction sales, sponsorships, and private donations.  To date, OSA has given more than $125,000 in art scholarships.  It also purchases art books for local libraries, partners with schools in teaching classes and mentoring students, supports public art projects and other community programs.
Richard Amend's recent work is an evolution of an extensive career as a production designer in the film business. Accepted to the California Institute of the Arts Graduate Program as a conceptual artist in 1971, Amend promptly rebelled by concentrating on painting. In the eighties, his career in film led to extensive travel, scouting locations. In the necessary process of photographing sites for various projects, he found a new direction for painting.
Using the camera allows him the opportunity to use a cool eye when choosing the image.
He strives to capture a singular moment, a stillness, a particular quality of light in his process. The camera also makes decisions.
Amend uses the format of landscape as a point of departure to render mysteriously radiant abstractions of nature. Lush canopies of trees, foliage illumined against the shimmering sky, and night scapes resplendent with ethereal light are his beguiling subject matter. He skillfully blends unabashed pictorialism with design devices to create a highly saturated, stylized approach to the plein air tradition.
These are not nostalgic landscapes. Though landscape painters like Winslow Homer and Maynard Dixon inspire him, there is no attempt to mimic a style. His swift and skillful use of his materials delivers images captured at the moment, before or after action. There is no hero. These are intensely observed yet detached views of moments in psychological time.
His work is included in many public collections including the City of Ventura Municipal Art Collection, the Toyota World Financial Headquarters, Douglass Aircraft, Atlantic Richfield, Security Pacific Bank, JBL and the Inner City Mural Project in Los Angeles. An extensive exhibition history, with many solo exhibitions from Los Angeles to New York and Italy, includes the Carnegie Art Museum in 2004 with a catalogue of his works accompanying the show.
He is a board member of the Ojai Studio Artists and serves both the public and private sector in exhibition design and installation of fine art.
A successful career as a production designer for commercials has awarded him several awards, notably the CLIO in 1995 and the AICP/MOMA in 1994. As a production designer for film, his projects include DOA, directed by Rocky Morton and Annabel Jankel and Wild Orchid II: Two Shades of Blue, directed by Zalman King and the trailer for the upcoming film, The DaVinci Code.