Taos Ski Valley and Ski Sante Fe in New Mexico have something for everyone with some of the best expert runs anywhere- February 2016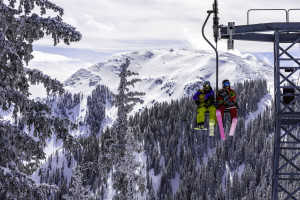 So the main reason to come to Taos is the incredible skiing.  While many people think of this mountain as extreme skiing, it has much more to offer.   There are plenty of green and blue groomers and it is very easy to navigate. You never can get stuck at the end of the day as there are green runs back to the base from both sides.  The resort has some of the better black and double black runs in the country.  This is the second year for the new kachina lift which takes you up to the top and no easy way down.  Great views and expert skiing only there.  Take Main Street down for the safest way. The other way to reach the best snow on the mountain is to hike up off of chair 2, which can take 15 minutes or more depending where you want to go. (Wow, that was quite the workout as I had to take breaks) to the Juarez run, the first one on the left. Definitely a double black experienced run but very fun.   Warning that it is best to get situated to the altitude before trying this as it will get you out of breathe.  Of course only expert skiing there.
Chair 4 is all the way on the left hand side is the other lift you can park near and start off at  this lift takes you to Kachina.  On the far right side is chair 8 (next to chair 2) with some great skiing and fast runs.  Chair 7 is in the middle and offers some great runs and the terrain park.  7a lift gets you back over to the top of the chair 2 lift but everything is very easy to find and figure out.  For such a top resort, the lines are minimal and pretty much zero during the week so you will get plenty of runs in with not a lot of people.
With all of that said, I found many great in between single black diamond runs.  Some through the trees and others off the groomers.  Some that come to mind are Lorelei, chicken blitz, bob's run, pipeline, hunziker bowl and some other semi steep chutes.
Also new in the last 2 years is the sale of the resort from the Blake family to Louis Bacon, who has respected the wishes of the family to not make Taos too commercialized.  Besides the new Blake hotel, there are more upgrades and plans to enhance this already fantastic resort.  The rates are very reasonable compared to other top resorts and you can rent skiis, boots, poles, snowboards at the Taos Ski Valley rental shop across from the main ticket window.  All the staff and lift operators were friendly and helpful.  There are a lot of locals who are loyal to Taos and the place where most visitors come from is Texas.
History & Stats
THE BEGINNING
In the early 1950's Ernie and Rhoda Blake were living with their children in Santa Fe where Ernie was managing the brand new Santa Fe Ski Basin. As part of his job Ernie would fly his Cessna 170 into Southern Colorado to work at Santa Fe's sister ski area, Glenwood Springs. His dream was to have a ski resort of his own, so as he flew he searched for a place where he could begin building his vision. Eventually, he found an ideal spot, the big snow basin north of Wheeler Peak in La Cal Basin. "There was a tremendous snow basin…I thought it was an optical illusion." (-Ernie Blake, Ski Pioneers)
After finding the perfect spot, Ernie moved his family to Taos Ski Valley in 1955. From a camper in the base area where they lived, the Blakes began to build what is now a world-class ski resort. The following are a few facts and stories about how TSV grew and about the people and experiences which give Taos Ski Valley its individual character.
Click here for more information on the history behind the trail names of Taos Ski Valley.
---
TAOS SKI VALLEY HISTORY
Taos Ski Valley was founded in 1954 by Ernie and Rhoda Blake. They lived in an eleven foot camper as there were no buildings in the area except an almost-completed Hondo Lodge (now the Inn at Snakedance). Even after they moved into the lodge, they lived without power until 1963.
The first lift was a Bridger-Boseman J-Bar which was installed in the fall of 1956 by Ernie, sixteen men from Taos Pueblo, and a mule named Lightening. After one day of dragging lift and tower parts through the snow up what is now Al's Run, Lightening quit.
The only run down the mountain in 1956 – 57 was what is now Snakedance
In fall of 1957 a Poma (platter) lift went up Al's Run and ended where Tower 8 of Lift One is now. The lift pulled passengers along the ground at twice the speed of a modern lift. People would ski down around the lift riders because the run was so narrow. Small people were lifted completely off the ground in certain spots and hung spinning in the air.
Rancher Chilton Anderson, after 37 years of service, retired from the Ernie Blake Ski School. Chilton, hired in 1956, is extremely tall and was in charge of lifting the cable back on to the towers when it would fall off, which it did regularly.
The first rental fleet was purchased from the army at Camp Hale when the base there was closed. The skis sold for $1 per ski and had holes in the tips through which a rope could be strung so the skis could be used as a sled. Rhoda was in charge of mounting bindings on all the skis because Ernie wasn't handy with mechanical objects.
On March 19th, 2008, Taos Ski Valley opened it's doors to snowboarding for the first time ever. Prior to this date, Taos Ski Valley was a ski-exclusive resort
---
STATS
Some ski resorts are manufactured for the masses. This is not one of them. Taos Ski Valley is a rugged, authentic mountain, pioneered by people who put skiing first and all else second. Kachina Peak stands high above the Sangre de Cristo mountain range at 12,481 feet. From here, skiers and boarders survey some of the finest terrain in North America- bone dry powder shots, steep chutes, big bumps, cornices, and glades- it is all here. If heart-stopping terrain is not your thing, you will find miles of well-manicured slopes and gradual groomers to carve up all season long. This mecca of snow sports shows every level of skier and boarder a great time. Thanks to Mother Nature's genius and some coveted stashes, there's always more to explore than your legs will allow.
AVERAGE ANNUAL SNOWFALL  305 inches
AVERAGE DAYS OF S​UNSHINE  300+ days
TOTAL ACREAGE  1,294 acres
NUMBER OF TRAILS  110 total: 24% beginner, 25% intermediate, 51% expert
NUMBER OF LIFTS  15 total: 4 quad chair lifts; 3 triple chairs lift; 5 double chair lifts; 3 surface lifts
BASE ELEVATION  9,200 feet / 2805 meters
SUMMIT ELEVATION  12,481 feet / 3804 meters
VERTICAL DROP  3,281 feet / 997 meters
HOURS OF LIFT OPERATION  9:00AM to 4:00PM
UPHILL CAPACITY  More than 15,000 skiers per hour   
SNOWMAKING CAPABILITIES  100% of beginner and intermediate slopes
Winter sports at Taos Ski Valley are made possible through a unique public-private partnership with the United States Forest Service which manages portions of the federal land utilized for these activities.
TAOS IS A CLASS A AVALANCHE RESORT. AVALANCHES MAY OCCUR AT ANYTIME AND ANYPLACE.
ABOUT THE KACHINA PEAK LIFT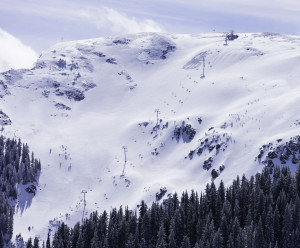 The Kachina Peak Lift allows guests to experience a variety of terrain, including advanced trails, tree chutes and open bowls. Additionally, skiers and riders are able to hike from the lift drop-off to the summit of Kachina Peak to experience some of the most spectacular scenery in the Rocky Mountains. Taos Ski Valley has also committed to preserving a majority of the hiking terrain that is currently available.
The American made triple-seated fixed grip lift, manufactured by SkyTrac, rises 1,100 vertical feet in five minutes to a top elevation of 12,450 feet. The additional elevation will give Taos a lift-served vertical drop of 3,250 feet.
Skiers and riders are now able to access Taos Ski Valley's celebrated Kachina Peak via a new chairlift. The Kachina Peak Lift was successfully installed during the summer of 2014 and summits at 12,450 feet, making it one of the highest chairlifts in North America. The lift increases the mountain's advanced and expert lift-serviced terrain by 50 percent.  Be sure to experience it yourself this season!
More at www.skitaos.com
I also visited ski Santa Fe only 30 minutes from downtown before heading to Taos. A fabulous smaller resort for locals and visitors, this is a great place to spend the day with more snow than you would think.  The staff and customer service were top notch.  It was a great sunny day and perfect warmup on my way to Taos.   They had some very nice runs and it was not that crowded for a Saturday.  Most of the terrain is intermediate and groomed runs.  I did hear if they get a lot of snow and it is the weekend, it gets very popular.