Acclaimed Hershey Felder Brings Leonard Bernstein to Life at the Wallis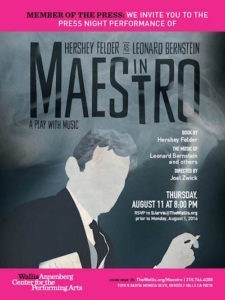 Just about every time Hershey Felder creates one of his inspired  one-man performance portraits of an artist at a theatre in Los Angeles, the result is extension after extension after extension of the show.  He makes his debut portraying at the Wallis August 1o-28 this summer.
Leonine Leonard Bernstein was a conductor, pianist, author, educator, librettist, television star, and the composer of symphonies, iconic film scores and the American musical classics West Side Story, Candide, On the Town and Wonderful Town, among others. He pushed boundaries to become the world's first serious musical media superstar and although he himself was disappointed in the public reception changed the face of music.  I always ask, "can you imagine going to the theatre one evening and sitting down to the first performances of "West Side Story?" (Actually the audience was so stunned that they sat in silence when it was over.)
In his inimitable style, Hershey Felder brings Bernstein to life through first-person narratives combined with the compositions of Bernstein, Beethoven, Mahler, Wagner, Copeland, and more. The audience is drawn deeply into this maestro's fascinating life, one filled with tragedy, triumph, and extraordinary music. More information can be found at: http://bit.ly/29YRAp7.