Visiting San Diego- Lodging at Humphreys Half Moon Inn, Catarmaran Resort Mission Bay, Dining at Dukes, Café Sevilla, Karinas, Oscars, Attractions- Sea World, San Diego Zoo, Sea Aquatica- August 2016
Humphreys Half Moon Inn and Suites is a fantastic place to stay on shelter island only about 10-15 minutes driving from downtown San Diego.  The suites are beautiful and large. They come with a full kitchen to cook and have little balconies or patios. Super amenities and staff and my kids and I loved the large heated pool and jacuzzi.   Views are of the bay with many docked boats and beautiful surroundings.
Settle in for a comfortable stay in one of their luxurious suites. Perfect for vacationing families, groups or business travelers, our well-appointed suites offer all of the comforts of home plus resort style amenities and a waterfront location in the heart of scenic San Diego. 100% non-smoking hotel, 42″ flat-screen HD TV, Refrigerators, Microwave Ovens, New guest room furniture including custom headboards.   Many great music acts perform at their outdoor stadium called humphreys concerts by the bay.
The restaurant was spectacular as we had breakfast and dinner there.   Some of the dishes that I highly suggest are the delicious crab cake, seared scallops and fresh fish at this award winning place.   Great views of the harbor were a plus.  Whether you are coming to a concert or not, humphreys is a must visit to dine and stay as you will be very satisfied.   Their award-winning restaurant, featuring contemporary sophistication, unparalleled fare and world-class waterside views, enjoys myriad accolades for both cuisine and ambiance. Settle into the artfully designed dining room with floor to ceiling marina views for modern California cuisine at its finest, with globally-inspired flavors, crisp seasonal produce and seafood and the best quality meats and cheeses available.  Chef Nicolas Bour's cuisine is at once delicate and flavorful, highlighting California's fresh bounty. Toast to that with a glass of wine from Humphreys So Cal Dining & Music's superb wine list which, for six consecutive years, has received a coveted Wine Spectator Award of Excellence.
Join for breakfast, lunch and dinner daily.  Their Sunday Champagne Brunch features impressive buffets filled with delicious entrées and decadent desserts, all enhanced by the breathtaking views of the marina and San Diego Bay.  More at http://www.halfmooninn.com/
The Catarmaran Resort at Mission Bay is a must stay and visit on your next trip to San Diego.  What a fantastic stay and view we had. The bay and beachfront is right there.  The water was warm to swim in and my kids and I had a blast. It was movie night when we we there so we ended up watching from our balcony as they had a big screen on the beach that we could see.  At 9:50pm, we also had a wonderful surprise viewing the Sea World fireworks right from our room as our view went across the bay to downtown.  This is the best place for families with all the spectacular amenities.  Don´t miss the 2pm parrot show where the trainer and birds talk. Very entertaining and the birds are amazing.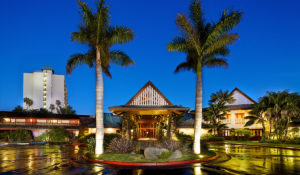 The Catamaran Resort Hotel and Spa is located on San Diego's Mission Bay and across the street from the Pacific Beach shoreline, just 8 miles northwest of San Diego International Airport.
The Polynesian-themed San Diego hotel, a member of the California Green Lodging Program, has 310 guest rooms and suites each with a private balcony or patio and complimentary WiFi Internet. The Catamaran Resort Hotel and Spa has an outdoor pool and hot tub, fitness center, and 14 function spaces – including the beach – for conventions, meetings, weddings, and parties.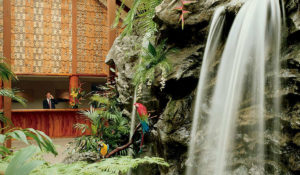 The Catamaran Spa, San Diego's only beachfront spa, offers a South Pacific-inspired menu of treatments with only all-natural marine and botanical elements. Oceana Coastal Kitchen and Moray's feature patio dining only steps from the beach, and Action Sport Rentals has paddleboards, sailboats, kayaks, surfboards, bicycles, and segways for rent.  There are endless activities for you to enjoy without having to leave the resort, including an interactive show with our talking macaws, sunset luaus complete with roasted pig and fiery torch dancers, and movies projected on a 16-foot-wide screen right on the beach. Action Sport Rentals allows you to venture out onto the water on a paddleboard, sailboat, kayak, or fun cat. Boogie boards and surf boards are also available for those looking to ride the waves at Pacific Beach just across the street from us. Ultimately, there is no better location in San Diego for this much fun!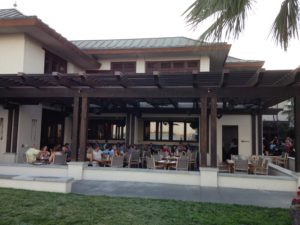 The Catamaran restaurant was an incredible dining experience. We sat on the outdoor patio overlooking the bay.  The staff was very friendly and the food was even better.  We would done here even if we were not staying at the restaurant it was that good.  Some of our favorite dishes included their crab cake, fresh salad, Sea Scallops and Salmon.  They have meats, flatbreads and a wide variety to suit most anyone.  The desserts were wonderful and a great way to end the evening.     https://www.catamaranresort.com/
Dukes in La Jolla was just an overall awesome dinner experience.  High end food and service yet casual attire and a laid back atmosphere.  Sit on the outdoor patio overlooking the ocean if possible but make your reservation early.  Start with some poke, ceviche or grilled octopus.    The fresh firecracker fish was great and the preparations were creative.
The menu is diversed so you can have a hamburger, steak, or chicken.  They are known for their seafood and Hawaii feel as you enjoy your dining experience.   You must end with the hula pie.
Cafe Sevilla in downtown San Diego offers a unique yet delicious Spanish cuisine experience.   The specialty is the paella and my favorite was the black squid ink seafood paella but the traditional saffron seafood paella was also excellent as you cannot go wrong.  The shrimp appetizer was outstanding in a garlic sauce. They also serve a wide variety of tapas and flatbreads. The atmosphere was quiet at lunch but it picks up at night with live Latin flamenco music and dancers many nights.   This is a meal you don't want to miss.
San-Diego Restaurant
353 Fifth Ave. – San Diego, CA 92101
Phone: 619.233.5979
Phone: 619.778.4233
Hours of Operation
Monday 11:30 am – 1:00 am
Tuesday 11:30 am – 1:30 am
Wednesday 11:30 am – 1:30 am
Thursday 11:30 am – 1:30 am
Friday 11:30 am – 1:30 am
Saturday 10:00 am – 1:30 am
Sunday 10:00am – 1:30 am
We visited Karina's Mexican cuisine in Chula Vista for a nice lunch.  The seafood tacos with black beans and mixed shellfish entrée with salad and rice were their specialties.
Oscars Mexican Seafood
927 J Street, San Diego, CA 92101
http://www.oscarsmexicanseafood.com/
Local San Diego chain balances casual atmosphere with high end Mexican seafood dishes at an affordable price.
Situated in the heart of the East Village, just outside of the Gaslamp Quarter and a stone's throw away from Petco Park…Oscars Mexican Seafood capitalizes on its eclectic mix of customers by providing a unique array of fresh dishes that appeal to even the most finicky cravings. If a Baja-style fish grill is what you're looking for…then Oscars is just the right place.
Appetizers include Cucarachas (battered and fried shrimp) or their Garden Fish Salad. Both can be split among two people for about $10. Served in clear plastic cup, the ceviche with avocado is always a popular choice to get you started…either as an appetizer or a light meal. There are 4 different types of ceviche to choose from: fish, shrimp, and mixed for under $5. For a little extra, you can choose the Bluefin tuna ceviche.
The grilled fish is available as a Salad, Taco, Burrito, Torta, or Plate (market price). Other choices include the Battered Fish or Shrimp Taco, Surf and Turf Taco (steak and shrimp, a local favorite!), Taco Especial (smoked fish, shrimp, and scallops), and the Grilled Octopus Taco. You can also get any of the aforementioned choices in the form of a Torta. All taco and torta choices are served with cabbage, onion, tomato, cilantro, avocado, and cheese.
It is also important to mention that you can request a spicy version of any item on the menu. I, first hand, was able to try just the Grilled Shrimp in a spicy garlic chili sauce that was absolutely amazing. In addition, there a handful of mouthwatering sides for about $2, such as Fish Stew (fish and vegetables in a light chicken broth), Quesadilla, Homemade Pinto Beans, and Homemade Rice.
There are many options in and around the Gaslamp Quarter and adjacent to the ballpark…and that suits Oscars just fine. They have managed to capture a specific niche in the Mexican grill arena and provide fresh and healthy choices for those that love seafood without breaking your wallet. Other San Diego locations are in N. Pacific Beach, Pacific Beach, and Hillcrest.
Some of the main attractions worth the visit are of course, Sea World, Sea Aquatic which is Sea Worlds's water park, and the San Diego Zoo.