"Hungry" Documentary Tracks Successful Minority Chefs Trail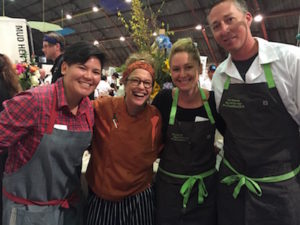 "Hungry," a film by Emmy Award-winning Logo Documentary Film, premiering on Thursday, November 17 at 9/8c on Logo, Chef Pink Delongpre (Bacon & Brine; Solvang, CA), Chef Sarah Kirnon (Miss Ollie's; Oakland, CA) and Chef Dakota Weiss (Estrella and Sweetfin Poke; Los Angeles, CA) shatter the glass ceiling in the food industry as they risk it all to achieve their culinary and business dreams.
The film is currently available online at www.LogoTV.com?
The film includes interviews with some of the biggest names in the culinary business including chefs Susan Feniger, Mary Sue Milliken, Amanda Cohen and Marcus Samuelson.  The enormously popular and successful, Susan, in pictured at top above second from left.   Mary Sue is pictured below.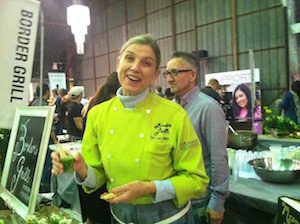 Three diverse female chefs and restaurant owners in California demonstrate that with hard work and perseverance, it is possible to beat the odds in an industry largely dominated by white men.
"Hungry" is a Logo Documentary Films production in association with PB&J Television and Bunim/Murray Productions. Executive Producers for Logo are Pamela Post and Taj Paxton, and Executive Producers for PB&J and Bunim/Murray Productions are Gil Goldschein, Patty Ivins and Rob VanAlkemade. The film is directed by Patty Ivins.
Video clips are on the trailer below.
http://www.logotv.com/video-clips/d20a8h/logo-documentary-films-hungry-trailer