World Premiere of ICEBERGS Comedy at Geffen Theatre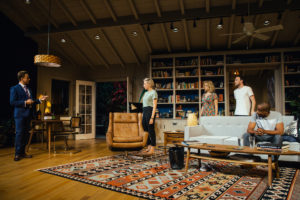 (photos by Jeff Torch)
The World Premiere of ICEBERGS, recipient of the Edgerton Foundation New Play Award has opened at the Geffen Theatre.  A smart, new comedy written by Alena Smith (Showtime's The Affair, HBO's The Newsroom) and directed by Geffen Playhouse Artistic Director Randall Arney, the cast of ICEBERGS features Nate Corddry, Rebecca Henderson, Jennifer Mudge, Lucas Near Verbrugghe and Keith Powell. Major support for this world premiere production provided by the Edgerton Foundation New Play Production Fund. The production will run from November 8, 2016 through December 18, 2016. Opening night is November 16, 2016.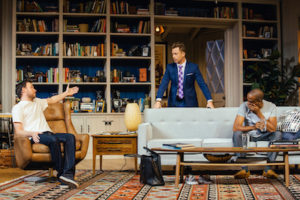 c
This biting new play is set in Los Angeles, California, where the weather is always nice, and the future looks bright…at least on the surface. This acerbic, affectionate and affecting world premiere comedy brings you to Silver Lake on a warm November night, where a new generation of thirtysomethings navigate filmmaking and family planning, trying to put down roots before everything melts away.
Tickets currently priced from $32 to $90 and are available in-person at the Geffen Playhouse box office, via phone at 310.208.5454 or online at www.geffenplayhouse.org. Fees may apply. Rush tickets priced at $35 for general admission and $10 for students with a valid student I.D. are made available 30 minutes before curtain time at the Box Office.
Behind the scenes:
ALENA SMITH (Playwright)
Alena Smith is a playwright and TV writer, recently named one of Variety's 10 TV Writers to Watch. She is a writer and producer on Showtime's The Affair, and previously wrote for HBO's The Newsroom. An original television series she created is in development with Anonymous Content. Alena created the Twitter character @TweenHobo (featured in Paste, The Believer, A.V. Club, and elsewhere); Tween Hobo: Off The Rails, her novel based on the account, was published by Simon & Schuster in 2014. Her essays about writing for theater, TV, and the internet have been published in Grantland and the Los Angeles Review of Books. She received her MFA in Playwriting from the Yale School of Drama, and studied philosophy at Haverford College and the University of Oxford.
RANDALL ARNEY (Director)
Randall Arney has been a theater professional for over 30 years and has served as Artistic Director of the Geffen Playhouse since 1999. In addition to his artistic programming and oversight at the Geffen, Arney has helmed many productions for the theater, most recently Outside Mullingar, The Night Alive, Reasons to Be Pretty, Slowgirl, American Buffalo, Superior Donuts, The Female of the Species, The Seafarer, Speedthe-Plow and All My Sons. Arney is an ensemble member and former Artistic Director of Chicago's Steppenwolf Theatre where his directing credits include: Slowgirl, The Seafarer, The Beauty Queen of Leenane, Death and the Maiden, Curse of the Starving Class, Killers and The Geography of Luck, among others. Arney also directed Steppenwolf's world premiere of Steve Martin's Picasso at the Lapin Agile, as well as the subsequent national and international acclaimed productions. Mr. Arney's acting credits with Steppenwolf include Born Yesterday, Ghost in the Machine, The Homecoming, Frank's Wild Years, You Can't Take it with You, Fool for Love, True West, Balm in Gilead and Coyote Ugly. As the Artistic Director for Steppenwolf from 1987 to 1995, he oversaw the creation of a new state-of-the-art theater which is Steppenwolf's current home. Broadway transfers under his leadership include The Rise and Fall of Little Voice, The Song of Jacob Zulu (six Tony Award nominations) and The Grapes of Wrath (1990 Tony Award, Best Play). Mr. Arney has an M.F.A. degree in Acting from Illinois State University and has taught master classes and workshops at UCLA, Steppenwolf, around the U.S and in Tokyo.
NATE CORDDRY (Calder)
Theater: The Graduate (Broadway National Tour), Hamlet/Romeo and Juliet (National Shakespeare Company), 9 seasons at the Williamstown Theatre Festival. Television: Comedy Bang! Bang!, The Hindenburg Explodes, Mom, Difficult People, Harry's Law, The New Girl, TRON: Uprising, 30 Rock, The United States of Tara, The Pacific, Studio 60 on the Sunset Strip, The Daily Show with Jon Stewart. Film: The Circle, Ghostbusters, Equity, St. Vincent, The Heat, Girl Most Likely, Katie Says Goodbye, The Invention of Lying, Yogi Bear.
REBECCA HENDERSON (Molly)
Select theater: Bright Half Life (Women's Project); The Wayside Motor Inn (Signature); Your Mother's Copy of the Kama Sutra, The Whale and The Retributionists (Playwrights Horizons); Too Much Too Much Too Many (Roundabout Theatre Company); The Collection and A Kind of Alaska (Atlantic Theater Company); La Brea and Roadkill Confidential (Clubbed Thumb); Red-Handed Otter (Playwright's Realm); Autumn Sonata (Yale Rep); bobrauschenbergamerica (American Repertory Theater). Film and Television: Rectify, Cleansed, They Remain, Mistress America, True Story, Actresses, The Mend, Appropriate Behavior, Compliance, Meskada, The Impossibilites, Wallflowers, The Good Wife and Grand Theft Auto IV & V. MFA, Columbia University. Rebecca is originally from Vancouver, Canada and splits her time between New York and Los Angeles.
JENNIFER MUDGE (Abigail)
Jennifer Mudge is so happy to be back in the Gil Cates Theater, where she played Maggie in Cat on a Hot Tin Roof. West End: The End of Longing. Broadway: The Philanthropist (Roundabout Theatre Company); Rocky, Reckless (Manhattan Theatre Club). Off-Broadway: Of Good Stock (Manhattan Theatre Club); Into the Woods (Roundabout Theatre Company, Lortel nomination); Happy Hour (La Mama); Don't Go Gentle (MCC); The Big Meal (Playwrights Horizons); OOH-RAH! (Atlantic Theater Company); Dutchman (Cherry Lane Theatre, Drama Desk nomination); Fault Lines (Naked Angels); Geometry of Fire, The Pavilion (Rattlestick Playwrights Theatre); Stendhal Syndrome (Primary Stages). Regional: Arena Stage, Bay Street Theater, McCarter Theatre Center, Sundance, Williamstown Theatre Festival, Trinity Rep, others. Film/television: A+, My America, Dead Man Down, Shades of Blue, Boss, Madam Secretary, You Don't Know Jack, Drifting Elegant, The Big C, The Good Wife, Law & Order. M.F.A. from Trinity Rep & Seldes/Kanin Fellowship Award from Theatre Hall of Fame.
LUCAS NEAR-VERBRUGGHE (Nicky)
Theater credits: Bloody Blood Andrew Jackson and The Ritz on Broadway; Love Labour's Lost and Macbeth at Shakespeare in the Park. Other Off Broadway credits include Boom, Oohrah!, The Common Pursuit directed by Moises Kaufman, Assistance by Leslye Hedland and most recently MCC's Permission by Tony nominated playwright Rob Askins. Lucas was also in the West Coast premiere of Seminar opposite Jeff Goldblum and directed by Sam Gold. Film credits: Our Idiot Brother, A Birder's Guide to Everything directed by Rob Meyer, The Bad Guys directed by Carlos Rincones, The Tiger Hunter with Danny Pudi and Jon Heder, the upcoming A Woman, A Part opposite Maggie Siff and Lazy Eye written and directed by Tim Kirkman. Television: Law and Order, Law and Order: SVU, recurring on the NBC hit Grimm.
KEITH POWELL (Reed)
Theater: Romeo & Juliet (Shakespeare Theatre Company), Lobby Hero (Portland Stage Company), Macbeth (Pittsburgh Public Theater), As Bees In Honey Drown (Hangar Theatre), The Nerd (Delaware Theater Company), The French (HB Playwrights Foundation), The Island (Contemporary Stage), The Boys Next Door (Grand Opera House). TV: Seven seasons as Toofer on 30 Rock (Screen Actors Guild Award), recurring on The Newsroom and About A Boy, guest star on Deadbeat, Law & Order, Law & Order: Criminal Intent, Judy's Got A Gun, Reno 911! and NCIS: Los Angeles, star of Keith Broke His Leg (Indie Series Award: Best Actor In A Comedy). Film: Night At The Museum: Battle Of The Smithsonian, Syrup, My Name Is David (also writer and producer). Keith was also the Producing Artistic Director of Contemporary Stage Company in Wilmington, DE, producing/directing plays starring Lynn Redgrave, Keith David, Jasmine Guy. He is currently in the NBC Emerging Directors program working on the show Superstore, and is a graduate of New York University's Tisch School of The Arts.
ABOUT GEFFEN PLAYHOUSE
Geffen Playhouse has been a hub of the Los Angeles theater scene since opening its doors in 1995. Noted for its intimacy and celebrated for its world-renowned mix of classic and contemporary plays, provocative new works and second productions, the not-for-profit organization continues to present a body of work that has garnered national recognition. Named in honor of entertainment mogul and philanthropist David Geffen, who made the initial donation to the theater, the company was founded by Gilbert Cates, and is currently helmed by Artistic Director Randall Arney, Executive Director Gil Cates, Jr., and Co-Chairs of the Board Martha Henderson and Pamela Robinson. Proudly associated with UCLA, the Geffen welcomes an audience of more than 130,000 each year, and maintains extensive education and community engagement programs, designed to involve underserved young people and the community at large in the arts. www.geffenplayhouse.org.