Eagles, Steely Dan and Doobie Brothers Day 1, Earth Wind & Fire, Journey, Fleetwood Mac Day 2 at Classic West at Dodger Stadium on July 15th-16th, 2017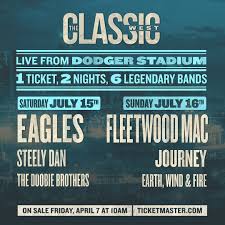 The Classic West was just how it was titled as I went to the opening night on July 15th. The Doobie Brothers started off the great day with the sun still shining and a hot late afternoon. Playing all their hits, they were a great starting band.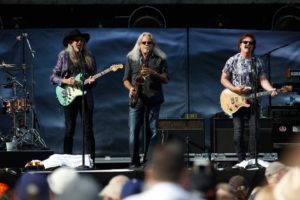 Next up was Steely Dan- One of the most iconic groups with so many hits from the 70's and 80's. Known mostly as a great studio band, they were fantastic with frontman Donal Fagen singing most all their big hits with their huge ensemble and backup singers. They were missing co founder Water Becker but overcame his illness and Larry Carlton subbing for touring guitarist Jon Herington to play a strong 12 song set. I would have loved to hear FM and Deacon Blues but they still sounded great.
The Eagles closed the show as the stadium went more dark for their set. Playing with Glen Frey's son, Deacon, on an emotional night for the first show in LA since Frey passed away, the band was tight and off the charts. Deacon had some of his dad's vocals and sounded great while he was humbled by the moment. Vince Gill sat in to play quite a few songs while energetic Bob Seger made a guest appearance for one song. Main main Don Henley was his usual fantastic self while Joe Walsh and Timothy B Schmit turned in their stunning performances on their lead songs they sang.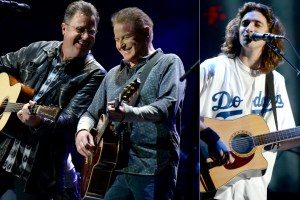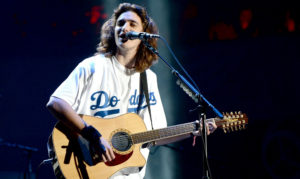 What a night and you missed out if you were not there.
Sunday July 16th provided another fantastic night (Written by Richard Holtz)
The 50,000+ guests enjoyed more than 5 hours of great music from 3 more iconic bands.
                Earth Wind and Fire got the show started, taking the stage at
5:00pm
. These guys still have the same energy that they've had for the last 40 years. They thrilled the crowd singing all their familiar hits. They opened the night with their classic hit Shining Star and it got even better from there. They sang all their hits from Sing a Song, to September, to Serpentine Fire, to After the Love Has Gone, to Fantasy. People were having such a good time dancing, that they practically forgot that it was 90 degrees in the sun. That was about the only bad thing about starting the show at
5:00pm
. The sun was still out at Dodger stadium and it was uncomfortably hot. But nobody seemed to mind. EWF delighted the crowd with their 1 hour and 15 minute set. Then there was a half hour break and it was time for Journey.
                 Journey took the stage at
6:45pm
. Thankfully the weather had finally cooled down by then as the sun was beginning to set down below the grandstand. Journey opened the show, as they often times do, with their classic hit Separate Ways. Arnel Pineda was spot on with his soaring vocals as usual. It's not easy to replace a legend like Steve Perry, but Arnel Pineda, who has now been in the band for almost 10 years, does about as good of a job as humanly possible, singing all the songs in their original keys. Not only does Pineda hit all of those high notes effortlessly, but he also puts on a great show. The stage must have been close to 200 feet long. Pineda sang from every spot on that stage. He danced and pranced from the far left of the stage to the far right of the stage. I truly think he has become one of the premier frontmen in rock. He has great charisma and just an amazing stage presence.
                The rest of the band was in their usual brilliant form. Neil Schon, Jonathan Cain, and Ross Vallory have been playing together now for over 40 years. Even drummer Steve Smith who recently rejoined the band, was the band's drummer back in their glory days in the early late 1970s and early 1980s. So with the exception of vocalist Pineda, the crowd was treated to all the members of the band from their glory years. There aren't too many legendary bands out there today that have practically all of the original members.
               These guys are like a fine wine. They sound better than ever. And all of their great hits have stood the test of time, after 30 years. Songs like Faithfully, Open Arms, Who's Cryin' Now, and Don't Stop Believin' are timeless classics. It is truly a testament to the amazing songwriting abilities of Jonathan Cain (who wrote or co-wrote practically all of their hits), that these songs are as relevant today as they were 30 years ago. When Journey completed their 1 3/4 hour set, I think the vast majority of fans felt that they had already gotten their money's worth. Yet the night was still young. There was a half-hour break and then Fleetwood Mac took the stage at
9:00pm
.
                 They opened the show with The Chain from the Rumours album, which still remains one of the greatest selling albums of all time. The Chain was one of the few songs that they sung in a lower key than the original recording. The only other song I can think of that was not sung in the original key was Go Your Own Way. Aside from those two songs, I believe that every other song was performed in the original key. Since Christine McVie rejoined the band two years ago, we now have the same lineup from the Fleetwood Mac Rumours days back in 1977. What a treat to see Christine McVie, Stevie Nicks, Lindsey Buckingham, Mick Fleetwood, and John McVie playing together again. I think the majority of fans realized how lucky they were to see all 5 original members of what was one of the greatest, if not the greatest pop acts of all times.
                Stevie Nicks' voice sounded great. There was a period several years ago where she didn't sound quite as good, but she has definitely gotten her voice back. Dreams, Landslide, Gold Dust Woman, Gypsy, Rhiannon, and Sara all sounded amazing. Christine McVie delighted the crowd with all of her great hits. Many people don't realize that she had just as many hits with Fleetwood Mac as Stevie Nicks. This is one of the reasons they were such a powerhouse band. They had three great songwriters (Buckingham is the 3rd) and three great singers. McVie sounded excellent singing her classic hits such as You Make Loving Fun, Everywhere, Say You Love Me, Little Lies, and the pop anthem Don't Stop, which culminated with a fantastic firework show.
             It was truly an unforgettable evening. To see 3 legendary bands in one night is like a dream come true for lovers of great music. Dodger Stadium is so large that it is obviously not nearly as intimate of a setting as some people are used to for a concert. But the jumbo screens, which were of very good quality, at least made people feel that they were a little closer to the stage. All in all it was a triumphant evening. The night was a huge success for all involved. I think most people who attended would be thrilled to go again, if the promoters decide to do a similar show next year.
(All Photos by Alex Kluft,  Kevin Mazur/Getty Images for Scoop Marketing) and LA Times