Ruth's Chris Steak House TasteMaker Dinners on August 17th-18th, 2017
RUTH'S CHRIS STEAK HOUSE TO HOST DINNER FEATURING
THE WORLD'S BEST CHAMPAGNES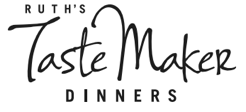 The five-course dinner, which will be held at select locations across the country on  August 17 and 18, is part of the Ruth's TasteMaker Dinners 
WINTER PARK, FLA. (August 3, 2017) – Continuing the TasteMaker tradition, Ruth's Chris Steak House is serving an exceptional five-course dining experience featuring the world's best Champagnes. Hosted exclusively at Ruth's Chris Steak House locations across the nation on August 17 and 18, the dinner celebration will be the fifth in a series of acclaimed TasteMaker Dinners.
Guests will be served bubbling flutes of the finest champagnes from upscale and iconic brands such as Veuve Clicquot, Moët & Chandon, and Ruinart, as well as a sparkling wine from Domaine Chandon. The menu will feature Butternut Squash Ravioli & Sage Mascarpone Sauce, Black Truffle Soup, Medjool Date & Goat Cheese Salad, Petite Filet Mignon with Romesco Crust and Lemon Cheesecake & Toasted Walnut Crumbs. Each course will be coupled with a perfectly matched Champagne.
"It's not often that people get to try some of the world's most elite and prestigious Champagnes all at one time and under the same roof," said Abdiel Aleman, Vice President of Culinary Development for Ruth's Chris Steak House. "To commemorate this special occasion, we've curated a special menu that features indulgent ingredients such as mascarpone cheese and black truffles."
Ruth's TasteMaker Dinners series was inspired by Ruth's Chris Steak House founder Ruth Fertel, who mortgaged her home more than 50 years ago to purchase her first restaurant. The single mother had no prior restaurant experience, but was able to succeed because of her commitment to providing exceptional food and service to all of her guests. Each of the pairing partners for the TasteMaker Dinners has stories that echo Fertel's own fearless spirit of entrepreneurship and dedication to quality.
Just as Miss Ruth is affectionately known as the "First Lady of Steak," Madame  Barbe-Nicole Clicquot is often referred to as the "Grand Dame ofChampagne." Clicquot took on her husband's wine business when she became a widow at only 27 years old. Under her guidance and skill at winemaking, she helped establish one of the oldest and most celebrated Champagne houses in the country: Veuve Clicquot, which means "The Widow Clicquot."
Reservations for Ruth's TasteMaker Dinner featuring the World's Best Champagnes are now available at participating locations. This year's final dinner in the TasteMaker Dinners series will be hosted with Marchesi Antinori in mid-October.
For reservations and more information, please visit: www.ruthschris.com/
ABOUT RUTH'S CHRIS STEAK HOUSE
Ruth's Chris Steak House was founded by Ruth Fertel 50 years ago in New Orleans, La. Ruth had a recipe for everything – from how to prepare her signature sizzling steaks to how to treat her guests. This timeless formula is a testament to how one neighborhood eatery has become the largest collection of upscale steak houses in the world, with more than 150 restaurant locations around the globe. Ruth's Chris remains true to its heritage, helping guests make their best memories on 500-degree sizzling plates. Ruth's Chris Steak House. This is how it's done.