Kaaboo Post Coverage, info, facts, early bird tickets for 2018- September, 2017
KAABOO 2017- Written by Steve Goldy, Photos by Linda Russell except for feature pic and Pink pic (provided by Mason Jar Media)
Post Coverage: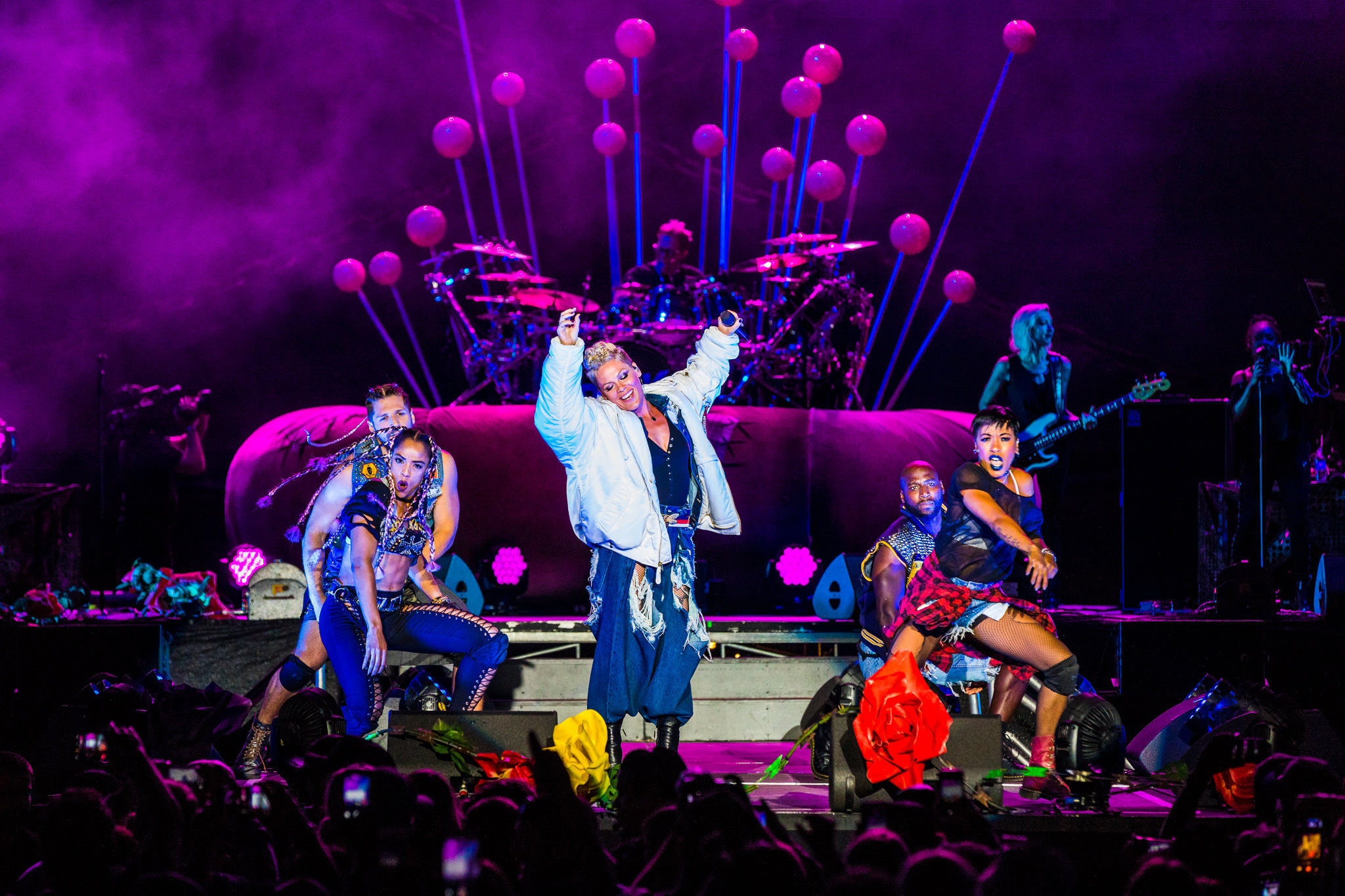 Del Mar, California: "Where the turf meets the surf", and for 3 days in September, where the music, comedy, food and luxuries meet the masses!   Into its 3rd year, this 3 day festival did not disappoint this reviewer.  It was clean, neat and organized. No porta potties or trash, no rowdy crowds.  This event  appealed to preteens that worshipped their idol PINK who could get in for as little as $149 for a single day pass, and to their well to do parents that could afford the $15,000  top tiered "ultimate hang package", which gets you the ultimate red carpet treatment, including a private Wine tasting with some of the headliners.
The highlight of the event was the music.  Three stages set at different locations in the fairgrounds showcased an incredible lineup of 47 bands including headliners: Red Hot Chili Peppers, Pink, and Tom Petty and the Heartbreakers. The enormous "Sunset Cliffs" stage also featured notables: Weezer, Ice Cube, Garbage and Alanis Morissette.  This stage was the most crowded, without a VIP pass you were packed in pretty tight up to 400 feet from the stage.  The Hang 5 and Hang ten VIP passes allowed you to bypass the crowd and comfortably find your way to an area very close to the stage.  Tom Petty and his band closed the show with their typical flawless set including the standards: You don't know how it feels, Learning to fly, Free falling and Last Dance with MaryJane. (there was plenty of MaryJane in the air as well)
For the older and less ambitious crowd, the TRESTLES stage was the place to be.  A VIP pass allowed you to easily navigate your way very close to the stage, where you had more room to dance or mingle with fellow rockers.  The Wallflowers featuring Jacob Dylan, The Tubes, Pete Yorn and rock and roll hall of famer Jackson Browne graced this stage to the delight of the more sedate, seasoned rock and roll fans.  Pete Yorn unleashed an exquisite cover of the Beatles: "Rain", as well as great arrangements from his debut LP: "Life on a Chain" along with his encore hit: "Strange Condition".  Jackson Browne didn't disappoint this reviewer with the title song from his 2nd LP: "For Everyman", as well as a beautiful tribute version of Greg Allmans: "Melissa".  With a perfect backdrop of clouds adorning a blue sky, 72 degree weather with a slight sea breeze and an occasional seagull flying overhead, when Jackson played another LP title song: "I'm Alive",  indeed I could relate.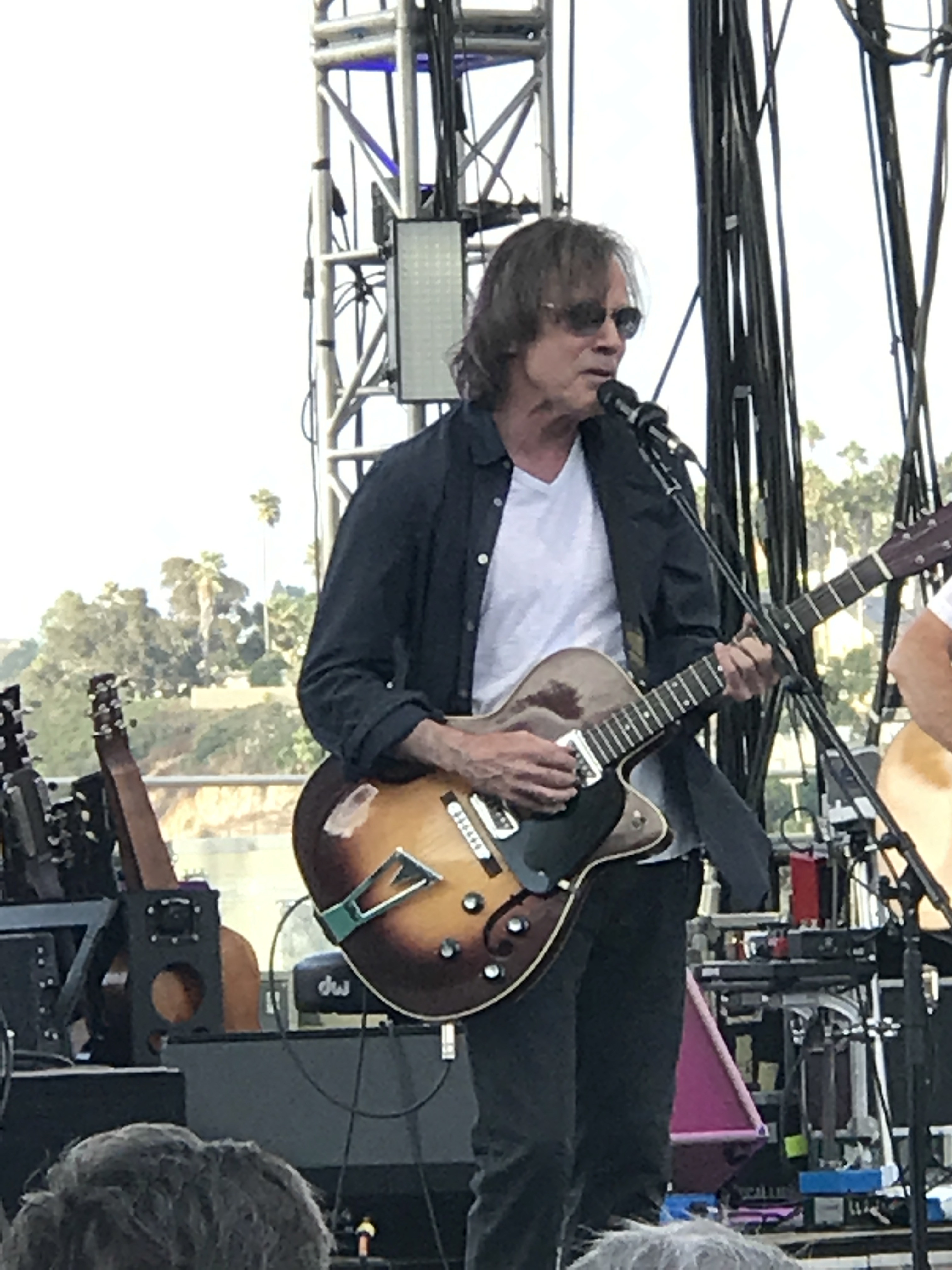 The food concessions were varied, from a designated area where you could sample the offerings of top notch chefs and restaurants , to many food stands offering everything from Lobster tacos to healthy superfood Acai bowls topped with Hemp hearts.
For Laughs, Kaaboo featured the top comedy stylings of headliners f Sebastian Maniscalco, Norm McDonald and David Spade, among other comics.
There were areas where you could lay out by a pool, get a massage, or even get an infusion of Vitamin B12 if you so chose.  As most music festivals go, there were loud, crowded attractions featuring rappers Ice Cube, T-Pain, and Machine Gun Kelly. While the younger crowd gathered en masse, the older crowd could easily avoid these entire areas if they so desired in designated areas that had NFL football games on giant screen TV's where you could relax and unwind away from the crowds.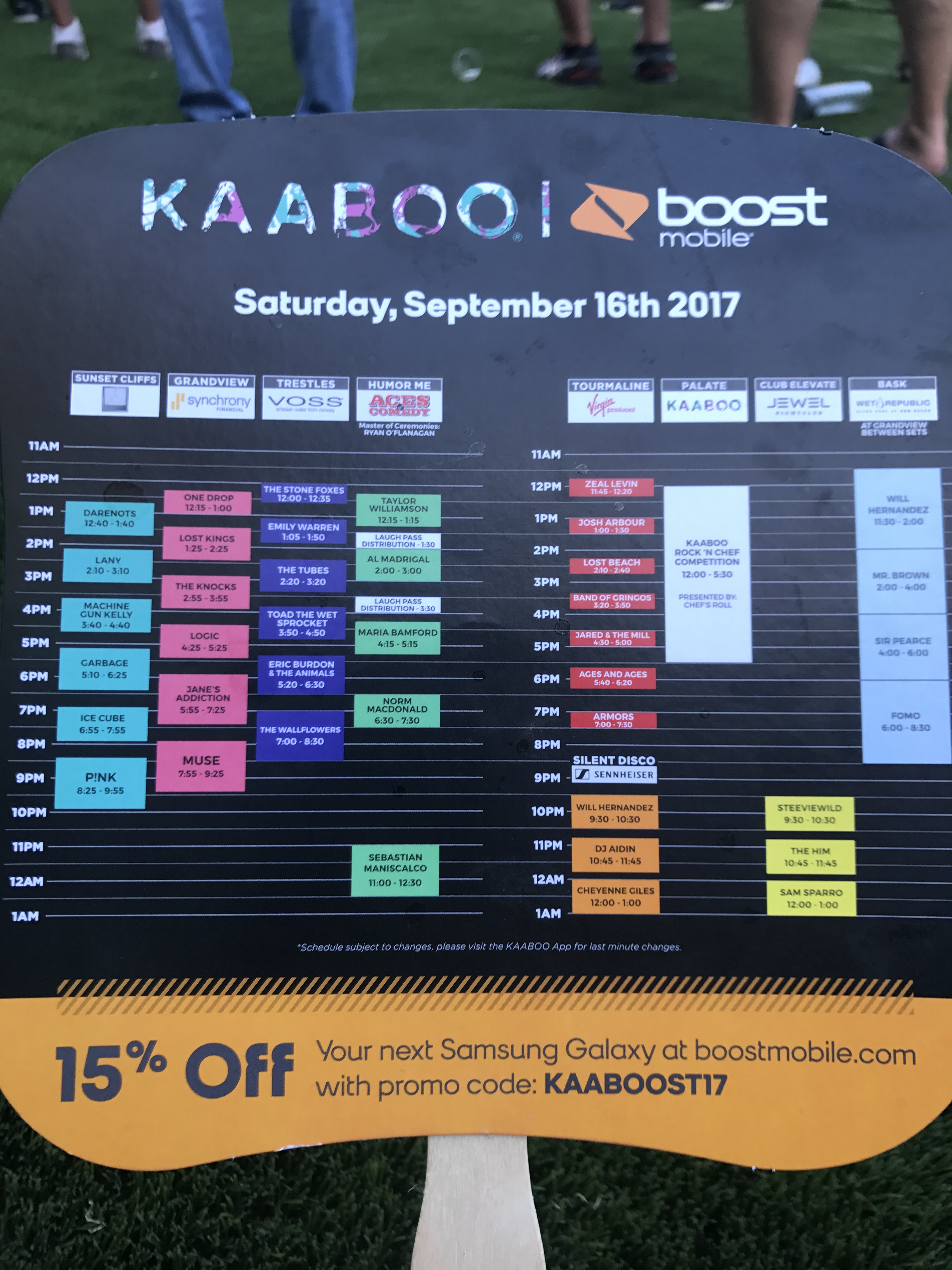 Post info/facts:
KAABOO DEL MAR CELEBRATES THE CLOSING OF ITS 2017 EVENT
SAN DIEGO'S MOST AMENITIZED FESTIVAL HAS SUCCESSFUL THIRD YEAR
EARLY BIRD PASSES NOW ON SALE FOR 2018

This weekend, KAABOO Del Mar, conveniently located at the Del Mar Racetrack just north of San Diego, CA, attracted fans from all 50 states and over 30 different countries around the world. In addition to a top-tier lineup of world class musicians such as Red Hot Chili Peppers, P!nk, Tom Petty and the Heartbreakers, and Muse, guests were treated to live contemporary art installments in ARTWORK; Vegas style cabanas at BASK; culinary exhibits at PALATE; belly laughs at HUMOR ME; spa services at INDULGENCES; and late-night dance parties at CLUB ELEVATE. In only its third year, KAABOO Del Mar has shifted the festival paradigm and carved out its name among national and destination music festivals.
Highlights from this weekend include an aerial performance from P!nk who debuted songs from her forthcoming album Beautiful Trauma; the first live performance of Kesha's brand new single, "Praying"; a DJ set from basketball great Shaquille O'Neal (DJ Diesel); and a much anticipated Tom Petty and the Heartbreaker's 40th anniversary set to close out the experience. 
"It has been a joy to see the relaxed smiles on everyone's faces and hear the positive feedback and excitement from our guests," says KAABOO Del Mar founder and CEO Bryan Gordon. "It is heartwarming to hear that our guests appreciate what we have created, and for that, we thank you."
Early bird passes for KAABOO Del Mar 2018 are on-sale now. The event will take place September 14th – 16th, 2018. Early bird HANG LOOSE (general admission) three-day passes can be purchased for $209; HANG FIVE weekend passes are available for $799; and HANG TEN weekend passes are on-sale for $2799. HANG FIVE features include premium stage viewing areas and/or platforms at each stage; exclusive culinary options for purchase in dedicated AMPLIFY zones; private restrooms; priority access lane at event entrances; and access to the Thursday night sneak peak pre-party (which this year included performances by The Dan Band and Barenaked Ladies). HANG TEN passes include all of the features of HANG FIVE plus access to front row viewing and an on-stage viewing platform; personal concierge amenities; access to the KAABOO artist lounge; exclusive meet and greets; complimentary food and beverages prepared by exclusive chefs; golf cart access; and much more.