2nd annual Sino-U.S. Cultural Industry Summit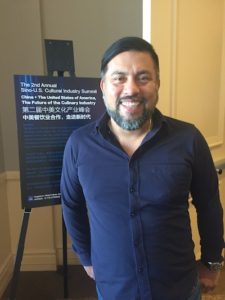 The 2nd annual Sino-U.S. Cultural Industry Summit presented by Global Talents Media Group provides a platform for communication and collaboration between China and United States based businesses by building a bridge between government and corporations. The December 17, 2017 summit will focus the conversation on "the future of the culinary industry" with three panel discussions, "2018 Culinary Industry Trends", "Cooking in LA's Melting Pot" and "The Culture of Sharing".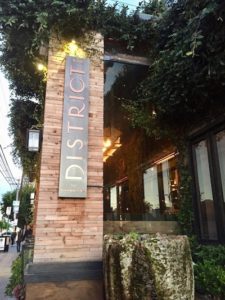 The first panel, moderated by culinary travel writer Krista Simmons (founder of Fork In The Road Media) covered 2018 Culinary Industry Trends with restaurateur Adam Fleischman (Founder and CEO Umami Restaurant Group), Hannah An of the famed Crustacean family and The District by Hannah An and Amir Vahdani, Director of Food Beverage at the Four Seasons Hotel Los Angeles at Beverly Hills.
The second panel "Cooking in LA's Melting Pot" moderated by The Travel Channel's Jeff Miller, who also served as founding Senior City Editor of Thrillist Los Angeles for 10 years. The panel featured  Los Angeles Chefs.  The discussion will  include Nguyen Tran of LA's most famous underground restaurant Starry Kitchen / Button Mash, Chef Ricardo Zarate of Rosaline, and Top Chef Alum Nyesha Arrington of Native in Santa Monica.
The 3rd panel discussed the "Culture of Sharing" m oderated by Roy Ying, the President of U.S. – China Sister City Association. The  panelists will include Theresa Lin, known as the Julia Child of Chinese Regional Cuisine, Hospitality Designer and founder of Preen Inc. Alexis Readinger and best-selling author, entertaining designer and celebrity chef Lulu Powers.
During the Sino-U.S. Cultural Industry Summit, awards were presented to John Chiang for his outstanding contribution to the industry and Judy Chu, for her work in expanding the cultural relationship between America and China.   Anthony Rendon was named the Friendship Ambassador, and Ted Lieu for his work prompting the cultural exchange between the two countries and Ed Royce received the Lifetime Achievement award for his work!
The summit plays an intricate role in U.S and China relations by creating synergy between the two cultures. Following the summit, Global Talents Media Group will host the Global Cuisine Awards where local Los Angeles restaurants will be honored for their contribution to the growing industry.
About Sino-U.S. Cultural Industry Summit
The Sino-U.S. Cultural Industry Summit is a non-profit organization that promotes food, culture, film, art, tourism, government, trade and investor relations between China and the United States of America. The summit platform promotes trade relations between the two countries' cultural and economic enterprises.