Mr. Dickens and His Carol: A Culinary Reading Treat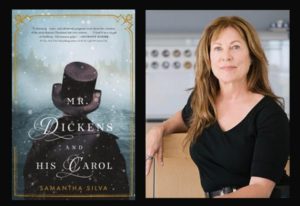 MR. DICKENS AND HIS CAROL
by Samantha Silva is an absolutely beautifully told, delightful book filled with holiday cheer. I could not put it down and would recommend it to anyone.
Flatiron Books publishers proudly present this new book about the writer who did most to about writing and publishing a novel that offers a different take on the story of how Charles Dickens came to write A Christmas Carol.   It works for readers as young as teens.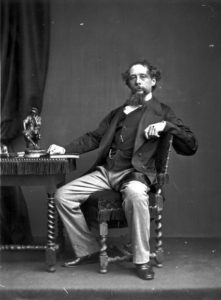 Samantha's novel is based on a real nugget of truth: when Dickens' serialized novel Martin Chuzzelwit was a total flop, his publishers threatened that he would have to pay back his advance unless he wrote a successful Christmas novel.  So the author, after doing intensive research, imagines and shares a picture Victorian England during the holidays.  It is all  part of the adventure and the soul-searching that went into Dickens'  heart-warming tale about the spirit of generosity that he himself learned first.
Samantha writes the book "as a fan letter – a love letter" and indeed it is a romanticized version of his life in London at the time. "Christmas had been hiding in the streets all along," she write even though Dickens is to the point of depression and trauma over having to write a Christmas book during the holiday season. "Never mind … that the air smelled like it had hailed nutmeg and snowed cinnamon,.. Dickens couldn't see or smell it."
It is a season that starts in a dismal way with over spending for a large family at home to even being stopped on the streets for an autograph from an ardent fan that turns out badly. It is typical of how Miss Silva lends her imagination to how A Christmas Carol characters got their name.
The fan in this case, as Miss Silva writes it, is a one "Jacob Marley – who turns out to have mistaken Dickens for own favorite, Thackeray. Revenge is the author's. "Dickens narrowed his eyes. "Well. How sad Mr. Marley will be when I introduce him in my new numbers, only to kill him off in the next." Dickens children come to add an even more revengeful note: "He should be dead to begin with," said young Charley.
It is all part of how the streets inspire and bring to life the spirit of Dickens's stories, favorite form of escape from his writing desk and bills at home. His long midnight walks around London – 20 miles at a time! It is key to how Dickens used his publishers deadline to finish writng "A Christmas Carol in Prose" in late 1843, in time for the holiday.
This holiday season, people are going to get a double dose of Charles Dickens. Christopher Plummer in  The Man Who Invented Christmas, which imagines the season Charles Dickens spent writing the beloved holiday classic A Christmas Carol.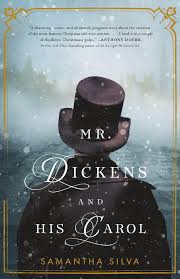 According to local food writer, Richard Foss, "the works of Charles Dickens contain rhapsodic descriptions of good meals and disgusting details of bad ones." As he described these repasts, Dickens inserted cues about class and society that are often missed by modern readers. Watch for the clues in a Cris.