Destination Utah- Skiing, Lodging, Dining in Park City, Deer Valley, Alta- Visiting Salt Lake City- Feb. 2018
Destination Utah- Fly into Salt Lake City and head to baggage claim for your shuttle ride if you don't rent a car.  The best way to get from Salt Lake City to Park City is Canyon Transportation. They are ready to take you from the airport with the Airport Express Shuttle all the way to Park City.  If you are staying in the town of Park City or near the resort, you don't need a car and can get around by their local bus system. For more info go to www.canyontransport.com
Lodging in Park City: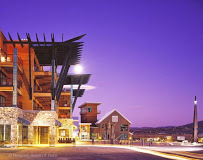 The Newpark Resort Hotel "A Destination Hotel" located in Park City adjacent to Kimble Junction is an all-around fantastic place to stay. The room was very spacious with a kitchen, fireplace, washer and dryer and plenty of closet space, HD TV and a view of the mountains.  The bed was super comfortable and there was great space with a nice modern feel in a relaxed setting.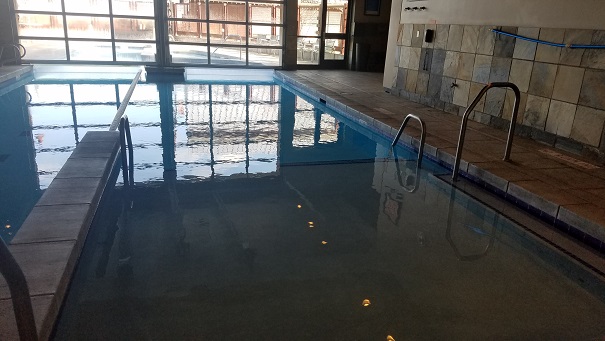 The staff was very helpful well accommodations were very comfortable in a modern atmosphere. They had an indoor/outdoor heated pool which was great to swim in, indoor/outdoor jacuzzi, steam room, fitness center and a ski/ski boot storage room. There is a variety of stores shops and dining walking distance from the hotel.   I would recommend renting a car if you stay their though as the transportation by bus was too long and not so easy. I would highly recommend staying at the Newpark Resort Hotel.  For more info www.newparkresort.com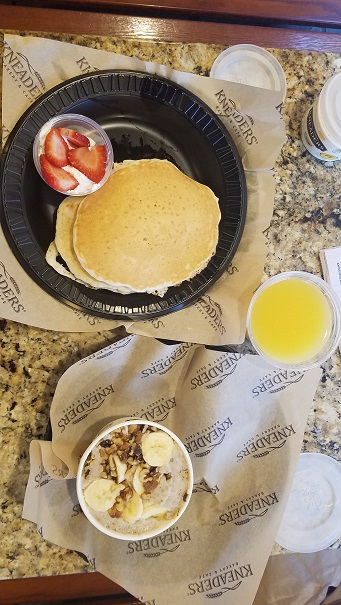 We had breakfast at Kneaders Bakery and Cafe it was a nice casual place. Try their oatmeal and pancakes to start your day off. Kneaders is located on the ground floor of the Newpark Resort Hotel. hotel. For more info go to www.kneaders.com
Park City Skiing and Rentals:
Start with great rentals at Canyon Mountain Sports located at the base of the Canyon Village. They have great demo skis comfortable boots and a friendly staff.   https://www.visitparkcity.com/listing/canyon-mountain-sport-%26-rentals/15682/
Utah Skiing is the best I have experienced.  With a great variety of resorts, the must visits are Park City, Deer Valley and Alta.   Park City and adjacent Canyons resort are newly merged and owned by Vail now. They have a gondola that connects the 2 mountains so your ticket is valid for both sides (the biggest mountain in the USA now).   Park City also hosts the annual Sundance Film Festival each year January or February.
Park City Skiing:
If need be, take the Cabriolet from the parking lot up to the village.
You can start on the Canyon side and take the Red Pine Gondola or adjacent Orange Bubble Express (nice over-hanging cover to keep you warm in cold weather).   From there, you have quite many choices to start easier or get right into advanced terrain by skiing down or heading to the Saddleback Express, Sun Peak Express or Super Condor Express Chairs. Treetime run adjacent to Sun Peak is perfect for exactly tree skiing as is Condor Woods adjacent to Super Condor. There are so many different options and great runs to choose from.  Some great blue runs included snowdancer and kokopelli off of Saddleback, eclipse or ez street off of Sunpeak) and Apex and the long Boa run off of Condor.  Start heading towards the Park City side but make sure to catch Tombstone Express, Iron Mountain Express Dreamcatcher and Dreamscape for many fantastic blue terrain.  If you are more adventurous, take the Ninety-Nine Express and Peak 5 for black and double black runs.  To head to the Park City side, you need to get on the QuickSilver Gondola now that the 2 resorts are connected and all made into one.
The Park City side has some of the best, fun variety around.  You can either come from the aforementioned gondola from the Canyon side or take the convenient town lift after breakfast at the adjacent Bridge Café and Grill and you will be right on the mountain ready to go.  There is a ticket window right there if you don't already have one.  Hop on the Bonanza Express to start and warmup on the green run homerun or many blue run choices.  From there, you can check out the Crescent Express with all types of levels, Silverlode and Motherlode with an assortment of blues and blacks and then all the way down to King Con Express.  There are endless great spots and a few I remember were the prospector run and single jack to Thaynes Canyon all the way back down for a long great run.  Thaynes Express services some blue and black runs.   To get to the more advanced stuff, you need to catch the Jupiter lift and McConkey Express for mostly double black diamond runs.   Overall, this is one of the best mountains with how big and diverse it is in the USA.   https://www.parkcitymountain.com/
For one other rare experience, take a bobsled ride at the Olympic Village in Park City as there are only 2-3 in the USA from past Winter Olympics.  Spend some time at their museum too which is packed with photos and info.  https://utaholympiclegacy.org/product/winter-bobsled-experience/
Skiing/Dining in Deer Valley:
Deer Valley is the most luxurious resort with all high speed chairs, mostly all groomed runs, ski valet and the best food.   This resort only caters to skiers as snowboarding is not allowed.  You will get the best service here.  The skiing is fantastic and they groom more runs here than any other resort.  This is one of my favorite places to ski anywhere.  Between all the groomed runs, they offer a vast variety, incredible views of multi-million dollar houses while you ski by them and top notch services.

Deer Valley is consistently ranked #1 in guest service among ski resorts in North America, as rated by the readers of SKI Magazine, and delivers an unmatched experience for your winter vacation. They understand that the finer details make a big difference, which is why Deer Valley offers first-class amenities such as uniformed ski valets, groomed-to-perfection slopes, award-winning cuisine, on-site child care and convenient lift, lodging and rental packages through our own lodging and reservations division.   Enjoy The Greatest Snow On Earth® with an annual average of 300 inches blanketing Deer Valley's six mountains – Little Baldy Peak, Bald Eagle, Bald, Flagstaff, Empire and Lady Morgan – offering a thrilling day for skiers of all abilities.  http://www.deervalley.com/
For the best pastries, quiche and cookies stop by the Windy Ridge Bakery in Deer Valley.
For more info www.windyridgebakery.com
The Seafood Buffet in Deer Valley after a full day of skiing is the way to go.  Indulge from shrimp, crab, poke, and sushi to many other fish, soups and other entrée items till you cannot move.  A vast array of cooked shellfish, seafood and meats awaits you.   There are plenty of accompaniments, side dishes, salads, appetizers and much more.   It is very hard to stop as the food is so good but if you have space at the end, they have a complete dessert station too.  This place is NOT to miss.
http://www.deervalley.com/dining/wheretoeat/seafoodbuffet
Alta Skiing, Rentals, Lodging, Dining:
Alta has the best overall snow and now have updated their Supreme lift to make it high speed.  You can catch some of the best snow with a magnitude of blue and black runs.  Take the Sunnyside lift to start your day that caters to beginners and takes you right to Supreme.   You can spend a lot of time in this area and alternate with Sugarloaf for another wide assortment of blue and black runs.    The other side of the resort features the quicker Collins quad lift or the double chair Wildcraft lift from the bottom.  Both get to high up skiing terrain with Wildcat closer to Snowbird and offering more black and double black runs.  Even though they don't have that many lifts, there is so much to check out and find.  You can spend days here and not do some of the same runs.   They are also a Ski Only resort which makes it less hectic and crowded with no snowboarders there.
Thanks to Alta Sports for the ski rentals, and Connie Marshall head of PR for Alta for over 40 years for her assistance.  Alta Sports has a nice selection of skis including rare ski blade rentals.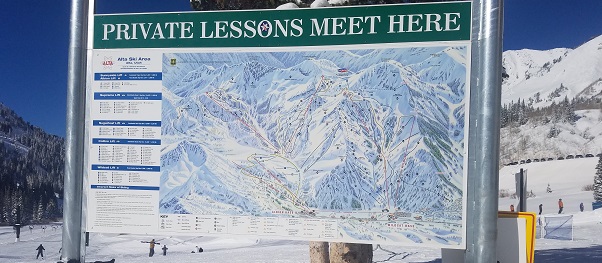 If you are new to skiing, try a ski lesson at Alf Engen Ski School. They have one on one lessons and group lessons.  I had a one on one lesson with Angie she was very knowledgeable and made me feel comfortable.  For more info go to www.alta.com
Lodging:  Alta Rustler Lodge.

This is an incredible ski in ski out all-inclusive accommodations.  They have their own ski lift right up to the lodge.  The accommodations were luxurious and comfortable.  The room had plenty of space, modern decor and looked fantastic.  They have an outdoor heated pool, indoor and outdoor jacuzzis, Eucalyptus steam room, fitness center, business center, lounge, full bar and spa if you need a massage or facial (these last two are the only things that cost extra if you decide).

Only people staying at the lodge are allowed to have dinner except for guest. Start with your choice of soup and salad. The pan seared Utah trout is a must, and they also serve rack of lamb and other meat, fish and vegetarian choices. The breakfast buffet is off the charts. They have a made to order omelet station, scrambled eggs, pancakes and French toast, home-made hash browns, oatmeal, cereals, pantries, fruit, yogurt and a full range of beverages. For more info go to www.rustlerlodge.com
The best way to get back from Alta to Salt Lake City is the Alta Shuttle. They have a direct ride they pick you up at your hotel straight to the airport. For more information go to www.altashuttle.com
Dining in Park City:
A convenient spot at the Canyons Village is Murdocks Cafe for a grab and go burrito.  They are located near the gondola and ticket office.
Start one of your days in Park City at the Deer Valley Grocery-Cafe (pictured below). Start with a piece of their quiche of the day with a side of fresh fruit, the locks plate is not to miss, smoke salmon with heirloom tomato, fennel pollen chive cream cheese on a toasted bagel. If you are in the mood for something sweet try the skillet fired Dutch baby which is a spiced pancake with pouched pears, ginger butter and sugar.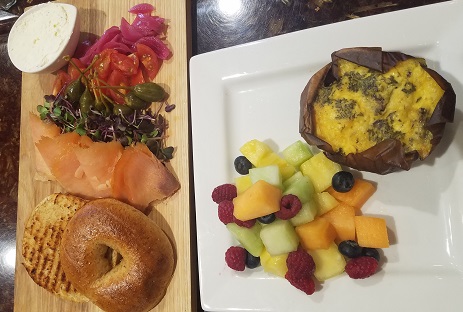 A great sit down place is called The Bridge Cafe and Grill on Main St. in Park City (pictured below).  They serve a wide selection of breakfast items from cage free eggs/omelets with home fries and toast, French Toast and a tasty Acai Bowl. More info at www.thebridgecafeandgrill.com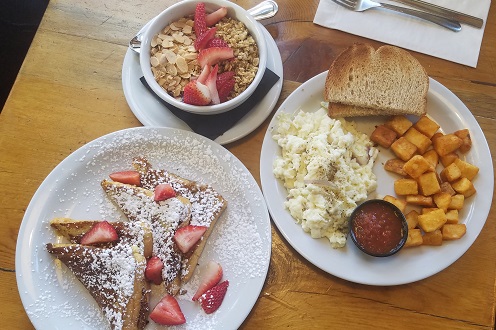 For lunch do not miss the Silver Star Cafe at the bottom of the Silver Star lift in Park City. Husband and wife owners are very welcoming and so hospitable. The food was fresh healthy and delicious. Try the lean Elk Burger the seared Salmon Salad and their signature red curry shrimp pizza. End with their house made desserts such as the phyllo-wrapped pear with Zen tea ice cream pots de crème.
For more info go to www.silverstarcafe.com
Sushi Blue- Wow, this place was impressive. They specialize in great sushi, rolls and some hot entrees. They get very creative here with many signature and unique hand rolls or choose from your traditional favorites.  The staff is friendly and food was delicious.
More at   www.sushiblueparkcity.com/
A Big thank you to Dan and Rachael at Visit Park City.  You can find any information including lodging, activities, dining and more at www.visitparkcity.com
Lodging and Dining in Salt Lake City:    The Peery Hotel

The Peery Hotel located downtown in a great location near restaurants, the movie theater and not far from the Vivint Smart Home Arena where the Utah Jazz play so take in a game if you are in town during the NBA season.  The Peery Hotel was very comfortable, beautifully decorated and had friendly staff.   This is a great place to stay on your next trip to SLC.    http://www.peeryhotel.com/
Less than 2 blocks away is the Market Street Grill restaurant.   This is not to miss especially if you like seafood.  Try their delicious clam chowder, seafood Louie salad and crab cake appetizer.   For entrees, any of their fresh fish with side choices looked great and we went for the sea bass along with the ciopinno with shrimp, clams and calamari.  Enjoy one of their wines or signature drinks to enhance your meal.  The setting is relaxed yet nice while the staff was very welcoming and professional.
http://marketstreetgrill.com/downtown/