Dining in Santa Barbara at Convivo, Satellite, Ojai at Sama Sama- January 2019
Convivo was even better than the first time we ate there.   We started with the cured Salmon "pastrami style" and the beet/burrata/tomato salad.  Both outstanding with robusting flavors and a great presentation.  The shrimp risotto and clams/mussels over fettuccine were fantastic second courses also very tasty cooked to perfection especially the pasta al dente.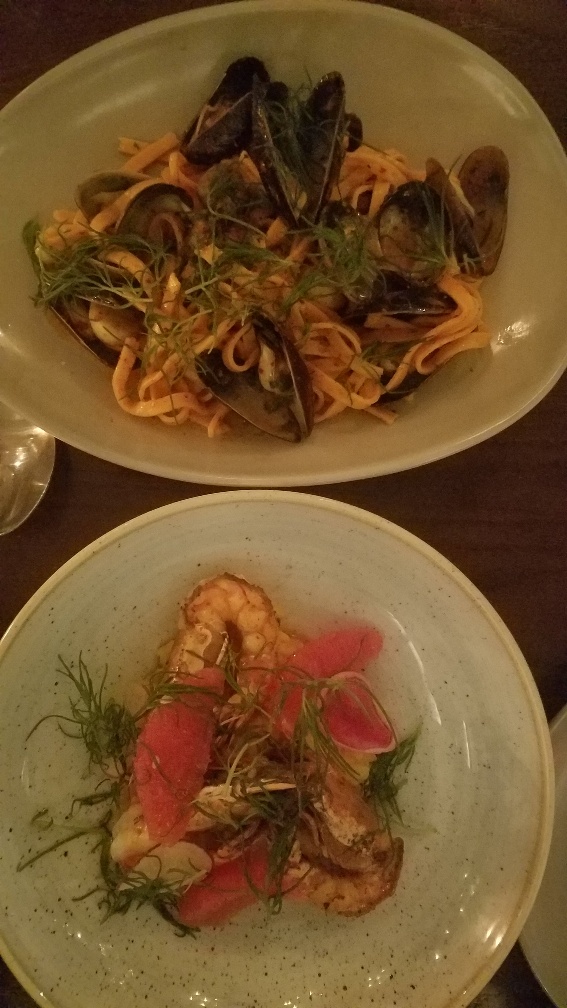 The highlight was the local whole fish grilled and served filet style after our server Nick brought it by first to show us the whole fish.  We really enjoyed it as it was simple yet delicious.  Not a ton of sauce so you can taste the pure fish with a bit of seasoning and lemon.
Try one of their signature cocktails or glasses of wine to accompany your meal while.  The experience was awesome as we sat inside and could see the open kitchen It was a cool night or we would have dined on their beautiful outdoor patio.  Make your reservations as this place is not to miss.  Easy free street parking and come before it gets dark so you can see the sunset.
https://www.convivorestaurant.com/
Satellite is a cozy wine bar/casual dining vegetarian experience.   Located right on Front St in downtown Santa Barbara, come in for a healthy bite and to try some wine.  The owner Drew Cuddy (pictured above) does it all from hosting to serving to making sure guests enjoy their experience.  The evening gets crowded and they even have live music and a strolling magician on certain nights.
Some of the tasty bites we had were the yoga pants salad featuring SB market veggies and roasted garlic almond dressing as well as the dukkahlings which is a nice combo of beet hummus, lettuce, squash and veggies.   The carrot parsnip soup was hot and delicious.   Don't miss the spice girl bowl of quinoa, potatoes and cauliflower or the Japanese sauteed sweet potatoes.   Enjoy a variety of their many beers, ciders and spritzers too.   You cannot leave without ordering the sinful gamma's brownie.   Many dishes are or can be made gluten free.
More at  https://satellitesb.com/
Sama Sama-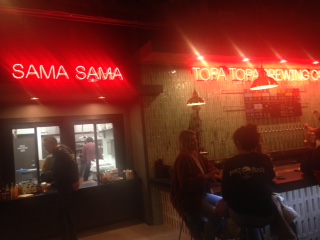 They have a location in Santa Barbara and Ojai.  We visited their Ojai location located in the same place as the brew pub.  You order at the register and then they call your cell when it is ready to be picked up while you find your seat.  An assortment of a healthy grain salad with broccoli, tomatoes and faro is a good way to start along with the popular avocado toast.
The signature dishes are the fried chicken wings and the baked pork ribs (both in the same tasty BBQ style sauce).  They are messy but tasty.  Have a kombucha to help digest and you will be satisfied as the portions are plentiful.   The Ojai menu and info coming soon on the website.