Terranea Resort in Palos Verdes- Solviva dining, pampering at the spa-July 2019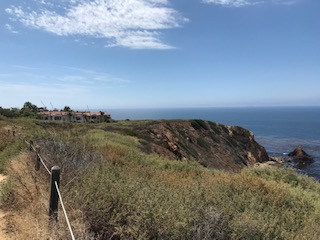 What a fantastic day at Terranea Resort in Palos Verdes. We went for a day visit to the most beautiful place in So Cal. Once arriving you can park in the free lot right before the main entrance and take the nature walk down or enter and park in the Hotel's free self parking. Make your way to the nature hike after entering the hotel and heading to the right past Nelson's restaurant. The views are stunning and there is a moderate dirt trail over-looking the ocean. We discovered one new trail that is a bit steep but takes you down to the beach full of rocks. It is serenity and it makes you feel very relaxed watching and listening to the waves.
Head to the Spa for lunch at Solviva as they have a new restaurant their and it is very healthy.
They have a variety of dietary, gluten free and tasty choices keeping the calories lower. They serve breakfast, lunch and dinner with specialties such as their smoked salmon bagel and hen of the woods mushroom tacos (both pictured above) , plancha prawns over eggplant with fingerling potatoes and perfectly cooked fresh fish accompanied by veggies and healthy side dish options.
Try one of their detox drinks, smoothies or even cocktails (their signature Peruvian pisco sour made tableside- photo below).
The staff and our server Spencer were very informative and friendly. They are flexible on your order and even added some alcohol to one of their signature smoothies (radiant berry) per my request. The almond coco smoothie made a great dessert along with their low calorie bread pudding. What a meal with a great atmosphere without feeling bloated.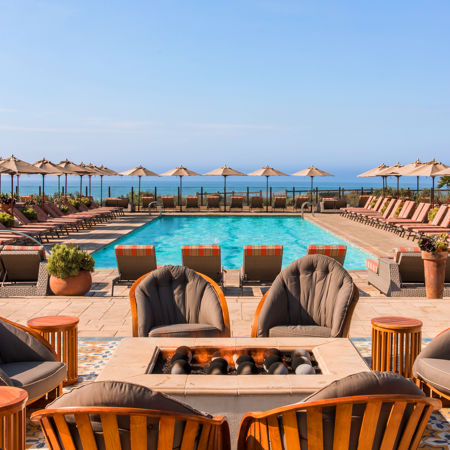 We then headed to the Spa with our day passes. Their gym is high end and adjacent to the incredible spa salt water pool. Find a lounge chair and enjoy the afternoon working out and swimming before heading into the spa for their incredible amenities of the hot and cold plunge outdoor jacuzzis, Himalayan salt sauna and Eucalyptus steam room. You will feel all refreshed and energized when you leave.