New Orleans Top Dining Picks- May 2022
New Orleans Dining Feature May 2022
Bijou restaurant & bar is a great place for brunch for dinner. Chef and owner Eason (pictured above) was cooking up a variety of the specialty dishes that's a great place to go. Start with the fresh beet an heirloom carrot salad with whipped feta.
Other great choices were the omelet and the squid ink pasta with shrimp. Enhance your meal with an espresso martini and you'll be fully satisfied. It's a great place to go on your next visit to New Orleans https://www.bijouneworleans.com/
New Orleans is the city of music, so what better place to visit than Hard Rock Cafe in New Orleans! The moment we walked in, we were taken aback with the incredible music video of Riders on the Storm from the Doors, and not too surprisingly, there was Jim Morison's original handwriting of the initial version of Crawling King Snake framed on the wall.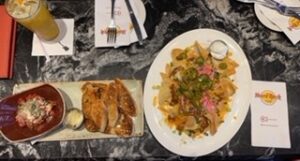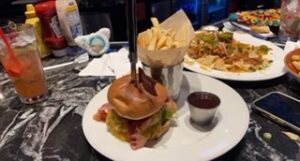 Their signature appetizers include nachos, wings and bruschetta which were all too tasty, but we wanted to make sure we leave enough room for the main course as the portions are BIG! The entrees were incredible as well, we had the chicken tenders and their original burger.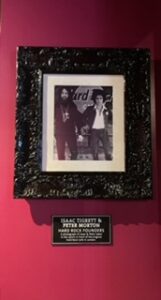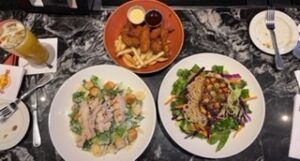 After we ate, we had a chance to walk around to see all the memorabilia. There is live concerts held in their Voodoo Room and we were bummed to hear we missed Ziggy Marley play live by a couple of days! Took pictures in front of Eminem and Snoop Dogg's outfits that they wore live in that very Voodoo Room during their live shows and promised ourselves to come back.
In a nutshell, the atmosphere is definitely different in New Orleans' Hard Rock Cafe than anywhere else. Moreover, the Southern hospitality of the staff and their smiling faces made our visit definitely worthwhile. 5 stars all around!  https://www.hardrockcafe.com/location/new-orleans/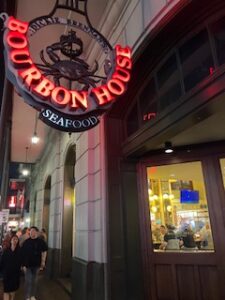 We dined at Bourbon House on Bourbon Street on our last night in town. It was still a popular place to go with the front bar packed in the dining room popular as well.  A great feature that we hadn't seen anywhere else the restaurant had a trio of singers roaming around during dinner entertaining guests.
The staff was very welcoming and friendly including the manager George and our server Donald had some great suggestions.  Even though I'm not a bourbon drinker I had start with their bourbon punch which is their signature cocktail.. It's an adult milkshake and very sweet.
We started with the crispy brussels sprouts and the crawfish bordelais, which were sautéed in a delicious cream sauce. For entrées we went with the two fish dinners on the menu which were the redfish and the drum.  They are served with the vegetables of the day and I suggest topping your dinner with some grilled shrimp which were fantastic.
They had a selection of many desserts and as you can see there was a great choice. This dessert tray showed off all their options.  The desserts were excellent and our favorite was the chocolate pecan tart (pictured below)
Overall a fantastic dining experience and one worth visiting on your next trip to New Orleans https://www.bourbonhouse.com/
I dined at Curio restaurant on Royal Street in the French Quarter and it was quite the pleasant surprise. The crab cakes were divine and some of the best I have ever tried. The most popular fish in New Orleans is redfish and Curio had the best of any place I tried as it was firm and super delicious. The staff and my server did a great job and were very friendly. Enhance your meal with the best hurricane drink in the quarter as it is not too sweet and no extra sugar added. Overall, the meal and dining experience was top notch and wonderful Highly recommend it on your next visit to the city. https://curionola.com/

Wow what a meal at Tujaques at their new location on Decatur. We dying in the outside patio but they have multiple rooms including private rooms upstairs with three floors for regular and private dining. Our server Reggie was incredible, hospitable and super friendly. Manager Phil was very welcoming and accommodating.
For starters, they had a variety from roasted mushroom crapes with goat cheese & truffles as well as the cheesy crawfish au gratin. Try other assortment of soups from the crawfish chowder to the gumbo which was very outstanding the entrées we went with the fresh drumfish which was the special that evening, the barbecued shrimp and grits, the herb chicken & Our favorite the grilled filet mignon serve with asparagus and pearl onions and a fantastic sauce. Try one of their signature cocktails or glass of wine to enhance your meal.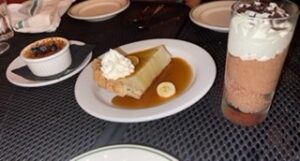 Don't miss the chocolate mousse or the nearest faster banana cream pie for dessert and you'll be fully satisfied. This place is not to miss on your next visit to New Orleans. https://tujaguesrestaurant.com/
Birdys restaurant on Magazine is a quaint place for breakfast or lunch. Try one of their speciality teas to start.
They have a variety from fried chicken and biscuits to eggs to the tasty chicken salad, smoked salmon and the decadent waffle with strawberries and nuts. https://birdysnola.com/
Tableau restaurant situated in the French quarter right near Jackson Square is a great place to go for brunch or dinner. The atmosphere and ambiance are great and the staff is very welcoming and friendly. Our server Lisa was so friendly and the general manager Tyler was super hospitable and welcoming.
For starters try the shrimp remoulade with their homemade sauce, the gnocchi and I browned butter sauce which was divine are in an answer meal with one of their signature drinks or mimosas. The main course specialties are their truffle omelet with cheese and onions, shrimp and grits & gulf fish (trout was the fish of the day) almandine and green beans. Don't miss some of their tasty desserts before you head out.  The restaurant is going through a renovation to expand and then the outside patio overlooking Jackson Square will be back open to dine.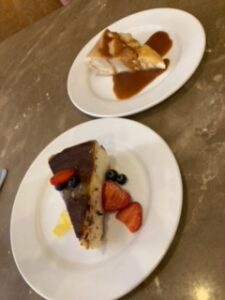 https://www.tableaufrenchquarter.com/

Superior seafood & oyster bar is quite the scene with excellent food & very entertaining time. Located in lower Carlton, this place was hopping.  If you're wanting to come in for a quiet romantic dinner, this is not your place. Is very upbeat and loud but in a fun way. A definite starter are the meaty big oysters served on the half shell raw or baked.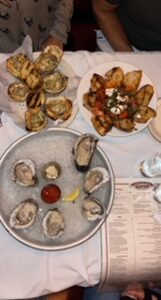 They were the biggest oysters I've ever seen and very tasty.  The burrata and tomato salad was another great starter. Don't miss the crawfish mac & cheese and the redfish which were divine.
All the seafood is excellent and it's one of our favorite places in New Orleans. The drinks are superb but their signature cocktails or one of their excellent wines to accompany your meal. It's always a great time at superior but make your reservations early as it is very popular and gets crowded especially on the weekends or during festivals. They have other choices besides seafood including the best chicken sandwich (pictured above).  Don't miss the delicious carrot cake to end your meal.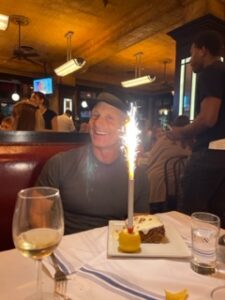 https://www.superiorseafoodnola.com/
Written & Photos by Todd Elliot and Coral Celine Isikci