CENTRAL EUROPE ADVENTURE SUMMER 2022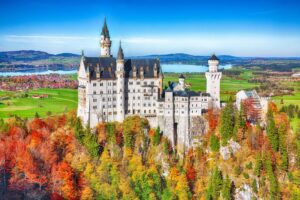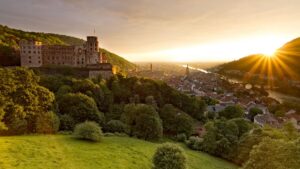 ARTICLE WRITTEN BY JEFF ZIMERMAN

GERMANY
I started my memorable 6 week Central European trip in Germany where I visited medieval castles, synagogues, churches and picturesque villages by train, bicycle and foot. I experienced Germany's beauty, history, culture, food, wines, beers & it's many attractions from medieval times to contemporary times. Germany is one of the most visited countries in the world & is one of the safest travel destinations worldwide. Germany is traditionally less expensive to travel to than its other European counterparts, and for only €9 (US$ 9) I was able to purchase a special transportation ticket that allowed me to travel as many times as I wanted on all forms of public transport throughout Germany for one calendar month. Valuable websites to view before traveling to Germany:
https://www.germany.travel/en/home.html & https://www.deutschland.de/en/travel-in-germany & https://www.tourism.de/ & https://germantourismboard.com/ &https://www.jmberlin.de/en/jewish-places.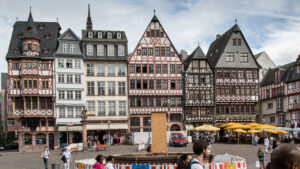 FRANKFURT, GERMANY
I landed in Frankfurt and took a very short train ride to Frankfurt, the 5th largest city in Germany. During my 2 night stay I found plenty to see and do in this 2,000-year-old German city, and the largest financial center in Europe. A very valuable resource is the Frankfurt Tourist Agency. https://www.frankfurt-tourismus.de/en/
Some of the highlights in Frankfurt included: The hop-on hop-off bus. Explored Römerberg, the historic city center. Lunch snack at Kleinmarkthalle. Walked at the riverside & crossed the Iron Bridge, where you'll have a great view on the contrasts of the historic Frankfurt and the Skyline behind. Look for the Love Locks on the bridge! Had a drink on one of the Gastro boats lying at the river Embankment. Visit the Museums, Städel is always worth a visit. Have dinner in Sachsenhausen and try Frankfurt's famous apple wine and green Sauce. Get the Frankfurt Card and Hop-On Hop off ticket. Frankfurt Cards offer unlimited transportation in the city as well as numerous discounts to museums & cultural sites.https://www.frankfurt-tourismus.de/en/Information-Planning/Frankfurt-Card. From the Middle Ages to the Nazi years, Jewish life flourished in Frankfurt. During the twelve years of Nazi rule, Jewish life in Frankfurt was obliterated. Over 12,000 Frankfurt Jews were put to death in the Nazi extermination camps.

A centrally located hotel that I stayed at, and highly recommend is the Ruby Louise Hotel Frankfurt. They combine the elegance of 19th century Germany with the modern street art of Brooklyn. The hotel has a very beautiful and spacious 6th floor Skybar with a wonderful city view. They provide a healthy breakfast which is served on the Skybar. Ruby Louise provides express check-in and check-out, allergy-free rooms, a bar, free WiFi throughout the property and a terrace. Is close to many well-known attractions & transportation. https://www.ruby-hotels.com/louise

ShUM CITIES, GERMANY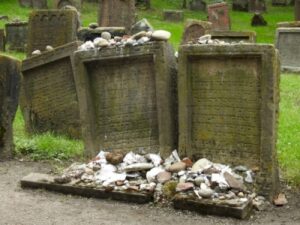 My next visit was to the ShUM CITIES: WORMS & SPEYER & MAINZ: From Frankfurt it's a short train ride to Worms. The ShUM cities of Speyer, Worms and Mainz refers to the cluster of three Jewish communities dating back to the the year 903, and the name ShUM stands for the Hebrew initials of all three cities. They were centers of great importance of Jewish scholarship & the cradle of Ashkenazi Judaism. The 3 cities came to identify themselves as "Jerusalem on the Rhine. There was a long series of mass murders of Jews there; these massacres are often seen as the first in a long sequence of anti-Semitic events in Europe which culminated in the Holocaust. Very helpful ShUM resources can be found at these sites: https://schumstaedte.de/
https://whc.unesco.org/en/list/1636 & https://schumstaedte.de/en/.

In 2021 UNESCO, the United Nation's cultural body, added the "ShUM cities" to its list of World Heritage sites. The brightest & darkest times of Jewish history are also reflected here. The Jewish courtyard and the Cathedral in Speyer are both UNESCO World Heritage sites. Speyer is the only city which has both a Jewish and a Christian world heritage site. There are many sites to visit including the oldest surviving mikvah (ritual bath) in Europe, built in 1120. Holy Sands Cemetery 11th century, the oldest surviving Jewish Cemetery in Europe. A Synagogue built in 1034. A Jewish museum.

Additional sites include the St. Peter's Dom/Worms Cathedral, which dates back to the 11th century, dominating the skyline of Worms with its magnificence & High Romanesque architecture. Within five minutes walk is the historical monument to Martin Luther and the Reformation portrays him as standing before the Emperor and breaking away from the traditional Church during the Diet of Worms in 1521. "Diet" here means "Imperial meeting". Speyer Cathedral, built within one generation starting in 1030 is the biggest Romanesque church in the world. For almost 300 years its crypt was the burial place of German kings, four of whom being Roman emperors at the same time. It is a UNESCO world heritage site.

I highly recommend getting a tour guide for the ShUM cities, Gerhard Fuhr. Email: [email protected]. Gerhard was extremely knowledgeable, personable & engaging. He is from the area & shared the history & culture from personal experiences. Gerhard is available for public & private tours.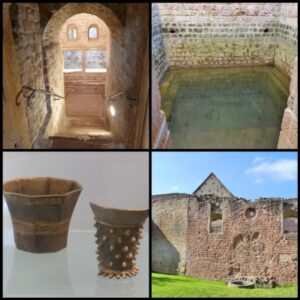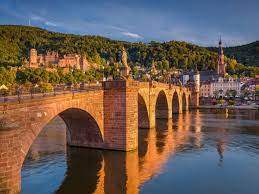 HEIDELBERG, GERMANY
HEIDELBERG was my next stop, and my favorite German city. Took the train to this picturesque city which includes a castle, the Old Town, and the river Neckar. The city is surrounded by hills, which inspired the poets & artists of romanticism. Heidelberg's history dates back to the 5th century BCE, when a group of Celts moved into the area built, a fortress & church. In 80 CE, the Romans arrived. https://www.heidelberg.de/english/Home/Visit.html

Heidelberg is an intimate & very walkable city with alley ways connecting to each other. Heidelberg Castle is undisputedly the main attraction of the city & is the most popular castle ruin in Germany. The majestic palace sits prominently on a hill overlooking historic Heidelberg. The world-famous Gothic & Renaissance castle ruins are a must for every visitor to Heidelberg. While at the castle definitely worth seeing is the largest wine barrel in the world, the Great Barrel. https://www.tourism-heidelberg.com/explore/historical-sights/schloss-heidelberg/index_eng.html.

There are numerous free & fee based guided walking tours led by locals which are highly recommended. Worth a visit is the Old bridge at sunset, you will have a fantastic view of the city and the castle, which glows red in the setting sun. The Philosophers' Walk which provides a great view of the Old Town; it cuts steeply through terraced vineyards until it reaches the woods.. At sunset you will have a fantastic view of the city and the castle, which glows red in the setting sun.

Jewish families began to settle in the city as early as the 13th century. The Jewish community was destroyed in the pogrom during the plague in 1349. The property of the slain was confiscated. The second Jewish medieval community existed until the expulsion of all Jews from the Electoral Palatinate in 1390. All the properties of the Heidelberg Jewish community became the property of the university. On Pogrom Night in November 1938, the synagogue was set on fire and completely destroyed. The Torah scrolls and ritual objects stolen from the synagogue were taken to the police station. National Socialist-minded Heidelberg citizens and especially students burned them on the University Square about a week after the destruction of the synagogue.

Get the HeidelbergCARD; which includes free bus and tram transportation as well free and/or discounted rates for attractions, events, shops and restaurants.https://www.heidelberg-marketing.de/en/planning-booking/tickets-tours/heidelbergcard

I stayed at, and highly recommend, the historical Hotel Holländer Hof, which is conveniently situated directly in the romantic heart of Old Town Heidelberg, and my window was directly opposite the famous Old Bridge and overlooking the Neckar River. It is a charming hotel with spacious rooms & features free WiFi, cable TV, a mini-bar, and a safety deposit box. https://www.hollaender-hof.de/index.php/en/….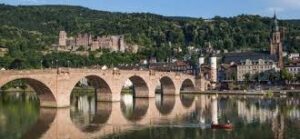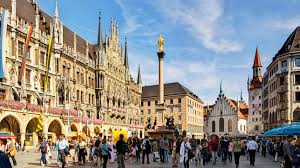 NUREMBERG, GERMANY
My next train stop was in NUREMBERG, which is Germany 14th largest city. During my 3 night stay I spend most of my time visiting it's historical landmarks including the Imperial Castle & the walled Old Town. Nuremberg has been an commercial hub from the Middle Ages onwards due to it's importance location on key trade-routes. Nuremberg's Imperial Castle was built in 1050 & is one of Europe's largest castles. I highly recommend the various free guided walking tours which are led by locals as an excellent way to see the city. https://tourismus.nuernberg.de/en View the museum Fembohaus. https://tourismus.nuernberg.de/en/discover/museums/. Imperial Castle: the main tourist site of Nuremberg grants you a wonderful view of the city & surrounding countryside. Beautiful sunset views. https://tourismus.nuernberg.de/en/discover/places-of-interest/kaiserburg-imperial-castle/



Get the Nürnberg Card which grants you free access to all the museums and sights, plus free public transport.
https://tourismus.nuernberg.de/en/booking/nuernberg-card-city-card/#/.

The Jewish community were living in Nuremberg as early as the beginning of the twelfth century and faced numerous expulsions and pogroms numerous times. Most of the Jewish tombstones were used as foundation for a road and steps for a Church Nuremberg was the center of the Nazi regime with numerous Rallies & Conventions.. https://www.jewishencyclopedia.com/articles/11632-nuremberg.. Visit the former Rallye Grounds, the Documentation Centre and the Museum of the Nuremberg Trails: https://tourismus.nuernberg.de/en/obligation-to-the-past/

For foodies; Nuremberg sausages have been produced for hundreds of years in Nuremberg & are protected by a special European law. You can only try them at a few locations. Nuremberg's city beer is a red beer, which was tasty.

I spent one night and slept like a king at the 12th Century Imperial Castle Hostel. I had a private room with a wonderful view of the city. Free WiFi access is available & each private dorm/room has its own bathroom. The hostel provides buffet breakfast every morning in its restaurant. The youth hostel isn't just for backpackers, it is very popular with families and solo travelers. https://www.jugendherberge.de/jugendherbergen/nuernberg-253/portraet/….

MUNICH, GERMANY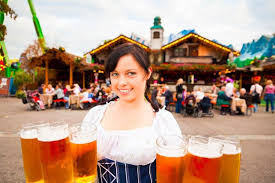 My journey continued via train to MUNICH, which is Germany's 3rd largest city, and began as a monastery centuries ago. Munich grew into a settlement when monks were allowed to establish a market, at the crossing of the route from Salzburg & the river. I spent 3 nights in Munich enjoying walking and cycling to centuries-old buildings & numerous museums.https://www.muenchen.de/int/en/tourism.html….. https://www.munich.travel/en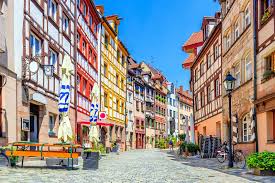 Munich City Center/Inner City offers some of Munich's famous attractions, such as the Frauenkirche (cathedral), Marienplatz and Altes Rathaus (main square and Old Town Hall). Definitely don't miss exploring the Nymphenburg Schlosspark (palace park) and the 900-acre English Garden (Englischer Garten) while watching the surfers on the Eisbach wave.

Munich is known for its beer halls & gardens, including the famed Hofbräuhaus, founded in 1589. German Monasteries started brewing beer as early as the 5th century & at its peak, over 600 monasteries in Europe were brewing their own beer! Don't miss trying the Weissbier (or Weißbier / Weizenbier, wheat beer), a specialty from Bavaria.

Highly recommended is a free guided walking tour as a great way to orientate yourself to Munich. I went on a Heart of Munich Tours free guided walking tour led by its founder Jax Slisz. He is extremely knowledgeable, friendly and I absolutely recommend his tours. Jax is available for free public & private tours. https://heartofmunich.com/ and [email protected].

The Jewish Museum Munich, provides an overview of Munich's long Jewish history and is part of the city's new Jewish Center located at Sankt-Jakobs-Platz. Jewish presence in Munich date back to at least the 13th century. https://juedisches-museum-muenchen.de/en/..By the time the Nazis rose to national power in 1933 there were about 10,000 Jews in Munich. In 1944, only 7 Jews remained in Munich with the majority being killed during the Holocaust..

I spent a very powerful afternoon and highly recommend a visit & guided tour of Dachau, the first concentration camp built by Nazi Germany in 1933, located just 10 miles from Munich. https://www.kz-gedenkstaette-dachau.de/en/ &
https://www.dachau.de/en/tourism/concentration-camp-memorial-site/concentration-camp-memorial-site.html…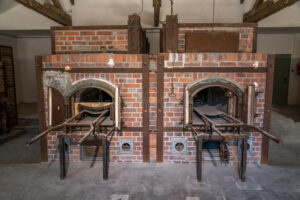 Another moving Munich experience was visiting the 1972 Olympic Park Memorial which was the site of the 1972 Summer Olympics, during which 11 Israeli Olympic team athletes were murdered by Palestinian terrorists. https://learngerman.dw.com/en/germany-opens-munich-olympics-memorial-honoring-israelis-killed-by-terrorists/a-40379236..

BERLIN, GERMANY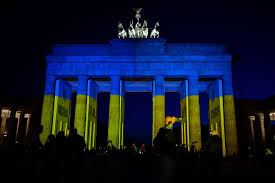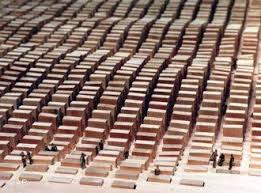 Fires in the countryside made for a very long train ride to BERLIN, the capital & urban center of Germany. During my 8 day stay I truly enjoyed exploring Berlin by foot and bicycle. World War II destroyed large parts of Berlin, and Germany has been rebuilt the city. August 1961 the East German government build a wall, physically separating West Berlin from East Berlin. The Fall of the Berlin Wall in November 1989 led to the reunification of East and West Germany. http://www.visitberlin.com.

Berlin's once thriving Jewish community, which numbered 170,000 before WW II were largely murdered in the Holocaust. Many important Jewish remnants remain, from memorials to museums to reconstructed synagogues, Berlin is full of opportunities to experience & learn the turbulent history of Berlin's Jewish residents.https://www.visitberlin.de/en/jewish-berlin.

I took 3 free walking guided tours of Berlin, there is really no better way of exploring a city than by walking.. I also took the free counterculture/street art walk guided tour which led us to sites that most tourist don't get to visit. Laura Girvent was our tour guide for one of the walks, and I highly recommend contacting her to arrange a tour. She is a local, and knows Berlin inside out. Contact is [email protected]. Laura is available for free public & private tours.

Highly recommend doing a cycling guided tour of the city; I went on 3 different cycling tours with Berlin on Bike, which gave me opportunities to view additional parts of the city that is harder to cover by foot. You can contact them at berlinonbike.de/en/.

Get a Berlin Welcome Card,https://www.berlin-welcomecard.de/en. card provides discounts for 48 different museums, 26 attractions, 200 venues and at least 44 interesting tours in Berlin. Also a public transport pass is included.

Visit the many historical museums, cathedrals, synagogues, Holocaust memorials, Berlin Wall, Checkpoint Charlie and galleries,

VIENNA, AUSTRIA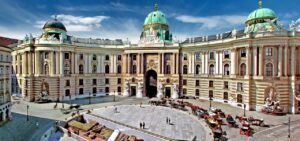 I had a wonderful 5 day trip to Austria's capital Vienna. "Wien" is located on the banks of the Danube river and was founded around 500 BCE as a Celtic settlement. Vienna is known for its Imperial palaces, including Schönbrunn, the Habsburgs' summer residence. Vienna played an essential role as a leading European music center including home to Mozart and Beethoven. Sigmund Freud also called Vienna home. Vienna's rich culture include magnificent museums, glittering palaces, fine concert halls, and one of the world's great opera houses. You definitely want to spend time exploring the Historic Center of Vienna which is rich in architectural ensembles, including Baroque castles and gardens, as well as the late-19th-century Ringstrasse lined with grand buildings, monuments and parks. The Vienna Tourist Agency www.vienna.info has excellent tourist, restaurant and hotel recommendations. Foodies visit Vienna for its coffeehouse culture, wonderful desserts and tasty food including Viennese Schnitzel.

There are numerous free guided tours around the city including walking, cycling and Segway tours http://www.wien.info/en/sightseeing/tours-guides. I went on a free walking tour with Prime Tours/Guru Walk and definitely recommend this company They use only local licensed and professional guides. I highly encourage the 2 hour tour of historical Vienna. Obtain a Vienna City Card which includes: free travel, discounts, and optional add-ons. www.viennacitycard.at.
Until 1938, Vienna had a flourishing Jewish community with dozens of synagogues and organizations. At the end of the 19th century and the start of the 20th century, Vienna was one of the most prominent centers of Jewish culture in Europe, but during the Holocaust Vienna's 65,000 Jewish population was almost entirely deported and murdered by the Nazis. There has been a Jewish community in Vienna since 1194. There are numerous Jewish synagogues, organizations and museums to visit in Vienna including the Jewish Museum https://www.jmw.at/

My Vienna trip highlight was Vienna's Explorer Bicycle Guided Tour of the beautiful Wachau Valley Winery Tour. On this full-day, guided bicycle tour, we traveled from Vienna via train with a small group to the Wachau Valley deep in the Austrian countryside. ,At Krems we got our bikes at Vienna Explorer other bike store, and then started our bike ride on flat paths surrounded by very beautiful terraced vineyards. We got to explore Dürnstein, the entire village is a UNESCO world heritage site, and visit the famous the blue church tower. We went wine tasting and learned the local history at 2 wineries before lunch & 2 wineries after lunch. Along the way we visited charming Austrian villages before arriving back to Krems, and then returned to Vienna by train at the end of the day. It's a day I will remember long after my travels end. During the day I met and talked with many local residents. I learned that most families have lived in the same community for many generations. We also talked about the local culture, how wine is made and the differences between the various wineries. Saw, and talked to , Community residents who actually pick the grapes during harvest season in exchange for bottles to take home. Our excellent tour guide was Jamie. who was extremely friendly, energetic and very knowledgeable about both wines and the Wachau Valley. The wines we tasted were excellent, and very affordable. https://www.viennaexplorer.com/. Second store in Krems. https://www.wachauexplorer.at/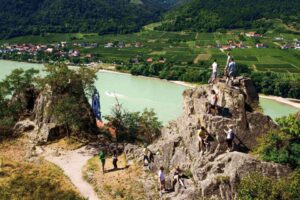 I also recommend Vienna Explorer 3 hour bicycle guided tour of Vienna. We did not miss any major landmarks seeing sights like the Hofburg Palace, City Hall and Opera House. We cycled bike paths along the Danube River and took breaks to snap photos of the Hundertwasserhaus, the Prater, and Heroes' Square and cycled along the Danube Canal. We rode along the famous Ring Boulevard, visited the expressionist Hundertwasser House and rode through the old Habsburg hunting area in the Prater Park with its landmark giant Ferris wheel. https://www.viennaexplorer.com/.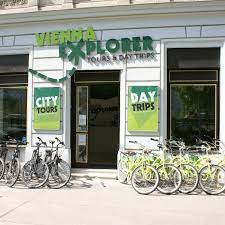 One of my best meals I had in Europe was at Glacis Beisl for a traditional Austrian dinner.. They are located in the museum quarter and one of the most beautiful restaurant gardens in the city. Wonderful service, choice of indoor or outdoor seating, very tasty food and was moderately priced. Among the tasty food I ordered was the Wieniese chicken schnitzel and potato salad http://www.glacisbeisl.at
Bitzinger's Sausage stand is one of Vienna's most famous and elegant hot dog stands (Würstelstand), located right next to the Opera building and Albertinaplatz. Besides the classic bratwurst and currywurst they also sell some other specialties, like the cheese-filled sausage. I found the staff extremely friendly,, and they made me a non sausage option. https://www.bitzinger-wien.at/

Salzburg Austria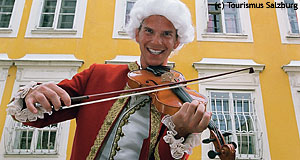 From Vienna I took the train as we climbed into the mountains and saw beautiful lakes to Salzburg, Austria. The first settlements in Salzburg were by the Celts around the 5th century BCE. The name Salzburg means "Salt-Castle", and the city's main sources of income were salt extraction, trade and gold-mining. Salzburg is the city where Mozart was born, and was the shooting location for 1960's movie "The Sound of Music".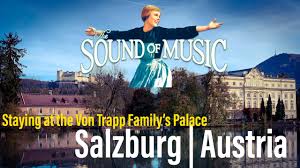 Another trip highlight was the Sound of Music bicycle tour. The film is based on the true story of Maria von Trapp who took up with an aristocratic family and fled the Germans. It used locations in and around Salzburg as filming locations. I definitely recommend the Original Sound of Music bicycle tour; visiting all the most memorable filming locations from the movie. Admire magnificent views of the Austrian Lake District; visit Mirabell Gardens, Mondsee Cathedral, and Lake Wolfgang; and sing along with the soundtrack. Salzburg's only bicycle tour , Marias Bicycle Tours. bike[email protected]. http://mariasbicycletours.com.. and ask for Rupert.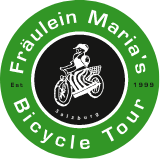 Visit Mozart's extraordinary childhood at his birthplace and residence. https://www.salzburg.info/en/salzburg/city-of-mozart. Wolfgang Amadeus Mozart was born in Salzburg back in 1756. During my visit I experienced one of the numerous concerts that occur daily. Festivals, concerts and guided tours keep the spirit of Mozart alive and well in Salzburg.

Getting the Salzburg Card, with access to all of museums and sights in Salzburg. https://www.salzburg.info/en/hotels-offers/salzburg-card… Salzburg Tourist Bureau valuable links are :www.salzburg.info/en, https://www.salzburg.info/en/salzburg & https://www.salzburg.info/en/hotels-offers/guided-tours/city-walks & www.salzburg.info/city-walks

PRAGUE, CZECH REPUBLIC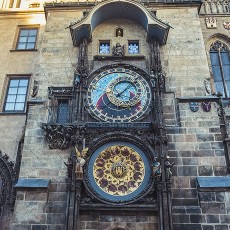 Two Trains & two Buses later I arrived in Prague, capital city of the Czech Republic. Prague created many wonderful memories and I highly recommend a visit. The city was founded during the Romanesque era and flourished during the Gothic and Renaissance periods, it was also the seat of two Holy Roman Emperors and the capital of the Holy Roman Empire. On January 1, 1993 Czechoslovakia was spilt into two independent countries; Slovakia and Czech Republic.

Prague is famous for its rich history, Gothic cathedrals, medieval squares, incredible bridges, cobblestoned alleys, abundant art scene, vibrant nightlife, and culinary temptations. Main attractions include Prague Castle, Charles Bridge, Old Town Square, Prague astronomical clock and the Jewish Quarter.
The official tourist websites of Prague https://www.praguecitytourism.cz/en, & www.prague.eu & https://www.jewishmuseum.cz/en/info/visit/… I recommend getting a Prague Cool Pass where you have access to 100+ attractions, tours, cruises, entertainment & leisure options.

A wonderful way to explore Prague is on a bicycle tour. Baja Bikes Prague Highlights Bike Tour: https://www.bajabikes.eu/en/prague-bike-tour/. An English-speaking local guide will led us through the old city center along with the most popular sights of the city while telling us all there is to know about the city's history and culture. In the Old Town Square, located between the Wenceslas Square and Charles Bridge, enjoyed beautiful sights like its medieval astronomical clock located on the Old City Hall, the Kinský Palace, and St. Nicholas Church. Then headed to the Jewish Quarter with its New and Old Synagogue and discovered the rich history of this fascinating neighborhood. We also rode past beautiful parks, such as the Metronome and Letna Parks. In just a few hours we saw a big part of the city. Their bike tours are accessible for every fitness level.

Another bicycle tour I went on was with Praha Bike Prague Classic City Bike Tour: http://prahabike.cz/. Their expert English speaking guides took us on a wonderful ride through the center of the Czech capital while we were learning all about Czech culture and its complex history. Discovered why Prague is one of the most fascinating cities in European history with this easy-paced bike ride that went through the New Town and Old Town, across the river to Kampa park and Lesser Town (Mala Strana), through the Jewish Quarter and Old Town Square.
Another excellent way to see Prague is a free walking tour with a local English tour guide with
https://www.freewalkingtourprague.eu/en. I did their Prague Old Tour where I discovered the most interesting sights of Prague Old Town & Jewish Quarter, and heard fascinating local legends! https://www.guruwalk.com/prague is a booking site for 36 different tours in Prague. I went on a wonderful one with Guru Walk to Prague Castle, Charles Bridge, Cathedral and Lesser Town.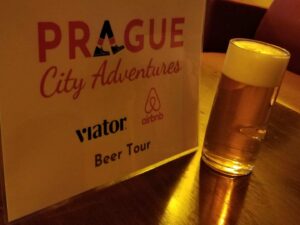 Had a wonderful evening enjoying Czech Beers & Tapas and exploring Prague's Coolest Neighborhoods thru Prague City Adventures, [email protected]. We immersed ourselves in Czech beer culture, enjoyed a range of different brews, and discovered Prague landmarks. Choice between private or small-group options. We visited a number of locals beer bars to try different beer styles and snacks,while learning about the brewing process. Our tour was led by (Vojta) Vojtěch Leskovský[email protected]://www.praguecityadventures.com/walking-tours/beer-and-tapas-tour/..Promo code: PROMOPCA20.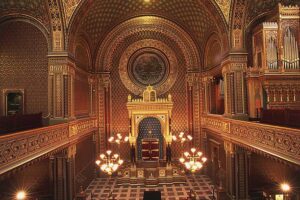 Prague's Jewish Quarter dates from the 10th century and was once the largest Jewish community in Europe. Before World War II the community once made up 25% of Prague's total population. According to the 1930 census the Jewish population numbered over 350,000. More than 250,000 Jews were murdered in the Holocaust. The current Jewish population is approximately only 2,000. I highly recommend a Jewish Quarter tour to learn more about this remarkable community. The story unfolds vividly as we explore the synagogues, cemetery, and the streets of the former Jewish Ghetto & Quarter. Why, for instance, were people buried ten deep, one on top of the other? Who was the famous "Golem"? And how, despite the terrible purges of the Nazi occupation, did the beautiful monuments in the Jewish Quarter survive? The Old-New Synagogue is the oldest active Synagogue in Europe, built in 1270. Highly recommend to join a tour, my tour was led by Mrs. Jiřina Vokrouhlíková who is very knowledgeable and personable. Details at prague.eu & praguecitytourism.cz.
ARTICLE WRITTEN BY JEFF ZIMERMAN