Travel, Lodging, Dining- San Luis Obisbo, Paso Robles, Carmel/Monterey, Santa Barbara- June 2023
Lodging:
Hofsas House, located in a residential area of Carmel, just a few blocks from Ocean Ave (the main street in Carmel) , is an iconic European (Bavarian inspired) boutique hotel that is dog-friendly and has 38 rooms.  Book early as rooms go quickly.
The owner, Carrie, has been running it for quite some time, following in her grandmother's footsteps. The staff, including Carrie, are incredibly accommodating and always ready to help with directions, recommendations, and a wealth of information about Carmel, Monterey, and the surrounding areas. The rooms are spacious, comfortable, and equipped with all the amenities you could need. Start your day with a delightful continental breakfast featuring pastries, yogurt, fruit, and a steaming cup of coffee or tea. The heated swimming pool is a fantastic place to relax or exercise, and if you're in the mood for some pampering, the adjacent dry sauna will do the trick. With great views and many rooms offering balconies, Hofsas House is a highly recommended destination for your next visit, offering a perfect blend of location and eclectic charm.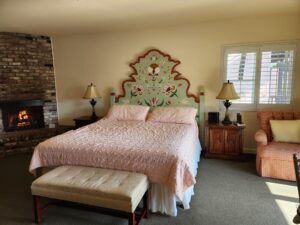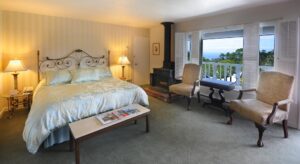 Casual European elegance with the warmth of family hospitality, the Hofsas House is a boutique family-owned inn with 37 uniquely decorated, spacious rooms, many with ocean views overlooking the pines in the village of Carmel-by-the-Sea.
Dutch doors appoint each room, allowing our guests to enjoy the fresh ocean air. Watch glorious sunsets over the Pacific Ocean from the privacy of the inn's decks or rooms. Selected rooms and most suites have fireplaces, private balconies, wet bars or kitchens.
The Hofsas House is located three blocks north of Ocean Avenue, eight blocks from the picturesque white sand Carmel Beach and one block from a child-friendly City Park. There is plenty of off-street parking and guests delight in walking everywhere in Carmel from the inn.
Enjoy a continental breakfast in the morning with French Roast coffee, tea, yogurt, fresh pastries delivered from a local bakery, juice and fruit.
Other amenities include a heated swimming pool, dry saunas, view deck areas, HD cable TV and free WIFI access. Some rooms are dog friendly. Casual elegance, personal service and traditional family hospitality are the trademarks of Hofsas House Hotel.
The hotel is .8 miles from Pebble Beach and the 17 Mile Drive, 1.1 mi from Carmel Mission and 3 miles from Point Lobos State Park. Monterey Airport is 14 miles (15 minutes), San Jose International Airport is 56 miles away and San Francisco International Airport is 108 miles.
The Quality Inn downtown San Luis Obisbo- The staff is friendly and helpful. They offer a free hot breakfast with a variety of cooked to order eggs and a variety of many other items.
After seeing the sights or tending to business, work out the kinks at their fitness center or outdoor seasonal pool; then relax in a cozy, comfortable bed.
The location is super convenient close to many restaurants and top places to visit.  Overall, we highly recommend the Quality Suites.  They have made some upgrades to their outdoor spaces and are currently working on in room renovations,
https://www.choicehotels.com/california/san-luis-obispo/quality-inn-hotels/ca702
The Stables Inn, situated just a few blocks (walking distance) away from downtown Paso Robles and is the sister property of Hotel Cheval.  The Stables exudes quaintness and charm. The horse-themed atmosphere gives you the delightful feeling of being at the stables. Don't forget to check out the Tack room, adorned with interesting memorabilia.
In the morning, enjoy a continental breakfast to fuel your day's adventures. The comfortable bed ensures a restful night's sleep, and the location couldn't be more perfect. The Stables Inn is an ideal choice for those seeking a unique and cozy stay.  www.stablesinnpaso.com
The newly renovated Marina Beach Inn is a hidden gem just a few blocks away from the beach in a convenient location in Santa Barbara.
They have free bicycles for their guests, including fun surrey bikes that we took for a leisurely ride. After working up an appetite, we enjoyed a delightful breakfast with a variety of tasty options served in their lovely lobby.  The rooms were impeccably clean, and the comfortable bed made our stay truly enjoyable. The friendly and accommodating front staff added a personal touch to our experience.  They have done a great job repainting the full exterior of the property so it looks amazing along with renovating many of the rooms inside.  We can't wait to come back and stay at the Marina Beach Inn on our next visit to Santa Barbara.
Dining:
The Lido at Dolphin Bay Resort is an absolute gem, offering an exquisite dining experience. We had the pleasure of sitting outside on the patio, basking in the warmth of a beautiful summer day, with sunlight gently filtering through. Our culinary journey began with the crispy Brussels sprouts, accompanied by a delightful almond cream and a reduced Sherry sauce, as well as a poached shrimp cocktail that was simply divine.
For our next course, we indulged in the newly updated beet salad, specially crafted for the summer season, featuring refreshing watermelon and crunchy pistachios. The addition of avocado elevated the dish, both in terms of its visual appeal and its delectable taste.
Moving on to the main courses, we followed the expert recommendations of the attentive staff. The Alaskan salmon, lightly glazed with dry vermouth and lemon, stole the show. Paired with Yukon mashed potatoes and adorned with brown butter shaved fennel, it was a symphony of flavors. We also savored the baked halibut, accompanied by delicate hen of the woods mushrooms and English peas, all bathed in a luscious lemon butter champagne sauce.
Seafood and pasta enthusiasts will find true bliss in the shrimp and lobster bucatini, tantalizingly coated in a tomato saffron sauce. To complement our meal, we explored the wonders of their signature cocktails and perused their extensive wine list, showcasing an impressive wine cellar.
No culinary journey would be complete without a delightful dessert. We implore you not to miss the decadent chocolate flourless torte, beautifully accompanied by a scoop of velvety vanilla ice cream. Alternatively, the açai sorbet, both delicate and refreshing, offers a delightful conclusion to your dining experience.
The service provided by the exceptional staff, including the attentive Jose, the ever-helpful Bailey, and the attentive manager Krysten, was second to none. Their passion for hospitality truly shone through, enhancing our overall experience.
In summary, our meal at The Lido was nothing short of outstanding, and we wholeheartedly recommend a visit. With its idyllic location overlooking the ocean, Dolphin Bay Resort sets the stage for an epic atmosphere, where every moment spent is an unforgettable one. https://www.thedolphinbay.com/lido
Abalonetti's on the old wharf in Monterey is a seafood lover's paradise. We were blown away by their grilled calamari fillets over saffron rice and vegetables in a divine white wine sauce. It was easily one of the best dishes we've ever had.
In addition to an array of starters, salads, sandwiches, pasta, brick oven pizzas, and meats, their seafood selection is outstanding.
We also enjoyed the pacific grilled and lightly breaded sandabs with a lemon butter sauce, rice, and vegetables, as well as the grilled and panko crusted abalone.
Manny, our server, provided exceptional service and ensured we had a delightful dining experience.
The Beach House at Lovers Point in Pacific Grove is a true culinary experience. Celebrating its upcoming 10-year anniversary, this upscale restaurant offers an incredible setting overlooking the ocean. The service and staff, including owner Kevin, manager Joe, and our server Bianca, were impeccable.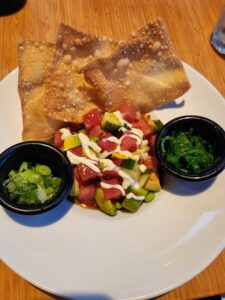 We started with the flavorful Ahi poke served with cucumbers, avocado, edamame, and wonton chips.
Our entrées, the Sandabs and grilled calamari steak, were equally delicious, accompanied by fragrant rice pilaf and fresh vegetables. Don't forget to pair your meal with one of their signature drinks or a glass of wine. To top off a fantastic dining experience, indulge in their irresistible mud pie for dessert.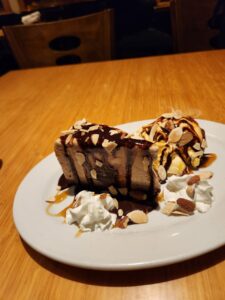 We stumbled upon the charming Carmel Burger Bar, and it turned out to be so much more than just a burger joint. The owner, Janice, greeted us warmly and introduced us to a variety of delectable dishes. From tasty clam chowder and steamed clams to mouthwatering burgers, sandwiches, Korean bimbibop, and salads, their menu offers something for everyone.
Don't miss out on their trio of sliders, which includes a regular burger, bison burger, and crab melt. It's the perfect way to sample their culinary delights.
https://www.carmelburgerbar.com/
The Wild Plum Café, in Monterey, has been a beloved breakfast and lunch spot for many years, and it's all thanks to the exceptional, creative culinary creations of owner and chef, Pamela.
You simply can't visit without trying their unique steamed eggs which resemble fluffy soufflés and are served with delectable potatoes and homemade bread. We had never seen steamed eggs before so we were intrigued.  Do yourself a favor and order those!  Their menu also offers an enticing selection of salads, sandwiches, pastries, and more.
We savored the chicken Caesar salad with fresh vegetables, avocado, and a tantalizing sesame dressing. For the perfect pairing, indulge in one of their famous coffee or latte drinks. The warm hospitality and cozy ambiance of this charming place will make your visit even more enjoyable.
https://www.thewildplumcafe.com/
Fish Gaucho, located in downtown Paso Robles, is an upscale Mexican restaurant that knows how to impress.
From their delicious margaritas to their diverse selection of seafood, meat, and Mexican specialties, it's a culinary journey you won't want to miss. Start with their fantastic guacamole—it sets the perfect tone for the meal. The menu features ceviche, poke, tacos, burritos, short ribs, and an array of seafood delights. But the real showstopper? The lobster enchiladas.
They were simply out of this world. With attentive and friendly servers like Rebecca and Lily, the manager who has been there since the restaurant's opening, Fish Gaucho guarantees a crowded and worthwhile dining experience.
Joe's Place is the most popular breakfast place in Paso Robles, and it's no wonder why it's so crowded.
Their menu boasts a mouthwatering selection of pancakes, French toast, breakfast burritos, huevos rancheros, and their signature egg scrambles. We opted for the egg white scramble with spinach, Swiss cheese, mushrooms, and a delightful addition of avocado.
It was a delicious way to start the day. And let's not forget that Joe's Place also serves up a tasty lunch with burgers, salads, and other classic greasy spoon dishes. Make sure to try their famous Ranchero sauce—it's the stuff of legends.   https://www.joesplace805.com/
Attractions/Activities   Kayaking and Biking

Adventures by the Sea, located at 299 Cannery Row, offers thrilling kayaking adventures. Parker and Milo were incredibly helpful, ensuring we were well-prepared and guiding us throughout the experience. As we paddled along, we were delighted to spot playful otters and even made a detour to the renowned Monterey Bay Aquarium.
On our way back to the harbor, we were greeted by the boisterous sounds of sea lions. It's important to check the weather conditions, especially the wind, as it can be a challenge for those who aren't experienced. All in all, it was a fun-filled and invigorating workout on the water.
Adventures by the Sea has a second location on Cannery Row in downtown Monterey.  We had an incredible time exploring the area on their E bikes. The staff, especially Keegan, went above and beyond to make us feel welcome and ensured we knew how to use the bikes and where to go. The breathtaking views along the old wharf and 17-mile drive, along Pebble Beach, were unforgettable. We highly recommend Adventures by the Sea for a fun and memorable experience.
https://adventuresbythesea.com/cannery-row/
https://adventuresbythesea.com/
Santa Barbara Attractions- 
Salt Cave (photos above) on State Street- We had a great 45 meditation at the Salt Cave. Very relaxing and we ended up purchasing some salts to drink and take a salt bath.  Check it out on your next visit to Santa Barbara. https://saltcavesb.com/
Wheel Fun Rentals– Try the surrey bike rental and take a ride along the beach.  www.wfrsb.com
We will have to return to try some other fun attractions & museums.
Assisted Writing/Editing & Photos by Lisa Koff