JW Marriott Desert Springs Resort & Spa is the 1st Greater Palm Springs Hotel to Gain Certified Autism (CAC) Designation Ensuring Inclusivity for its Guests – Aug. 2023
JW Marriott Desert Springs Resort & Spa Becomes First Greater Palm Springs
Hotel to Gain Certified Autism  (CAC) Designation Ensuring Inclusivity for its Guests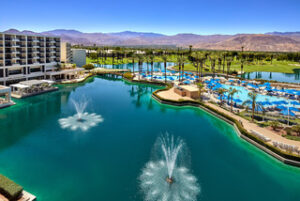 JW Marriott Desert Springs Resort & Spa Becomes First Greater Palm Springs Hotel to Gain  Certified Autism (CAC) Designation Ensuring Inclusivity for its Guests
Palm Desert's largest resort, JW Marriott Desert Springs Resort & Spa (www.desertspirngsresort.com), is proud to become an autism accessible hotel, ensuring inclusive options are now available for its global visitors. This important designation marks the iconic property's place as the first CAC-certified hotel in Greater Palm Springs, as well as the first JW Marriott to gain certification.
The CAC designation is earned by organizations that have completed autism training to better understand, welcome and accommodate autistic visitors and their families. The property has worked with The International Board of Credentialing and Continuing Education Standards (IBCCES), a global leader in online training and certification programs, to be designated as a Certified Autism Center™ (CAC).
The focus on ensuring accessibility is important, especially with 1 in 36 children in the US diagnosed with autism (according to the CDC) and 1 in 6 people with sensory needs or sensitivities. These travelers take millions of trips but there are few destinations and hotels with a variety of options that have taken the extra step cohesively to better understand and enhance accommodations for these visitors.
The hotel's staff recently completed training and certification in best practices when assisting autistic individuals. By undergoing additional autism-specific training, the goal is to be equipped to provide better service and experiences to all. JW Marriott Desert Springs Resort's General Manager, Nusrat Mirza, says: "We are dedicated to deepening our commitment to our guests, including those with autism or sensory processing disorders. The CAC training and designation continues this initiative, in preparing our staff to best provide service, recognize areas for support and assist guests of all interests and needs, ensuring they have equal opportunities and, ultimately, an enjoyable stay."
The hotel is now proudly aligned with Visit Greater Palm Springs who in 2022 achieved recognition as a Certified Autism Center™ (CAC), an important first step in preparing tourism and community partners to provide the best possible experience for autistic travelers and their travel companions. Visit Greater Palms Springs is spearheading this wider movement to achieve the Certified Autism Destination™ (CAD) designation which means visitors would have multiple trained and certified options to choose from when in the area, including entertainment, recreation, and lodging.
With all core staff trained in sensory sensitivity awareness, the hotel aims for its guests to feel welcome and taken care of. The hotel will provide sensory maps and information packets, given out upon arrival, that describe the level and types of stimulation as well as sensory guides posted in high sensory locations throughout the hotel.
JW Marriott hopes to make traveling with an autistic family member less stressful by featuring low sensory indoor and outdoor spaces along with useful tools such as sensory bags, weighted blankets, sound machines, headphones and fidget toys. Outdoor spaces include large lawns for exercise or play as well as a mini golf course and a designated low sensory pool area. If guests are seeking indoor high sensory experiences, they can visit the 12,000 Sq.-ft, state-of-the-art JW Entertainment Zone – the largest hotel resort arcade in California, which caters to all ages – and play duck bowling, skee-ball, virtual reality games or other interactive games.
All guestrooms feature a mini refrigerator for any special foods, and the hotel's Rockwood Grill Restaurant, as well as room service, offer special children's meals as well as gluten free and vegetarian options.
"We at IBCCES are elated to collaborate with esteemed partners such as the JW Desert Springs Resort & Spa, who not only understand the significance of fostering inclusive and accommodating environments but also recognize the immense value it holds for millions of autistic and sensory-sensitive travelers and their families seeking suitable options," shared Myron Pincomb, Chairman of the IBCCES Board. "The remarkable strides made in the Greater Palm Springs area are truly inspiring, and we are enthusiastic about our ongoing efforts as this community initiative flourishes."
For more information about Certified Autism Center™ (CAC), visit: https://ibcces.org/cac-faq-travel/.
https://www.marriott.com/en-us/hotels/ctdca-jw-marriott-desert-springs-resort-and-spa/experiences/explore-palm-desert/