Ocean Avenue Seafood in Santa Monica – July 9th, 2002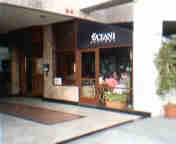 If you are in the mood for fish, do yourself a favor and go to Ocean Ave. Seafood Restaurant and Oyster Bar in Santa Monica, California. Located on Ocean Ave. (between Broadway and Santa Monica Blvd.) the comfortable setting, knowledgeable servers, and delicious food make this a wonderful dining experience.
The menu is printed up daily and features a wide variety of fresh fish and shellfish. Start out with some delicious fresh oysters from the waters off of Washington, British Columbia, the West Coast or other unique oysters from the waters off the Eastern United States. We preferred the Sunset Beach oysters from the West coast which were bigger, meatier, sweeter and delicious. If you can't decide then just have the oyster sampler. With that you get six different oysters, three from the West coast and three from the East coast. You can also sample three different white wines with the oyster/wine sampler. This way you can see which wine works best for you. We would recommend a glass of Ledson Chardonnay. It's full bodied, rich and creamy. If you don't like oysters then start off with some other cold appetizers like the Big Eye Tuna Tartare with sesame dressing, wonton and avocado or 1/2 pound of Alaska King Crab Legs. If you enjoy something a little more cooked then try the Dungeness Crab Cakes or the delicious Tempura Softshell Crab with ponzu sauce. Call and ask if the softshell crab is available because it comes and goes during the season. Other starters include the creamy clam chowder with smoked bacon, Canadian Black Mussels or Washington Manila Clams which are steamed and served in a white wine and garlic sauce.
For a main course the menu offers a little bit of everything from seafood to Broiled Stuffed Shrimp with crabmeat stuffing and wine-dill sauce, Live Main Lobsters, Paella, and even steaks. You can't go wrong with anything on the menu, but the specialty is the seafood and the fish is fresh and flown in daily from places like Hawaii, Alaska, Great Lakes, and Fiji. The Big Eye Tuna off the Kona Coast is seared and served with a pineapple rice and asian vinagrette and has a subtle sweet ginger taste to it. It absolutely melts in your mouth. The Swordfish off the waters of Kauai is grilled and served with a pineapple salsa and shrimp fried rice. An incredible blend of flavors. If you have any room saved in your belly after your delicious meal, then try one of their incredible desserts as they have many diversed items from ice creams to cakes and pastries.
Finish your night off with a cup of cappuccino or a glass of brandy or cognac. The servers are very knowledgeable about the menu and the extensive wine list, so don't hesitate to ask for suggestions and recommendations from your server at any time.
The location of Ocean Ave. Seafood restaurant is unique and near the beach Park and walk leisurely along the bluffs of Palisades Park or take a stroll out on the Santa Monica Pier before dining at your window seat and watching the sun set over the Santa Monica Mountains and sea. After you are purely satisfied with your meal, walk a bit of it off at the Third Street Promenade and do some window shopping or catch a movie. The Ocean Ave. Seafood restaurant is an all around great dining experience.
For more information or reservations call: 310-394-5669