Traveling To Malaysia; Truly An Asian Paradise – December 26th, 2002
Sometimes I just have to get away. Away from the daily grind of LA. I feel the need to experience foreign lands and cultures. Stir up the ho-hum, run away and feel exotic. Voyage to places that storybooks are written about.
Well, an 18 hour trip across the Pacific may not sound very enticing to you, but if you'd like to have a truly exotic once-in-a-lifetime Asian experience, where you can taste many of the different cultures of Asia all in one place, a trip to Malaysia will fulfill any dreams you could conjure up. With Malaysia's population consisting of one third Malay Muslims, a third Chinese Buddhists, and a third Indian Hindus, the people are warm, helpful and friendly and the destination is definitely worth the journey.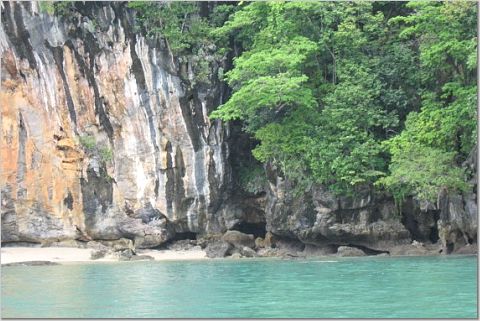 OK, so the start of my trip would make anyone weary. Ugh, a three hour early arrival for a 1:40am flight out of LAX. That alone is adventurous. But once I am escorted to my seat by one of the incredibly beautiful woman of Malaysia Airlines www.malaysiaairlines.com.my, I immediately feel the weight of the city disintegrate as I settle in and am unexpectedly pampered right from the get-go.
Luckily, I scored a window seat with two empty seats next to me, which means three pillows and three blankets. And thank goodness for my supply of Melatonin. Could I be any happier? I am sitting just behind the gigantic wing and can see the perspective of the workers standing below compared to the piece of machinery I'm seated in. The realization of the tremendous journey I am embarking on settles in as we head out and speed down the runway and I watch the earth quickly push away while the wing remains massive. It's amazing to me how 747s, these huge birds of steel, get off the ground.
I love the simple little extras fine airlines give you, like the little hot, wet towels to wash your hands and face. They take such good care of you, as if I was reliving my childhood, traveling without an adult and getting special attention. You're able to watch TV and movies on your personal screen, play video games, listen to whatever kind of music you want, and you never have to ask "Are we there yet?" because you can track the entire trip, where you are, where you are going, times, temps, altitudes, speeds, etc., with your own GPS. The crew even helps you pick between an American, Indian, or Asian meal from the extensive printed menu and makes sure you sleep for a good eight hours before they wake you up for sunrise over Japan with some OJ and breakfast, gently and tenderly to the sweet Malaysian flute version of "Morning Has Broken."
OK, this flight hasn't seemed too difficult so far. It's about 12 ½ hours from LA to Taipei, where it's announced that China has strict drug enforcement laws and violation may be punishable by death, and…you must report if you have any symptoms of fever or respiratory problems so that you can be screened for SARS, all in the same breath. Toto, we're not in Kansas anymore. Not the most inviting way to enter a foreign country. But fortunately, I only remained in the airport for an hour before reboarding for another four hours to Kuala Lumpur, knowing that I was going to a very friendly and safe country where there is very little crime and there has never been case of SARS reported. Plus, I kept a hawk's eye on my belongings, making sure that no one had tried to slip any unfamiliar substances in while I wasn't looking. I may be an easy-going American tourist, but I have seen those movies. You'll be happy to know that that was the most threatening part of my entire trip.
My final hours of flying were entertained eavesdropping on a Muslim mother and daughter, dressed in veils, needle pointing and discussing religion with their new Christian, Birkenstock-clad friend, a retired school teacher from the States whose husband now teaches math in Indonesia. As we flew over islands on our approach into Kuala Lumpur(KL) and touched down with one of the smoothest landings I've ever experienced, I knew I was in for an exciting Asian escapade. Selamat Datang!
| | |
| --- | --- |
| | |
Now, I like to consider myself a traveler, not a tourist. I am very spontaneous and try to just be in the moment…seeing where the journey will take me…and wonderful things always seem to happen! I try to have no expectations and prepare for the worst. I try to travel lightly, with plenty of room to return laden with gifts of the culture. Well, upon arriving in Kuala Lumpur, I was pleasantly surprised. I guess I was "expecting" something like India, the toughest conditions that I've ever encountered. But no, KL (as the city is locally referred to) is extremely hip and cosmopolitan (think Catherine Zeta-Jones in "Entrapment"). I felt very underdressed in my safari shorts and Tevas in line at the local Coffee Bean standing next to a hot-to-trot Malaysian J.Lo wanna-be. I was actually disappointed to see all the American chains…McDonalds, of course, Burger King, KFC, Starbucks, Planet Hollywood, etc. I mean really, LA doesn't even have my beloved Dunkin Donuts….but KL does!
Malays are very proud of their massive plethora of shopping experiences. In fact, the two favorite national pastimes are eating and shopping (a country after my own heart), and boy, oh boy, do they have plenty of both. KL is looking to become the next on the list of top international shopping destinations, right up there with NYC, Paris, Rome and Singapore, and they are doing a very good job. Happily, I was in town during one of their three yearly Mega Sales carnivals, when the whole country goes on sale in order to lure in dollars, yen, pounds, dinar and euro. Shopping season has begun. It's a pretty serious sport here and enthusiasts will be thrilled to be able to find anything from Jimmy Choo, Sang Toi, and Armani, to loads of duty free goods, electronics, Prada and Gucci knockoffs, to bazaars and streets markets filled with fabrics and handicrafts. The government has gotten involved in promoting the ringgit and to make shopping more enticing to foreigners, have reduced the value to 3.80 ringgits to the dollar. Now we're talking! They are forgiven for having more Starbucks than Santa Monica.
Then there's the food issue. Malays love food! They claim to be the inventors of one of my favorite dishes, satay, and never have I tasted finer. With so many cultures cohabitating, Malaysian cuisine provides limitless choices of dishes for your palate to enjoy. Food is abundant and you will never be in search of a place to eat, no matter what time of the day or night your stomach starts to grumble. Char kway teow and ayam goreng are a must-try and I'd eat anything with their delectable nasi lemak (coconut rice). Tandoori chicken, samosas and dahl will satisfy your Indian craving and dim-sum is served for breakfast, lunch and dinner. Although, being surrounded by all of these scrumptious options, I must have had more like five meals a day, and I was absolutely addicted to their teh tarik, which is called "pulled tea" because of the way it's poured by dragging the pot up and away from the glass so the liquid will cool off faster. Some of the tastiest food comes from the many open-air hawkers (food stalls) centers that can be found all over the country. Back in the States you might be someone who'd never in a million years even consider trying food from a street vendor. Well, don't let that stop you, 'cuz when in Malaysia, be a Malaysian.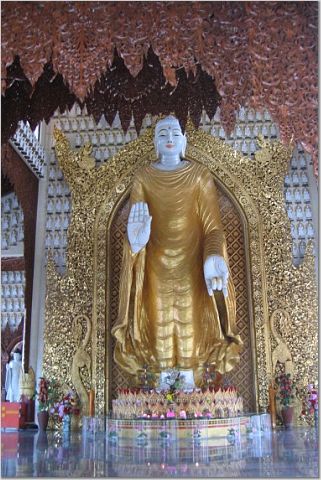 The fruit of Malaysia was another one of my joys. The constant, year-round tropical climate is ideal for producing some of the most delicious fruits in the world. Guava, banana, lime, pineapple, mango, papaya, star fruit, rambutan (tastes like lychee and is red and hairy on the outside, pale and juicy inside), and durian "The King of Fruits" are just some of the favorites. Durian is a rare delight and quite an acquired taste. It's a huge, spiky fruit with big, fleshy pods inside that are soft and creamy and tastes a lot like a sweet, heavenly custard. It's eaten warm from the sun and actually heats up your body. One bite and you're hooked. The only downfall to this incredibly luscious experience is that it STINKS…like dirty feet. If I hadn't heard how loved this fruit was I would have never gone near it at all. The smell is so potent that they don't allow you to bring them into hotels because if you open one in your room the perfume lingers and neighbors complain, future guests complain, the staff complains. Though you might have to hold your nose to get it to your mouth, the succulent moments of flesh on the lips is pure ecstasy and has made the whole country addicts during durian season.
Besides shopping and eating, there are plenty of other things to experience in the city of Kuala Lumpur, from ancient culture to modern extravagance. From the Hindu temples built into the Batu Caves, to the Petronas Towers, the tallest twin buildings in the world. Escape the city hustle and bustle and retreat to the tranquility of Merdeka Square, once the colonial city's center, surrounded by St. Mary's Church and the Moorish influenced Sultan Abdul Samad Building, or take in the view of the Garden City of Lights with a visit to the towering Menara Kuala Lumpur. At 421 meters high it's my recommendation to make it one of your first stops. The country's largest mosque, the Masjid Sultan Salahuddin Abdul Shah, is a striking sight to see with it's four soaring minarets and it's vast blue dome. You must remove your shoes before entering and woman must don a provided purple dress and veil to cover your head. Also, don't miss Chinatown and the famous pasar malam (night market) and Masjid India, decorated with colorful saris and bangles.
Your dollar gets you far, so why not enjoy the good life and treat yourself to a four or five star hotel. It's cheap! I stayed at PNB Darby Park (www.pnbdarbypark.com) right at the base of the Petronas Buildings and smack dab in the middle of all the action. My room was apartment style with a kitchen and full amenities. Transportation is easy with one of the best train systems in the world and a station only a block away from the hotel. If you are on a super-tight budget even $15/night will get you a comfortable room.
Malaysia, of course, offers way more than just great city action. Penang, or "Betel Nut Island," was my next stop, and a delightful change from urban craze. The island, situated off the northwest coast, is a favorite tourist destination for locals and foreigners alike. As Malaysia is a good representation of Asia, Penang is a good representation of Malaysia, the "melting pot of the melting pot." The bustling city of Georgetown is connected to the mainland by the 13.5km-long Penang Bridge, or you can ferry or take a quick flight over from most major cities. My body went into immediate relaxation mode when I checked into my room in Pulau Pinang at the Mutiara Beach Resort (www.mutiarahotels.com) and stepped out onto my terrace overlooking the Selat Melaka. This is the tropical resort that you dream about, right down to the fresh orchids in the bath and on the coffee table, and the room filled with sunlight. (If you happen to be there on a Sunday you can't miss their massive gluttonous brunch where you can sample anything and everything Malaysian.) I opened all the doors to my balcony and, with teh tarik in hand, sat down on my patio chair and watched parasailers get towed by boat across the shore, fishermen unload their nets from a long day at sea, and children play in the water while their Muslim mothers kept a sharp eye on them from underneath their veils. Paradise found.
Though many people come to the island just to rest, there is plenty to do. Stop for a visit at the butterfly and tropical fruit farms, take a stroll down Gurney Drive to view the historic colonial mansions, observe the art of batik painting at one of the local factories, try fried bananas and cempedak at the Global Bay hawker center, bargain with the vendors at the Patu Ferringhi night market, see the remains of the British Fort Cornwallis, purchase incense in Chinatown, and sample cow's tongue at one of the neighborhood markets…..ok, maybe not. But the experience that will stand out most in my mind about Penang is witnessing the harmony of the many cultures and religions living side by side and visiting their places of worship. Khoo Kongsi is one of the most beautifully elaborate Chinese temples I have ever seen, with dark wood carvings and ornate wrought-iron work and gilded from top to bottom. Wat Chayamangkalaram is a Thai Buddhist temple that is brightly painted and contains one of the biggest reclining Buddhas in existence, measuring 33 meters long, and many chambers holding urns of ashes dedicated to the deceased. Across the street is the stunning Burmese Buddhist temple, containing a giant standing Buddha, where I met some monks who had just returned from a six month mission stationed in West Covina, CA…small world. I love how the Buddhists worship strongly with pink lotus candles glowing brightly everywhere, down the road at the Chinese Kuan Yin Temple worshippers show their devotion to the goddess of mercy by burning huge sticks of incense kneeling before alters, and at the Kapitan Keling Mosque chanting can be heard throughout the streets. It's a wonderful cornucopia of stimulants that entice all of the senses.
| | |
| --- | --- |
| | |
My trip concluded on the island of Langkawi, which shares its waters with Thailand, just north of Penang. Now, up 'til this point I thought I had been on vacation, but flying in over more than 100 uninhabited islands and crystal blue waters, I realized that my trip thus far had just been purgatory before landing in heaven. Pulau Langkawi is a small paradise with many ancient legends, endless white sandy beaches, waterfalls and limestone cliffs. God blessed this land with some of the most beautiful nature in the world.
This is a great place for campers and backpackers but, once again, I had to indulge and stayed at the Langkawi Lagoon Resort www.langkawilagoonresort.com. So this is where those beautiful wood carved chalets built on stilts over the clear blue water exist. OK, so I didn't actually splurge on one of the chalets, but I did have a very nice view of them and my room had the lovely smell of sweet teak.
My first excursion was to take a cable car ride up to the top of Mount Mat Cincang to view the whole island and the Andaman Sea. Breathtaking. An eagle flew at eye level right past my window. I could count his feathers. Driving back to the hotel I made the driver stop to check out the monkeys congregating on the side of the road like a tribe of hitchhiking gypsies. As I'm observing these curious little rascals and snapping away on my camera, I had to stop and consider "who's watching who?" I mean they are even so bold as to jump onto your car to get a closer look at the silly humans behind the glass.
As you can imagine, this is a very romantic place. I longed for my beloved's hand to hold as I ate dinner with friends at the Lighthouse Restaurant, on the sandy beach, by candlelight. Fresh fish, fresh herbs, fresh fruit, fresh air. Then off for a stroll through Eagle Square, where people from the town come to watch television aired on a huge screen. Don't expect much in the way of rockin' nightlife here. But who needs it when you've just spent your day on a Kilim River Safari exploring the mangroves, singing back to the howler monkeys, dodging bats in ancient caves, feeding manta rays, swimming the shores of isolated beaches, watching eagles feed and otters play. Not I.
I try to travel with no expectations. But what a wonderful delight when the storybook fantasy is fulfilled.
Thank you Malaysia for a truly Asian experience. Terima Kasih.
For more information on Malaysia go to www.tourismmalaysia.gov.my.
Be sure to check out package deals like the Malaysia Airlines passport to Asia ticket: round trip from LA and flights within 25 Asian cities in one month for $999.