The Down to Earth "Oaks Spa" in Ojai, California (5/07)
If you are looking for a healthy, relaxing, unpretentious spa and resort in which to unwind The Oaks is the place. The Oaks is not your average luxury spa. Instead it is a laid back oasis where you can unwind, rejuvenate and renew your spirit and body with healthy eating choices, non-competitive exercise classes, fun activities and of course a full service spa where you will be pampered and revived. The Oaks is located in the quaint quiet town of Ojai, California which is about 90 minutes North/East of Los Angeles. This vacation destination offers some great services including spa treatments, massages, fitness classes, a heated pool and jacuzzi, plenty of activities and nutritious low calorie food. The Oaks is frequented by 95% women. The basis is for people to shed some pounds, take care of their bodies and relax.
The Oaks differs from other resorts with its health conscious meals served at specified times. The kitchen uses no sugar, salt or white flour in their preparations. They serve three basic meals nicely timed out with snacks and fruit smoothies in between. They have a calorie counter on all the items served to help you with your daily limit amount. Breakfast features such items as oatmeal, fruit, raisins, hard-boiled eggs, healthy muffins such as wheat-germ and bran muffins. Lunch and dinners vary from healthy salads with low-calorie dressing and protein entrees such as chicken enchiladas, spinach quiche with egg whites, tofu and poached fish. Desserts are made with no refined sugar such as flan, pastries made with filo dough, yogurts and fruits. The meals are prepared with so much flavor that one hardly notices that the meals are considered "health food".
There is always something going on at The Oaks. Whether you want to relax by the pool & jacuzzi or attend a fitness and exercise class, there is something scheduled every hour of the day. Here's just a sample of the programs offered: fitness hikes through the mountains, roller blading , Tai Chi, Pilates, Yoga, Pottery, Arts and Crafts, nature hikes, kayaking to a winery, water work outs, circuit training. There is never any pressure to attend and the instructors are knowledgeable and low-key.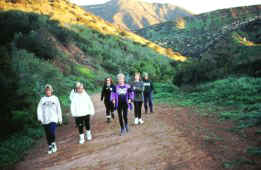 The Mini Spa Suites at The Oaks are exceptional. They are perfect for sharing with a friend. The suites feature a separate living room with an adobe style fire place, Spanish tile and beautiful wooden furniture, an extra large jacuzzi jet bath tub, a spacious tiled shower, two king-sized beds with three separate desk areas where one can reflect or take notes on his or her experience at the resort.
The staff at The Oaks are helpful, courteous and unpretentious. They go out of their way to make sure everyone is enjoying themselves and having the most optimal spa experience possible.
The spa offers massages, facials, make-up, waxing, manicures, pedicures, consultations on body composition, wellness training, body treatments and more. While we were there we had treatments from Jeannette and Sharon who went above and beyond in there care. Jeannette performed an incredible river rock massage which implemented hot rocks that have been crock pots to keep the heat on your body. It feels wonderful and relaxes your muscles so the therapist can give a complete massage. You will walk out of there feeling like butter. There are also some package treatments such as the "head to toe" which Sharon performed. Although the spa doesn't have a wetroom with showerheads, Sharon did just as good a job by utilizing an old fashion salt scrub rub down. First she exfoliated with a salt scrub, then she applied a toner followed by a luxurious moisturizing cream which will leave your skin velvety soft. After this treament, Sharon moved into the facial portion of the head to toe package. She will cater your facial to your specific skin care needs. At the end, she will write down what she used on you and provide a list of products that you should use daily. Both treatments were very pampering and relaxing while down to earth and nurturing.
Overall, we had a very pleasant experience at the Oaks and would recommend it to anyone but especially for a women's retreat or anyone looking to kick start a healthier lifestyle and lose weight. What this Spa lacks in fancy décor and modernity, it makes up for in it's quality of service. It is no mistake that the management has chosen to keep it old fashioned and genuinely simple. They stay what has worked for all these years and I don't blame them. CALL TODAY 1.800.753.OAKS(6257) for Reservations or visit them their website for more information, class schedules, spa services, cuisine choices and rates/packages at www.oakspa.com