The Beautiful Victorian "Upham Hotel" and "Louies" Onsite Great Bistro in Santa Barbara, Ca. (5/07)
The Upham Hotel and Country House provides a beautiful Victorian setting featuring quaint cottages, suites, conference rooms and beautiful rose gardens. Each morning adjacent to the patio a breakfast of self-serve cereals, bagels, muffins, hard boiled eggs, fruits and juices is provided complimentary with your stay. The cottages and some of the suites come equipped with fireplaces and each room is unique in it's decor. The Upham Hotel is celebrating 125 years in existence the oldest continuously running hotel in Santa Barbara. The beautifully decorated rooms range from a Bungalow room at $195 up to a Master Suite for $650. The Queen and King rooms are $260 – $290 while the cottages and executive suites range between $340-$375 per night. There are exceptional meeting facilities available and rent from $200-$400 per day.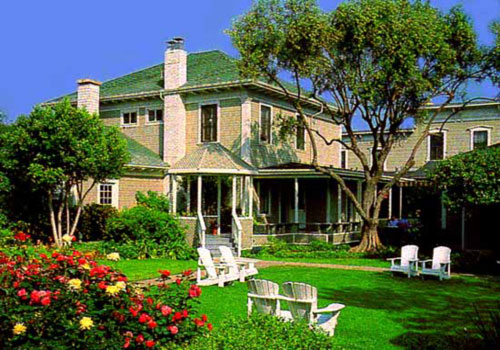 Conveniently located a couple blocks from popular downtown State Street at 1404 De la Vina Street, The Upham is a great place to stay during your next visit to Santa Barbara. The Upham provides an intimate and romantic setting of a bed and breakfast yet has many of the conveniences of a full-service hotel and conference facility. This establishment is frequented by couples looking to get away and business people coming into town for meetings. To book your next stay call 805-962-0058 or toll free 800-727-0876. You can also visit them on the web at www.uphamhotel.com
Also on the premises is Louie's California Bistro, one of the top places to dine while visiting Santa Barbara. While we were were there we enjoyed a fabulous dinner at this casual yet upscale restaurant. Louie's has been around for 20 years and has been consistent through the years. There are a variety of delicious appetizers to choose from we suggest the steamed clams in a white wine garlic broth, the peppered grilled shrimp with avocado and a fresh tomato salsa, the unique shrimp and scallop cakes which is just seafood with no breading and the delicate crab meat dumplings with a sun dried tomato and artichoke cream sauce. There is a selection of salads, pizzas and pastas as well. We chose some fish entrees which were suggested by our server. The sesame crusted seared ahi tuna over rice noodles and bok choy was divine while the sauteed Alaskan Halibut with wild mushroom risotto and French green beans was to die for. Other choices were the grilled Scottish Salmon, the seafood and shrimp gumbo with saffron rice, the grilled Mahi Mahi, some meat dishes like Fillet Mignon or crusted chicken breast or grilled pork chop. All the dishes are great but we highly recommend the fish. Finish your meal off with some homemade Tiramisu and one of their after dinner drinks. Below is a photo of the restaurant.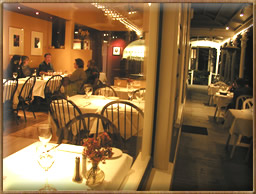 For more information call 805-963-7003 or visit their website at www.louiessb.com