Wynn/Encore Hotel/Resort in Vegas has it all (La Reve show, Dining at Stratta, Spa and more) "6/11"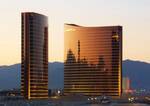 Las Vegas is one of those unique vacation destinations that seems to continually redefine itself. Each visit offers something new. And that includes upscale, 5-Star hotels and resorts.
Among the new generation of such hotels, along the North Strip, is the Wynn Hotel— a glistening jewel created by Steve Wynn in 2005. At a cost of $2.7 billion, it was considered the largest privately funded construction of its type. It is the flagship property of Wynn Resorts Limited.
The Wynn, and its sister property, Encore Las Vegas, collectively hold more Forbes five-star awards than any other resort and casino in the world.
Aside from size (215 acres) and rooms (2,716 rooms ranging in size), this luxury hotel offers a massive casino, multiple pools, a convention center, several restaurants, nightclubs, shops, boutiques, golf and country club, the Penske-Wynn Ferrari and Maserati showroom and dealership

,

and a full-featured spa. (Plus so much more).
A walk through the casino and hallways reveals an a-typical sense of light and decor. There is an abundance of natural light coming from windows and ceiling glass. Sculptures, art works, chandeliers and smart architecture adorns the interior, in such a way that guests feel a sense of "open," natural beauty and luminance… as opposed to the dark, windowless feel of early-Vegas casinos.
There is an obvious use of red in the interior designs. A color once abandoned for years in Vegas, Wynn brought back the primary color red as a seemingly ubiquitous theme throughout his "palace". It works.
Now, let's talk pampering. That will be the spa at the
Wynn
. Among the expected amenities, are programmable multi-level showers, massive jet pools, steam, sauna and a customized massage room corridor. A massage is a highly recommended relaxing, indulgent experience that will likely stay with you much longer than your gambling budget.
As you're led down a walkway of rock garden, plants, fountains and imported head-high ceramic vases, you'll find your stress already leaving you. "This is like a walk toward absolute serenity, where my surroundings are convincing me that I've gone far-far away on a blissful journey," I found myself thinking, en route to my massage.
On a personal note, I can honestly admit my hour massage at the
Wynn
spa exceeded any that I've had to date. Besides the healthful benefits, there are residual effects.
It should be noted that among the mind-boggling, lavish luxury suites in the
Wynn
towers, many are equipped with their own massage rooms and tables. Nice touch, Mr. Wynn!
From the list of fine dining restaurants at the
Wynn
, each with bragging rights of its award winning chefs, we chose
Stratta
restaurant, located just outside the
Wynn Theater
.
Stratta
features an open hearth oven, for its unique pizzas and quick cook items. Atmosphere is far from "stuffy", and the selection is generous. On our visit, we sampled a variety of items.
And this review would not be complete without some description of our meal at
Stratta
:
Shrimp Scampi . [The chef uses large, select shrimp carefully cooked to perfection, and laid over mildly flavored cannellini beans. A nice addition were oven-dried tomatoes. Lemon garlic butter completed the dish.]
Bianca wood-fired pizza-ricotta. All ingredients were fresh, and the open pit oven got it to our table in no time. It was served with pesto on the side. Nice touch.
The baked clams with bread crumbs were fresh and flavorful.
Caprice Salad Heirloom and Burratta cheese Salad. This is a soft, delicate cheese that truly worked in this salad.
The combination of avacado, corn and mushrooms overs salad greens made for a very uniquw Stratta salad--tossed with a light vinaigrette dressing.
Maine

Lobster 'fra diavolo, with shrimp. This entree was a real hit at our table. Maine lobster tail and claw meat were used to create this heavenly dish. But the real secret is the recipe's hot spices ("Diavlo" is Italian for "devil", referring to the hot spices). Served over pasta and paired with a Riesling or Moscato wine (which serves to soften the spices), it was truly divine.
Veal Marsala with mushrooms. The veal was thin-sliced and covered with the famous semi-sweet wine based, Marsala sauce.
Baked classic mac 'n cheese. I've always believed this item should not be on a menu unless it tastes home-made. Well, it was just that and more.
Spinach with roasted garlic. An unassuming side dish, this turned out to be a perfect addition to our entree'.
Asparagus with lemon creme sauce. Again, grilled to perfection, this was an excellent vegetable side, delicately flavored.
We were blessed with a friendly young server who had an in-depth knowledge of the entire menu and preparation details. He was notably helpful with our appetizer and entree' selections. And, though there a sommelier was on staff, our server guided us through our meal with a simple, yet brilliant selection of wine pairings which complimented our range of menu choices to absolute perfection. --samples upon request.
After a shared, superb tiramisu dessert, we left Stratta well satisfied and very well satiated.
The featured show at the Wynn Theater is the popular, Le Reve show.
Le Rêve (French: "The Dream") was the first production show to open (2005) in the Wynn, Las Vegas. It is set in a one million-gallon (water) capacity theater. Seating in the "round" assures that no seat is more than 40 feet from the stage. The show's scuba-certified cast perform diving, dancing and feats of strength, with state-of-the-art special effects. The production was created by

Franco Dragone

and is similar to those oh-so-familiar, Cirque du Soleil shows.
Recently, Wynn Las Vegas bought the rights to the show from

Dragone

to make some changes, including the logo. Wynn now owns all rights to the show, with Dragone still on the label.
Do see this show. You will indeed be amazed at the incredible bodies, talent, choreography and stunts that take place in front of you, around and above you… One of the finest, most dazzling shows on the strip.

Also, check out the Frank Sinatra memorabilia, including his Academy Award Oscar.  These items were given to Mr. Wynn by the Sinatra family, for everyone to appreciate.
While a review of this fabulous hotel/resort can do little justice to its overwhelming offerings, it is clear that Wynn's

priority

is that each guest enjoys a complete, high quality, dynamic experience—from the moment you walk into the door, until moments after departure; through the shows, cuisine, spa treatments, shopping, and poolside relaxing– Wynn has somehow raised the "bar".
Please check out the web site, for a virtual tour of this fine jewel on

the Las Vegas strip

:
www.wynnlasvegas.com