Bacaro 041- Newest Italian restaurant in downtown Culver City- November 2013
Culver city has become a hot destination with all it's patio restaurants. This is the latest one to hit the scene and if you love Italian food it won't disappoint. The chef is from Africa but trained in Italy. The pizzas are very good and their homemade pastas are wonderful. Do not miss out on their linguine frutti de mare. Whatever you are in the mood for they have. Their wine selection is very nice. Save room for dessert they have a killer tiramisu and many other goodies for your sweet tooth. We finished the meal with cappuccinos.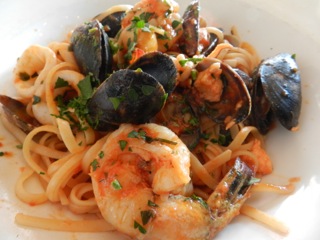 Stunning, northern Italian design is in the carefully thought out interior, airy with high ceilings and antique appointments.  Rustic dishes are presented by the
 

friendly servers of 041 Bacaro.   The "041" signifies the telephone area code of Venice and a bacaro is the Venetian version of an

osteria

—a meeting place for meals small or large, a snack over conversation or even a glass of wine

 
The small bites or "cicchetti," go well with the excellent (LaVazza) coffee drinks or short but varied wine list.   Manager Marco recommends their deep-fried mozzarella cheese, gorgonzola, calamari and artichoke hearts.    The crostinis, marinated seafood, olives, and prosciutto with melon are typical northern Italian.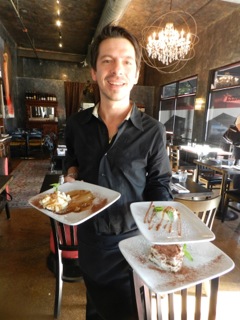 On a friendly note, wines are uncorked and available by the glass – no stemware here .  Fragolino, the local sweet wine — bianco or rosso, usually arrives with a little cookie (biscotti) for dipping.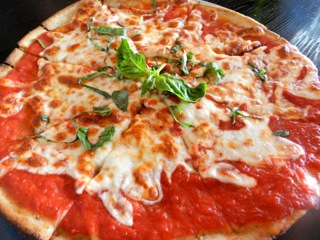 The classic Margherita pizza ($10) is oozy cheese and thin-crust perfection.  The starkly elegant Octopus Salad with Potatoes & String Beans ($14) was our favorite.  Again, it is as refreshing as it is unique and satisfying because all the flavors pop without sauces or coatings.  House-madepapperdelle & duckragu  ($15) arrives in a small composition and very al dente.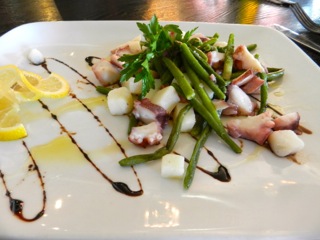 Edgy, lovely new Libyan-born, Italian bred Italian Executive Chef, Luna Varone does it just right.   She's usually able to accommodate special dietary restructions or wishes for individual diners.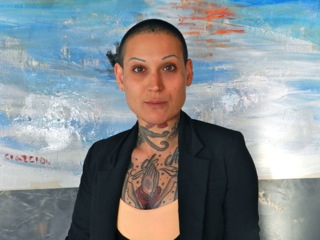 The new 041 Barcaro may not be a place you stumble upon on a walk (like Sofi tried to be off the street in an emulation of an Athens restaurant) but it is a welcome and perfect addition to the corner that once housed a Thai family restaurant for decades, so it has the legacy of a sound restaurant, and the dedication of another restaurant family.  We wish its stay to be at least as long.
Parking lots across the street are convenient as well as street parking unless it is a busy time in downtown Culver City.
 

It's a perfect starting out place for a stroll around the new Culver City Plaza, a visit to the nearby Jurassic Museum.

 

Hours of operation run

11:45 a.m to 2:30 p.m.

for lunch and

5:30 to 11 p.m.

for dinner Tuesday through

Saturday

. 
In Venice the idea is to order small bites, one at a time, which cooks make up for you as you meander through a visit.   Visible in the back is a complex kitchen with cooks creating your dishes from and fascinating opening menu of rustic Italian plates.   The dining room is almost industrial and mysterious, and there is outdoor seating to enjoy people watching and the weather.
9552 washington blvd
  

culver city, 90232