"STEAK (R)EVOLUTION" Film Exclusive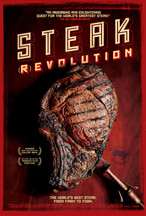 Franck Ribiere, acclaimed French director-producer, also turns out to turns out to be a dedicated carnivore, who takes us on an international search for the best and healthiest steak in the world in the documentary STEAK (R)EVOLUTION for one-week exclusive engagement at Landmark's Nuart Theatre, starting August 28. Ribiere's visit to historic Peter Luger Restaurant in Brooklyn, USA is the inspiration for the film although he leaves out America's finest altogether.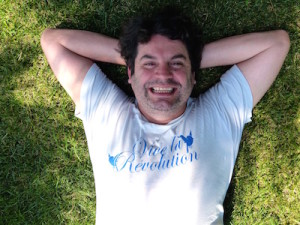 Nevertheless he entices us with butter-dripping luxury steaks and provokes us think about how they are most humanely – and thus best- brought to table, and so all the more enjoyed., as Kino Lorber presents STEAK (R)EVOLUTION
Ribiere's family set the bar high, raising their own Charolais cows in France, which at one time he thought were the absolute best, and with good reason. That was until he experienced a steak at the famed Peter Luger's in Brooklyn, New York, considered the oldest steakhouse in America. Could anything be better?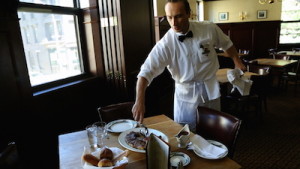 The director has his doubts. And so he embarks with us on a journey around the world – well, Japan, UK, USA anyway, with his trusty expert guide and favorite butcher,Yves-Marie Le Bourdonnec. The steaks are numbered in a countdown but that is the most cohesive element of the documentary that is so richly filmed but seems to lack editing – and comes in at over two hours! Still, "moments," such as the Japanese couple who bow and express their honor over being included in the film before they introduce the filmmaker to their pampered cattle is worth the price of admission.
Passionate cattle breeders, professional butchers, chefs, meat experts and steak houses, the duo explore how good and healthy red meat can be achieved—and how it is becoming a luxury product. The move toward sustainable farming practices and smaller-scale operations is impacting the beef industry and many see this as a positive change.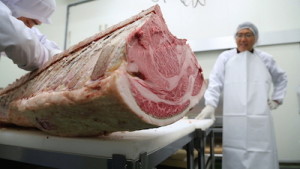 Far from large cattle farms with their industrial output, Ribière and Le Bourdonnec delve deep into the topic in order to understand what makes good meat—and a great steak. In the process, their fascinating discoveries challenge some of the previously established assumptions about how (and where) to get the healthiest and most delicious steak.
Ribiere explains his took the point of view of a consumer who loves meat. In his words, "My approach was therefore first and foremost to look for quality products and also to try to understand the producer's philosophy. In practical terms, I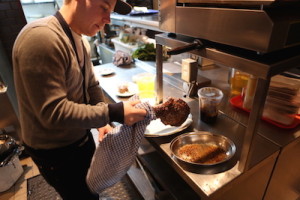 started by asking people around me and they immediately confirmed that I should go to the great meat countries I mentioned earlier: Argentina, the United States, and Japan. Yves-Marie Le Bourdonnec came up as the "world's best butcher" I quickly realized that we both viewed meat in the same way, although naturally we didn't see eye to eye on every count; his approach being more professional than mine. He offered to come with me to some places where we wanted to check whether his intuition was right. This is how he came along to Japan, Italy, and Sweden. Then, as I travelled on, I met another major figure, Mark Schatzker, a writer and journalist for the Globe and Mail in Toronto, who wrote the book Steak.
We thought in Los Angeles answer the insistent invite of the manager of Del Frisco Grill in Santa Monica, who also challenged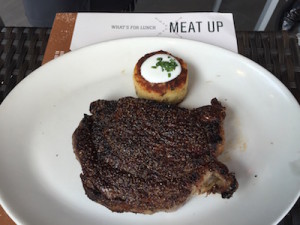 us to try "the best steak in the world" at his location. Although he didn't come out to watch our reaction, the chefs and staff were waiting with baited breath as they brought out the ribeye, grilled at a high heat with no other seasoning than a coat of salt and pepper. It had a definite bite and National Director of Purchasing, Dave Tashman, explained to us that the beef is 100% Eastern Corn Fed, USDA Prime, and, like most American cattle, are raised on range or pasture for most of their lives and end life in the traditional and most humane possible. In his words, "this method provides the marbling, flavor and makes US meat better than any beef in Europe or New Zealand. Millennials think grass-fed cattle is better but in reality most grass fed are 'finished' on some form of of non-grass veggies, usually corn, to give it the best taste in the world." (delfriscosgrille.com/santa-monica)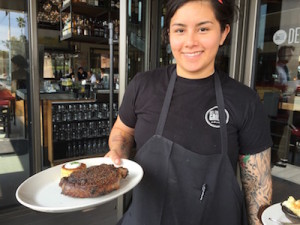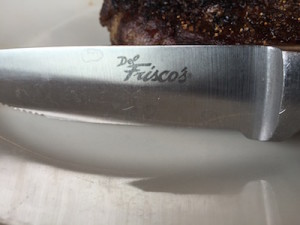 Winner Best Documentary COLCOA 2015
Tribeca Film Festival Official Selection