Secret Room Events fantastic MTV Awards Gifting Lounge- April 2017
Secret Room Events Styling Lounge for the MTV Awards at the beautiful SLS Luxury Hotel in Beverly Hills.   Written by Todd Elliot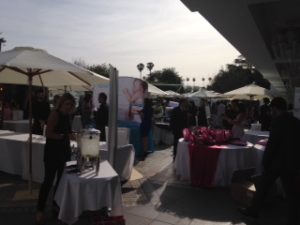 Another fabulous event put on by Secret Room Events on the outside patio of the SLS Hotel for the MTV Awards.
Here are a list of sponsors and their products that we met.
Chef Paola of Two Peas (high end catering and customized meal delivery services). Chef Paola was super friendly and very knowledgeable. We highly recommend checking her company out as we will with her specialized customized meal delivery service. www.twopeasinc.com
Kelly Smile Dentistry providing any/all dental treatments, cleanings, teeth whitening. The staff was very nice and they offer full service dental appointments. Www.kellysmiledentistry.com
Absolutely loved the chocolate protein smoothies as we entered on this hot day as Vitalere/Modus Nutrition was preparing them on the spot. We were big fans and will use their protein powder. You can check them out at www.modusnutrition.com
Nail Alliance providing some nice products from Brea, Ca. Check them out or make an appt to visit their location. https://gelish.com/home
For any/all of your skin conditions, Parfaire Medical Aesthetics are there for you. Medical Director Winnie Moses M.D. Can help you with any face, neck or skin issues as they offer various treatments. More at http://www.parfaire.com/
One of our favorite sponsors was Jessica Simpons's shoes for kids. They were nice to provide us with some shoes for our kids and they loved them wearing them right away. They look fancy and are super comfortable.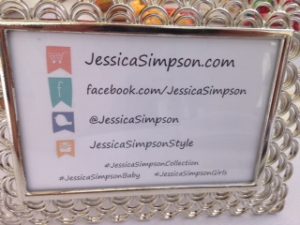 As big of a hit was the fantastic Townley Girl products from shampoos to play doh soaps, hair brushes and more. Wow, the kids loved them. https://www.townleygirl.com/
Coast to Coast Newspaper loved chatting with the ladies at Luseta about fab hair! Hiking in the sun every day takes a toll on our locks, so if you're like us, you're always looking for new ways to nourish your hair. We were  happy to find some great hair care goodies inside the bright pink box the Luseta ladies gave us. The Argan Oil Shampoo not only smells great but leaves hair shiny and manageable. Many of us are into the benefits of coconut oil now and the Lusesta Coconut Oil Hair Repair Serum is just what we need to keep our hair nourished and shiny, not to mention it smells like a vacation. Also included was their Argan Oil Hair Masque and a sample of their dry shampoo.
We are really looking forward to checking out the samples from the organic skin care line, Sky Essentials.  Coast to Coast had a lovely conversation with its founder and former nurse, Yasmin Sharifi (note: under the protection of an umbrella) about the line she created and self tested based on her years of experience in the medical profession. She describes it as all natural, botanically derived for women of all ages, and skin types who wish to achieve beautiful, healthy and radiant skin with minimal effort. The line uses such ingredients as acai berry, mangosteen, black raspberry extract and black cumin… ingredients you can read on the label and know what they are, proudly boast. They also have skin care products for men.
Our day got more colorful when we chatted with the folks at Artistic Color Revolution. Their fun and edgy line of nail lacquer  features more than 100 gorgeous colors. We left with a few samples including a cool robins egg blue called Resting Beachface and a bubble gum pink called Milkshakes and Heartbreaks as well as their sole-ful rehab ginger tea soak. Any idea what we did later that evening? Artistic Colour Revolution is also introducing their new Baywatch Collection, an official Baywatch movie product that includes aptly named colors such as Little Red Suit and Summer Crushin. We are totally crushin over ALL the colors!!
https://www.artisticnaildesign.com/colour-revolution
Coast to Coast had fun checking out the artistic Caravana Jewelry line. Their silk wrist wraps especially caught our eye. They are romantic, artistic and fun to wear and available in assorted colors.  We were excited to wear ours immediately so after making a hard decision of which color to go with, we selected the lavender and green wrap… we were given a quick lesson on how to wrap it. The look reflected how we felt on a sunny Friday afternoon…. Free spirited, romantic and ready for the weekend! All of Caravana works are handmade in Sedona, Arizona by experienced crafts people. Photo of actor Steven Bauer below.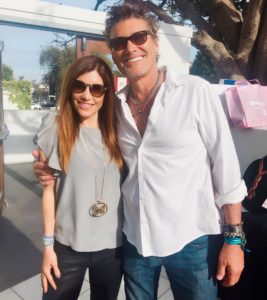 https://www.caravana-collection.com
We had a lovely chat with the beautiful ladies of Jewels by Durrani. Their exclusive selection of gold necklaces and chokers designed by Durrani Popal caught our eye and we loved how they were shown layered. We were especially loving the custom ones they can create with your name in block, calligraphy or even italic. Decisions, decisions…
http://www.jewelsbydurrani.com
With over 40 years of skateboard knowledge and innovation, as well as iconic graphics from renown artist Jim Phillips, Santa Cruz is legendary in skateboarding. So legendary that their skateboards flew quickly from the gifting suite! Founded in 1973 by northern California surfers, Rich Novak, Doug Haut and Jay Shuirman, Santa Cruz Skateboards are all that. Coast to coast had a great conversation with Andrew Cannon who hooked up us with some rad stickers, a key chain and a T-shirt. We're stoked…
http://santacruzskateboards.com
The thought of scooping cat poop just got more fun! When cat liter looks as cool as Neon Cat LItter, it makes me want to own a cat or at least borrow one! So how does Neon cat litter work? This new concept in cat litter is made of silica gel crystals that have been finely ground so it is smaller that the usual crystals and we hear it works really well! This award winning product. (1st Place "Best New Cat Product" at SuperZoo 2016) is not only vibrant and fun, but also has outstanding odor control; is soft on paws; 70% lighter than most clay litter, and even clumps for easy removal https://www.amazon.com/dp/B01FFT0LM2/?tag=googhydr-20&hvadid=186786577194&hvpos=1t2&hvnetw=g&hvrand=4050141640889420450&hvpone=&hvptwo=&hvqmt=e&hvdev=c&hvdvcmdl=&hvlocint=&hvlocphy=9061119&hvtargid=kwd-268261732756&ref=pd_sl_4oiy4mqspm_e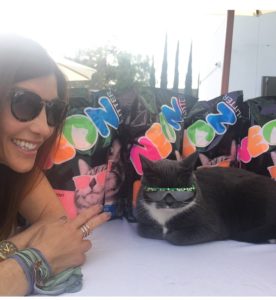 Overall, the event was a big success and well organized with fantastic sponsors. We look forward to covering Secret Room Events again in the future. www.secretroomevents.com/