LONG DAY'S JOURNEY INTO NIGHT at the Wallis the New Standard Bearer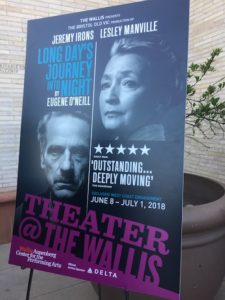 (Gerry Furth-Sides, all stage photos courtesy of The Wallis) The sound of a faraway foghorn from this time forward will always take me back to the darkened summer living room, and the Tyrone family's slow emotional disintegration in LONG DAY'S JOURNEY INTO NIGHT on the stage of The Wallis Annenberg Center for the Performing Arts.  The muted sound, even so distant in nature, remains as ominous to me as the hovering helicopter with its ear-splitting chainsaw whir in "Apocalypse Now".
Director Richard Eyre, widely considered to be the UK's greatest living director, leads the Bristol Old Vic and Fiery Angel production fin this exclusive engagement.  The ensemble features Jeremy Irons, Lesley Manville, Matthew Beard, Rory Keenan and Jessica Regan.
Having just returned from a family reunion myself, its clear that the internecine secrets that O'Neill brings up give rise to unavoidable dysfunctional behavior. They ring as true today as then, even without the fever of Tyrone family alcoholism.
Still, the magnificent set of the Tyrone family's summer home is impressive withits  a soaring ceiling and lighting that looks almost if it could be underwater.  O'Neill plunges viewers into the murky waters of classic "what if" questions and how a family member choses to spend their money.  That is, the family members being supported questioning the one who has the money when they do not have it.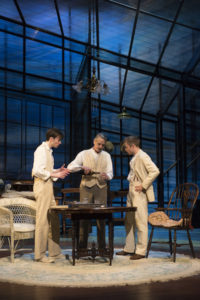 And I cannot help but compare this cast to the Sidney Lumet filmed version (1962) with Ralph Richardson and Katherine Hepburn as James and Mary Tyrone, Jason Robards, Jr (Jamie), and Dean Stockwell (Edmund) playing the sons.  Reviewers through the years have considered it either the best – or the worst- ever.   In the Lumet version, it is impossible to focus on anything but Hepburn's Mary, whether she is fiercely prowling the stage or off, a drug-addled ghost of a former beauty queen.  Manville's Mary, and Irons' James, on the other hand, guide the long play steady and strong throughout in their individual turns, thought-provoking long after you leave the theatre.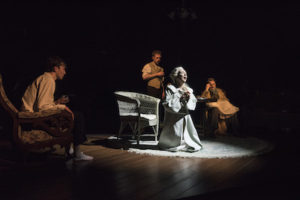 Jeremy Irons, a steely yet tender, portrays the journeyman actor/matinee idol James Tyrone, who has earned himself a rare, stable career in the theatre in road shows.  Tyrone's own personal torment is to never know his full range as an actor.  He is, at least in part, an introspective family man, questioning his capacity as a loving husband and father, rather than a thoughtless pontificating actor once removed from the boards at home.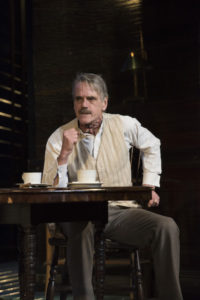 Mary Tyrone, as portrayed by acclaimed actress,  Lesley Manville, remains a shell of the beauty once known as the prettiest girl in town who married the handsome actor passing through it.  Her interest in wanting to be a nun appears to be a strange one. However, it makes religious sense that she is racked with guilt over her decision to join husband James on the road decades before, leaving her sons with her parents, which resulted in the death of her baby son at the time.
Their two surviving sons bear the brunt of these decisions.  Matthew Beard plays Edmund (the autobiographical O'Neill character) and Jamie is played by Rory Keenan.  Jessica Regan plays the housekeeper for a bit of comic relief.
Bristol Old Vic Theatre School graduate, Jeremy Irons, is one of only a handful of actors to have won an Oscar, a Tony and an Emmy for his body of work.  Irons, at the after-party, proved as cordial, charismatic and patient as could be. The only problem, it would appear, that his elegant drinking and smoking look so appealing.
Award-winning actress, Lesley Manville has had an extensive stage career and is a frequent film collaborator with director Mike Leigh.  Her portrayal of Daniel Day Lewis' acidic, appealing sister in Phantom Threads (2017) rightfully earned her an Academy Award and is one of the all-time best film performances.
The limited three-week engagement runs from Friday, June 8 through Sunday, July 1.  For more information or to purchase tickets, visit http://TheWallis.org/LongDays, call 310.746.4000, or stop by in person at the Wallis Annenberg Center for the Performing Arts Ticket Services located at 9390 N. Santa Monica Blvd., Beverly Hills, CA 90210. Ticket prices subject to change.