Visiting Berkeley, Ca- The Claremont Fairmont Hotel, Dining at Donato & Co, Rockridge Cafe- November 2020
Lodging:
The Claremont Club & Spa a Fairmont Hotel in Berkeley California is an incredible place to visit. The immaculate luxurious hotel/resort had plenty of amenities while keeping all the guests and workers safe. There are two gyms one is inside and one is outside where you have to make a reservation for your spot. Of all the fitness centers I've ever visited in the past at any hotel this was the top of them.  Both pictured below.
The swimming pool  was also by reservation and it was big and warm. The staff were incredibly friendly and helpful while explaining all the proper protocol and procedures during this pandemic. The hotel also offers bicycles to use to ride around the area, yoga and other classes.
Step outside the back of the hotel to walk a few minutes to a great hike and trail with views of San Francisco (pictured above).  It was fabulous and a nice workout.
Keep an eye out for the different events as the day we arrived they actually had a barbecue and brew dinner (left photo above) with live music. There is a selection of meats and vegetarian options while you have wine or beer to accompany it. The next morning after yoga we had a great brunch (second photo on the right above)  which was a nice selection of healthy choices.
The entrance was spectacular and the decor was beautiful. The room was clean, comfortable and spacious. Just a pleasure to stay and sleep there. Their in room products that they provided that were top-of-the-line and made the stay even better. Chris, the concierge, and other staff were very knowledgeable and helpful with directions, suggestions and information. Overall the hotel was just remarkable and we highly recommend it. You can see more on the website for rates and information but this place is worth a visit.
The experience at the Claremont was a be a bit different than we are accustomed – including physical distancing; mandatory screening for all guests and employees, which included a temperature check and face coverings mandated for all guests and employees in all indoor public spaces. But all of that was for the safety for everyone.   More about this at  ALLSafeandWell.com.
About The Hotel
Claremont Club & Spa is a Bay Area landmark. Just 12 miles from San Francisco and overlooking the City by the Bay, this urban resort is home to luxurious guest rooms, award-winning restaurants and a full spa. All registered hotel guests have access to our world class Club fitness facilities.
More at https://www.fairmont.com/claremont-berkeley/
Dining in Berkeley:
One place we highly recommend for dinner is called Donato and Co. It is located in Elmwood which is about a 10 to 15 minute walk from the hotel. Start with the beat goat cheese and fruit salad. Other appetizers with the three mini pizzas and grilled shrimp.
This contemporary twist & rustic Italian establishment  serves up some excellent homemade dishes including their special tonnarelli pasta with black pepper and a variety of cheeses mixed together.  The herb marinated half chicken was a great choice but our personal favorite were the calamari dishes. The squid ink pasta with calamari and grilled calamari entrée  dinner were top notch not to mess. The dark chocolate mousse with chocolate gelato was the way to end.
The manager Veniero was from Italy. He was super friendly, helpful and very accommodating. We would expect nothing less from this nice Italian gentleman. We will have to visit their sister restaurant in San Francisco next time as we didn't get a chance called Cento Osteria.   More at  https://www.donatoandco.com/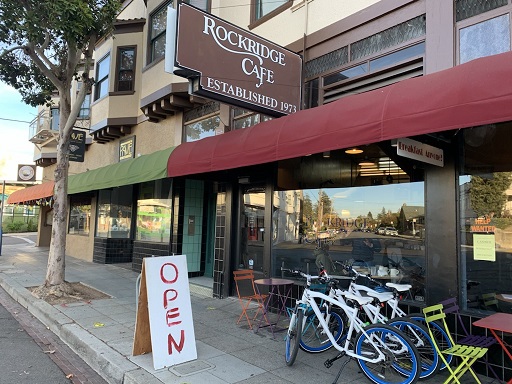 For breakfast the day we left we recommend heading down to the Rockridge Café located right near the train station in Oakland where we took the Bart to San Francisco. They've been in business over 45 years and we can see why. We had a nice selection of choices for breakfast including an egg white omelet, their famous ricotta pancakes and their French toast with a sides of bacon and potatoes. It was a great way to get the day started.
https://www.rockridgecafe.com/
Photos by Gabriel Carim & Lisa Rosas