Skiing, Dining, Lodging in S. Lake Tahoe-Heavenly Valley arriving from Reno-February 2023
ARRIVAL AND TRANSPORTATION:
After flying into Reno from LA if you have time, stop by the Wild River Grill on the Riverwalk in Reno. They have a great happy hour and delicious seafood and drinks. It is our favorite restaurant in Reno.  https://www.wildrivergrille.com/

When you're heavenly unless you're gonna travel other places or to other ski resorts, you really don't need a car. Catch the South Tahoe Airporter Shuttle ( https://southtahoeairporter.com/ ), which drops you off at your hotel from the airport.  When you're in Heavenly, you get around by the lake link free shuttle. The city offers this free transportation on a first come first serve basis by using their app. Going car free is entirely do-able at Lake Tahoe. For a comprehensive guide to getting there and
getting around, visit www.linkingtahoe.com. The new app-based Lake Link
www.tahoelakelink.com launched summer 2022, allowing visitors and locals to request free rides
in 9-12 passenger vans on the main thoroughfares from the Nevada casinos (and in 2023, to and
from the Events Center) to the Al Tahoe
More at https://ltva.org/lake-link-transportation/
LODGING:
Photo Credit- Bally's Lake Tahoe
Bally's Casino, which used to be Mountbleau, is located on the Nevada side about 10 to 15 minute walk to the gondola. One of the pros is you'll be very close to all the gambling and shows at this location at the other casinos. There's a bunch of restaurants, fitness center & pool. A big con is if you don't care for smoke as you will be smelling and breathing it unless in your room. https://casinos.ballys.com/lake-tahoe/
Hampton Inn.
This establishment is always consistent with a free excellent hot and cold breakfast plus clean & comfortable rooms. The staff & service are very accommodating and helpful. They have a Fitness Center, indoor heated swimming pool and outdoor hot tub.  The rooms are very spacious and the beds are super comfortable. They go out of their way to make you feel at home. They give you a little to go bag with snacks and water anytime you need it when you're leaving and there's a self serve coffee and tea station. Just off the main road, the hotel is less than a mile from the beach, Heavenly Village, and Heavenly Gondola Run. They are about five minutes from hiking trails and 20 minutes from ski slopes. They offer ski and bike storage with lockers at the hotel, plus a lobby bar, heated patio and fire pit.   Hampton Inn & Suites, the nationally renowned chain sports a singular modern design providing guests a lobby bar, heated indoor pool, heated patio, hot tub, fire pit, and ski lockers.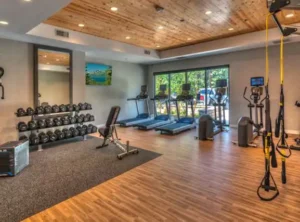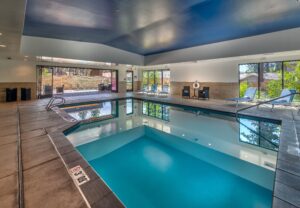 Located less than a mile from the beach and the Heavenly Gondola, the sustainability inspired
hotel utilizes solar and efficient energy consumption, a complete water retention system, and 12
EV chargers.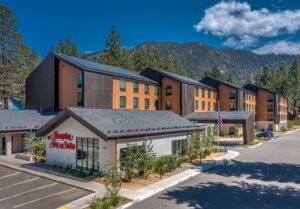 https://www.hilton.com/en/hotels/tvlcahx-hampton-suites-south-lake-tahoe/
DINING:
Don't miss Sprouts café in Heavenly Valley for a healthy bite to eat or one of their tasty smoothies/juices. They have a variety of sandwiches, soups & bowls. My favorite was the tempeh burger served with chips and red curry soup. Everything is super healthy and fresh. Order to pick up too. https://www.sproutscafetahoe.com/
After the skate we went over to "Fire and Ice" for dinner right across the way. This is a place to go when you're very hungry as it's all you can eat as your self serve yourself salads and make a bowl from many vegetables and proteins to give to their chef to cook in front of you on the gigantic open grill. Pick a sauce for the chef to top off your meal on the grill. I picked a bunch of my favorite veggies and mixed it with some pasta and seafood (shrimp, calamari and scallops). It was all mixed together and delicious. Other choices are meats, chicken, pork and tofu.
More at https://fire-ice.com/locations/south-lake-tahoe/
Beacon Bar & Grill
This establishment not only serves great food, but has an awesome view of the lake. They have an outside deck, but you can also sit inside and see through the windows. I started with the steamed clams & clam chowder, which go hand-in-hand and are great to mix together if you like, but both very tasty on their own. We tried the Mahi-Mahi sandwich which was grilled and very flavorful served with onion rings.
The staff is very accommodating and our server. Tim was very hospitable. The bartender, BJ, made some great drinks for us including caramel hot chocolate alcohol drink and their famous rum runner. Both were great. The staff is very accommodating and our server Tim was very hospitable.
This is a definitely must visit on your next off to South Lake Tahoe. https://www.camprichardson.com/the-beacon-bar-grill/
Yugen Cuisine
After a great day of skiing at heavenly Valley, we headed over to Yugen Cuisine which specializes in sushi. They have a great happy hour from 4 to 5 PM with discounted hand rolls and other specialty appetizers plus half price drinks. The quality doesn't suffer as the fish is excellent and fresh. We started with the pink lady which had ahi tuna, avocado, and albacore tuna with tobiko.  We also had the Shelly roll, which included shrimp, green on hand and specialty sauce. Other tasty starters were the seaweed salad, and the garlic edamame.
They had some tasty to nigiri sushi rolls, but our favorite was the Escolar ( butterfish), which is very rare to see on any menu, but it was delicate and delicious. Another great dish was the salmon bowl with steamed broccoli and we upgraded to the forbidden black rice. Enhance your meal with one of their wines, beers or sakes. The service was very good and atmosphere was lively. https://yugencuisine.com/
Ale Worx. -This establishment located on the main strip a couple blocks from Ballys in S Lake Tahoe , where we stayed, was amazing. The staff are super friendly and knowledgeable. We started with the amazing wood fired chicken wings cooked in their pizza oven.
Try them with their tasty buffalo sauce as they're healthier than most all other places that make them deep-fried. The goat cheese salad with mixed greens, strawberries, walnuts & beets in the champagne vinaigrette dressing was delicious. The most popular item is the wood fired pizza.
They have a specialty pies where you can build your own as we did with any of your favorite ingredients. Try one of their hot alcohol drinks or tap beers/ciders to enhance your meal. Our server was Gus and he was awesome.
It is a sports bar with amazing food and drinks. You can't beat that. https://laketahoealeworx.com/
NIGHTLIFE & ATTRACTIONS/TIPS/FACTS: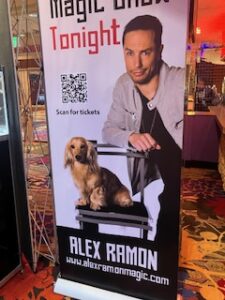 There's a bunch of nightlife in the near heavenly Valley but one show we recommend it is the Alex Ramon magic show at Harvey's. He's very entertaining and talented. He has a great resume, including fooling, Penn and Teller on their fool us show. His family friendly show is very entertaining and funny. he usually performs with his dog MJ but when we saw the show, MJ was recovering from an injury, so he hopes to be back soon.  https://www.alexramonmagic.com/
I checked out the ice-skating in the Heavenly Village and it's very fun. They have a medium size rink and you can rent skates right there. https://theshopsatheavenly.com/business/ice-skating/
Taking Care of Tahoe Tips:
DRINK Tahoe Tap: our water is 99% pure so bring that reusable water bottle and skip purchasing single use plastic. Other tips on how to take care of Tahoe while here: https://takecaretahoe.org/welcome/.
FACTS AND FIGURES ABOUT LAKE TAHOE
Elevation: The average surface of Lake Tahoe is 6,222 feet above sea level. The
highest peak rising directly from the shoreline is Mt. Tallac at 9,735 feet.
The highest point in the Tahoe Basin is Freel Peak at 10,881 feet.
Location: Lake Tahoe covers the Nevada/California border. It is 198 miles northeast
of San Francisco, 100 miles northeast of Sacramento, and 58 miles
southwest of Reno.
Size: Lake Tahoe is the largest alpine lake on the North American continent. It
is 22 miles long and 12 miles wide, with a surface area of 122,200 acres or
193 sq. miles.
Depth: The average depth of Lake Tahoe is 989 feet. The deepest point is 1,645
feet. It is the third deepest lake in North America. The U.S. Bureau of
Reclamation controls the top 6.1 feet of the lake as a reservoir.
Temperature: During the summer months, the upper 12 feet of the lake can warm to 68
degrees F. Below depths of 600 feet and in winter months, the temperature
remains a constant 39 degrees F. The lake does not freeze over in winter.
Volume: Lake Tahoe contains an estimated 39.75 trillion gallons or 122-million-
acre feet of water. That's enough water to cover the entire state of
California to a depth of 14.5 inches. The water that evaporates daily is 1.4
million tons, enough to supply the needs of 3.5 million people per day.
Purity: The water in Lake Tahoe is 99.7 percent pure, about the same as distilled
water. It's so clear that a white dinner plate can be seen at 70 feet below
the surface.
SKI RESORTS- The main reason we went to Tahoe was to review some ski resorts.
What a fantastic first day we had in Lake Tahoe. We flew in the morning on Southwest from LA to Reno and got a rental car to drive to Diamond Peak Ski Resort in Incline Village. I've never been there and it's not really highly publicized. However, it was truly epic and now I can see why as it has one of the top rated views of any ski resort in the country. It's not a big mountain with only three lifts running but the Crystal Express lift takes you all the way up to the top with an incredible view of the lake are you ski right down as if you were going into it. They have a bunch of groomed blue runs and even some nice groomed black runs. I enjoyed the "lightning and diamond runs". There's not many mountains that groom black runs but here they do approximately half of them I heard.
There's some green runs and also some more experienced trails for the more advanced. This Mountain was a sleeper and I highly recommend. Check it out on your next visit to Lake Tahoe. Her some pictures and a video to show more. More at https://www.diamondpeak.com/
Camp Richardson outdoor sports provides cross country skiing in the wilderness with long groom runs and beautiful woods trails. The manager Don was very accommodating and got us set up with the rentals. The workout is fantastic and the scenery was beautiful on the nice sunny day.
Afterwords we headed over to the Beacon Bar and Grill for lunch and Don provided us with snow shoes to walk on the beach after right adjacent to the lake. https://www.camprichardson.com/mountain-sports/
Sierra at Tahoe-
This  is a intimate, cool place to go and learn about 30-40 minutes drive from Heavenly Valley.  The Shuttle is planning on returning for the 2023-2024 season. Otherwise you need a car to get there.  The Crystal Express Chair is the main lift on the mountain that takes you to variety of runs and trails.  The bowl side was not open due to wind when we went so we were limited.  Definitely worth a visit when the shuttle comes back if you don't have a car and when the Bowl lift is open as that provides a lot more terrain to check out. Don't miss the 360 BBQ for lunch with spectacular views.   Very nice day.   The prices are quite a bit less than the bigger ski resorts so that is pro to coming here.
2 Photos above Credit- Brian Walker
Sierra-at-Tahoe is proving resilient with its resurrection from the 2021 Caldor Fire, completing
an exorbitant amount of restoration work to prepare for this season's Dec. 3 opening. The Sierra-
at-Tahoe spirit is alive and well with all trails planning to re-open, weather and conditions
permitting. The comeback story of Sierra-at-Tahoe is detailed here.https://www.sierraattahoe.com/
Heavenly Valley Ski Resort–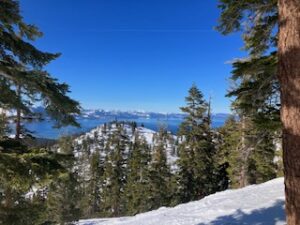 It is just one of the more special ski resorts in the country with awesome views of the lake and a multitude of great runs with a variety of blues and blacks, plus tree skiing, advanced, and expert trails. You can take the gondola right from the downtown area all the way up to start your fantastic day on the Tamarack Express. From there, you can go to the California or Nevada side. Some great lifts were the Canyon and Sky Express as they provided many groomed runs that were very wide open. Head over to the Nevada side for the Comet and Dipper lifts, which have access to many great runs, such as Orion, and Big and Little dipper.
The mountain is huge as you can go on the California base and start on Gunbarrel Express to Ski the California side with some green, blue and black runs. If you're really extreme, head down the face of gunbarrel which is a double black diamond, but there is quite a variety of great runs that you have to spend many days to cover them all. They groom a lot of their blue Runs, and many of their lifts are express so you could get many runs in. The best times to come are mid week with less lines and more room to ski on the runs. And don't forget to put sunblock on and bring bottle of water as you'll need it during the day. You can fill your bottle up at any water station even the tap water as it's all very clean.
4 Photos above- Credit Heavenly Mountain Resort
All in all, heavenly is one of the top ski resorts in the country from the diversity, views, & how big it is. I only thing I wish is they would update their electronic run boards which we're not working to show which lifts are open and closed. Another great thing about this ski resort is you can get down pretty much from any lift catching a blue run, which is not common at many mountains where they only access advance runs. This way you can get to the top of the mountain, but still make it down  and view the lake from many https://www.skiheavenly.com/ vantage points.
In need of rentals, check out Heavenly Sports as they have multiple locations, including one right next to the gondola. The staff is very friendly, and they'll such up with some great boots, skis, a helmet & poles. https://www.skiheavenly.com/plan-your-trip/rentals/winter-equipment
Photos by Sue Economy