Mountain High Ski Resort- Less than 2 hrs from LA, great skiing, lessons, friendly staff, Best Western Lodging, Dining Tips- December 2015
We recently returned from a family ski trip to Mountain High Ski Resort. It was very crowded during the holiday week and just the west side resort was open (the north had tubing and needs fresh snow like the east side to open). With that said, we still had a great time as the staff was just super and so helpful. The kid's group classes can be crowded unless you pick a weekday and non-holiday. I was able to go on some individual runs while my 2 daughter's took a private ski class.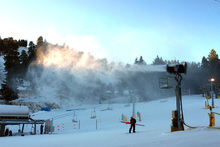 After the private class, my 6 yr old was able to ski down the whole run on the beginner side by herself after only skiing once or twice before ever. That shows how excellent the lesson was. They had a nice base and the weather was beautiful. If you don't already have your ski/snowboard gear and boots, I would recommend renting your gear before coming unless you come for longer than one day and then rent at the resort late afternoon/early evening the day before so you have it all. The best terrain is off of the Blue Ridge Express Chair where get up to the top in no time and ski some great variety. The mountain is open till 10pm for late comers.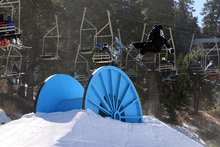 West Resort: The West Resort is filled with a seemingly endless assortment of technical trails and skillfully-designed terrain features for progressive riders and skiers of all skill levels. It is the most youthful of the three areas and the site of many on-hill contests, promotions and live performances. It is also Southern California's only local resort open five nights-a-week peak season.
Mountain High is Southern California's closest winter resort located just 75 minutes from Los Angeles and Orange County. The area consists of three separate mountains (Mountain High East, West, and North), and offers a wide variety of high-speed lifts and alpine trails, the world class Faultline Terrain Park, an outstanding Winter Sports School, and the region's largest tubing park. Snowmaking covers more than 80% of the slopes delivering consistent snow conditions from November through April. Mountain High is traditionally the first resort to open for Southern California skiing and snowboarding each season and the only local area with night skiing seven nights-a-week.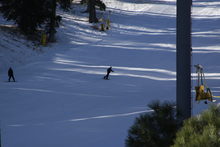 Top Reasons To Choose Mountain High
Southern California's Closest Winter Resort – Just an hour and a half from LA & Orange County.
Affordable – Besides the money you'll save on gas, Mountain High is less expensive than the Big Bear Resorts and offers a number of money-saving ticket deals.
Great Conditions – Mountain High has an enormous snowmaking system that covers 80% of the mountain.  We make snow every night possible to ensure you have the very best conditions.
Lesson Programs – Mountain High is where southern California learns to ski & snowboard.  We have the very best instructors and terrific amenities like the Burton Learn To Ride Center.
Night Riding – We're open 7 nights-a-week (peak season) from 5:00pm to 10:00pm so you can ride after school or work.
Terrain Park – The West Resort is filled with exciting terrain features geared towards the whole family.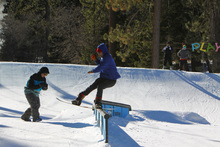 Mountain High's Winter Sports School has one of the highest return rates in the country so you can learn with confidence.  We offer the latest teaching techniques and equipment (Virtual Snow) proven to shorten the learning curve and help students progress more quickly.  You may choose from a number of group packages or take a Private Lesson where you'll get personalized on-hill attention.  For the kids, our Children's Sports Center offers ski and snowboard lessons that teach progressive skills and include both indoor and outdoor activities.
Lessons are available seven days-a-week at the West Resort and on weekends & holidays at the East Resort. If you plan to take a lesson, it is best to park at the same area.  At the West Resort, students meet beneath the Bullwheel Bar & Grill and, at the East Resort, directly across from the ticket windows.  Please arrive at the Meeting Area 15 minutes prior to your lesson.

We want to give thanks to Chief Marketing Officer John McColly along with Anthony and Avery in the rental department, Nancy in marketing, Jeremy who handles the kid's ski school, Summer at the Tubing Department at the North resort and Jaqueline as my daughter's private ski instructor.
The best place to stay is the Best Western at the Cajon pass about 20 minutes driving to Mt High. They have spacious, comfortable rooms, free breakfast, free wifi and great, friendly service. This is the closest hotel to the area so stay a night or two on your next ski trip to Mt High.
Stay at this Phelan hotel located at the base of the scenic San Bernardino Mountains and enjoy a peaceful, serene visit in California.  The hotel is 15-20 minutes away from the Wrightwood Ski Resort.Phelan, California Hotel Amenities and Services. It is also pet friendly.
Each well-appointed room features free high-speed Internet access, an iron/ironing board, coffee/tea maker, microwave and refrigerator. Visitors may choose to upgrade to a business suite or a specialty room which will accommodate up to eight people. The BEST WESTERN Cajon Pass offers a complimentary continental breakfast, an outdoor swimming pool and spa as well as beautiful mountain scenery.
Address: 8317 CA-138, Phelan, CA 92371 Phone:(760) 249-6777
The place to eat for dinner is the Grizzly Cafe on the way down the mountain. The staff/service was on top of it while the food exceeded our expectations.  Our server Lori was fantastic.   Start with their delicious soup or salad. The veggie burger was one of the best I have had in a long time with avocado, tomatoes and sprouts. The halibut and salmon were cooked perfectly and you get to choose 2 sides to accompany your meal.  Overall a fantastic experience and they have a gift shop adjacent for many cool things to buy.  Arrive early especially on a weekend or holiday as the place was packed.
http://www.grizzlycafe.com/default.aspx
On a negative note, we popped in the Mountain Top Cafe but they were so unorganized and the service was just terrible. The chef Frank was so rude so we left and do NOT recommend this place.  One would think they would be more courtesy to customers especially that there were just a few people in the place when we arrived.