"Reinventing Rosalee" by Dynamo Daughter Lillian Glass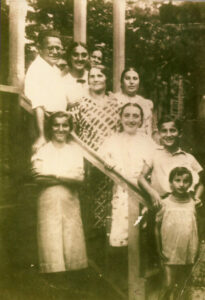 (Gerry Furth-Sides, photos courtesy of Lillian Glass/Reinventing Rosalee) As if 102-year-old Holocaust survivor, Rosalee Glass herself is not an astonishing story by itself, which you can watch as the subject of a fun and inspiring new documentary, Reinventing Rosalee, the idea that her daughter Lillian Glass wrote, directed, produced and marketed the film is nothing short of mind-boggling.  I actually had to ask Lillian to repeat how long it took her to complete the film, which was nine months, which at nine years would have been remarkable.  I would love to see a video about the making of this documentary!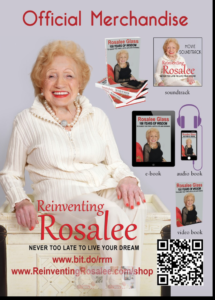 Glass, who herself possesses the look and sparkle – and maybe a bit of the genii magic-  of Barbara Eden, did have the right subject and partner to do perform this feat with Rosalee, along with the common sense, chutzpah, related training and energy. She is the embodiment of a project growing organically once the wheels are set in motion; the film was meant to be.  This is not to say she used every bit of her experience as a trained celebrity psychologist who counseled celebrities for movie roles, a retired USC professor and a network television reporter.
The bio-documentary is inventive and entertaining because along with phenomenal pre-World War II and war time footage from Poland, Lillian interspersed clips to tell the personal narrative using footage from a Cary Grant film,  because, she explains,  "my father looked like Cary Grant to me."  Editing in parts of a commercial film with the documentary footage is in her words, "a revolutionary film process,"  and Glass admits that "I did not sleep for months at a time, and I always wanted to be a movie producer since childhood."
From the start Rosalee's  is a tall tale, complete already by the time Rosalee is married a young age:  she "sat down and just started making shirts without a pattern" for her brother, which led to her own factory in her teens after she drew such a large following in the city.  (I sat down at the same sort of sewing machine, my grandmother's and started sewing mother-daughter outfits from a pattern but that is as far as it went for me, so this is absolutely mind boggling). Her dad encouraged her to become an entrepreneur and manufacture the shirts to answer the demand, unheard of at this time for a woman to do.
And this was before her harrowing experiences escaping from Poland in the war that included brutal work camps.  You have to see the film to experience this. And once it was over, Rosalee was reunited with her husband and began a new life in America, in Miami.  With her innate talent and business acumen, Rosalee and her husband created a drapery- interior design business so that they could work together and be close to their family, which now included Lillian and her brother.  This led to an enormously happy life until tragedy struck again.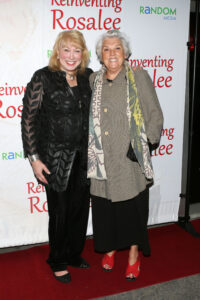 The profile follows Rosalee's MANTRA:  'It's Never Too Late to Live Your Dream' — and how this spunky lady quite literally 're-Invented' herself after the tragedy of losing what was a perfectly healthy son undergoing a surgery in a hospital,  a tragedy augmented by the fact that it was decades after she lost children during the war.   Then after months Rosalee suddenly awoke from despair one morning, which was never really explained, when she was almost 90 years-old and decided to live the rest of her life to the fullest.  This was already after she took up piano lessons, tai chi, boxing, tango dancing, swimming, French and acting in  in her late 80's!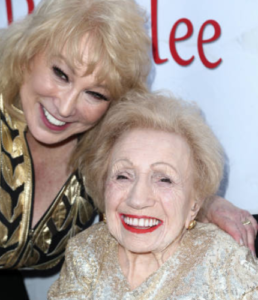 And in her 90's Rosalee got an agent, began a successful commercial career, appearing in spots for Google, Porsche, Hallmark, Blue Cross and ESPN's X Games).  At this point we are not sure how much "behind'the-scenes-help she got from her daughter "and best friend," Lillian.  The mother and daughter swapped roles along the way. "I used to be the daughter," laughed Lillian.  "Now I am often the mom, especially when it comes to medical appointments."  One thing that remained constant was that they are the best of friends and enjoy each other to the fullest.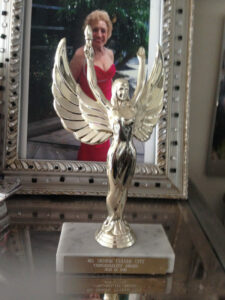 Lillian certainly was the planner/organizer when Rosalee decided she what she wanted to do for her 100thbirthday: try dog sledding in Alaska.   And it was all captured on film.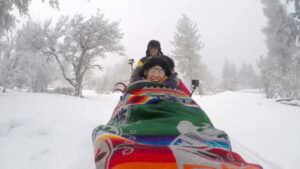 She also helped Lillian publish her book "100 Years of Wisdom" and started an online life advice service. Rosalee celebrated her 102nd birthday on January 28, 2019 – with recognition by the Mayor of Los Angeles and entire city council.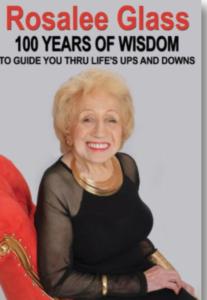 These days She is an inspiration and a testament to the human spirit, "was the praise from Kirk Douglas, Academy Award Winning Actor and Hollywood Legend.
"I loved loved loved REINVENTING ROSALEE.  Rosalee is so courageous. What a brilliant film going experience. The love between Rosalee and Lillian was MAGNIFICENT. Thank you for introducing the world to Rosalee. She's a miracle of love and joy and strength and courage and humility.  Love and respect you and your mom SO MUCH,"  Sally Kirkland, Golden Globe winner and Academy Award Nominee.
"This is a warm and wonderful film and an important documentary about a fabulous woman.  I enjoyed watching her life in various situations that ordinary humans would not survive.  Her strength is to be admired.  She is fearless and one has to love her for that "take no prisoners" attitude. Nothing stood in her way," summed up Arnold Kopelson.