Palm Springs Fine Dining- Las Casuelas, Trio, Thai Smile- August 2020
Photos by Jaime and Sammy Elliot
Palm Springs has some fantastic fine dining options with outdoor seating during the pandemic.
We visited Las Casuelas Terraza. This long time Mexican establishment is the prime spot for that type of food. The original smaller sister restaurant is not far away. Start with their signature grandma's guacamole (avocado and sour cream mix) or the traditional fiesta guacamole with tomatoes, onions and cilantro with side of chips & salsa. The chicken salad was nice on the hot summer night.
Do not miss one of their signature margaritas or specialty cocktails like the Pina Colada to enhance your meal. They have small and large drink sizes. The manager Patrick, our server Manuel, Rick the head chef (pictured below) and the complete staff at the restaurant were all very hospitable & always walking around checking on guests.
For entrees, you cannot go wrong but I suggest one of their combination dinners. We tried the juicy shredded chicken breast burrito, tamale and shrimp enchiladas. If you like beef, try the barbarcoa, which is marinated and so tender.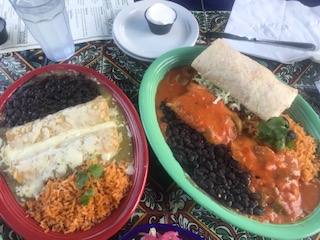 They all come with a side of rice and beans. This place is fortunate as they have always had a natural huge outside patio and added tables near the sidewalk with misters. You will be completely satisfied and stuffed. The place was packed and we know why. This is a must visit to dine at on your next visit to Palm Springs.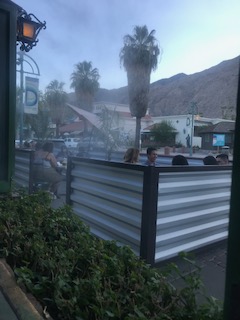 Our next stop the following night was Trio located in downtown Palm Springs. Wow, what a treat. We were greeted by the owner Tony and our server Dominique (pictured below) was super attentive and friendly. The menu is very extensive but we highly suggest coming for the early bird 3 course dinner for #24.99 from 4-6pm. It is pretty much the full menu as you get a starter, entree and dessert.
For appetizers, we started with the avocado-burrata bruchetta, deep fried calamari and roasted baby beet-feta cheese salad.  For entrees, I suggest the skirt steak, the homemade pizza (try the cauliflower crust) and the grilled branzino fish with spanish rice. Sides of mac and cheese and the sour cream smashed potatoes were great additions.
A great choice off the main menu is the seafood fettuccine with lobster and shrimp. They have a full drink menu and wine list to accompany your meal. For dessert, you cannot go wrong with the brownie with vanilla ice cream, berry cobbler and cheesecake.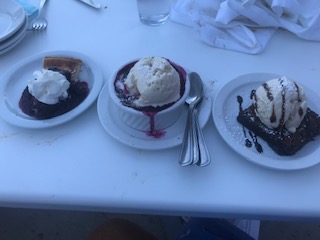 They had a smaller outside setup and were able to extend and add many other tables to accommodate guests. Just a wonderful meal and very affordable if you come earlier for what you get.  www.triopalmsprings.com
Lastly, we went for lunch at Thai Smile in downtown Palm Springs.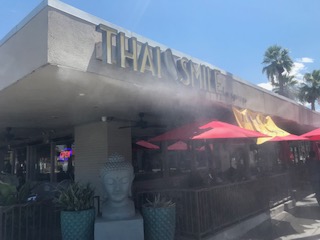 Some of the best Thai food we have had in a long time. The variety and choices were extreme. The chicken satay with peanut sauce and steamed chicken dumplings were the perfect way to start.
Try one of their Thai salads and the selections of soup are very popular too. They have a nice outdoor seating area with a mister to keep you cool.
Entree plates from the chicken cashew, spicy eggplant, pad Thai with shrimp and chicken, drunken spicy flat noodles with your choice of protein, grilled squid with veggies and the beef and broccoli were all top notch.
Brian, the manager and our server, was very attentive and we took many of his suggestions for their popular dishes. The portions are huge and very sharable. End with the mango sticky rice or honey deep fried banana with ice cream.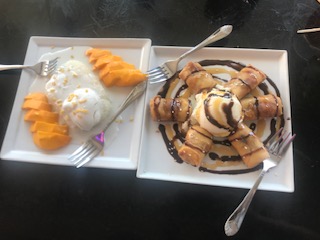 They have a specific lunch special menu which is a great way to try many options. Another place not to miss in the desert in Palm Springs.